GAIN Stock: Top Monthly Dividend Stock with an 8.1% Annual Yield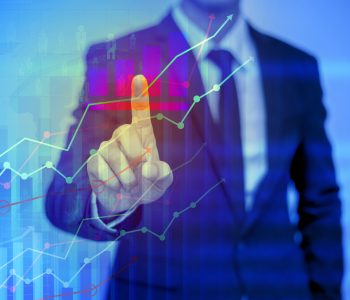 iStock.com/tonefotografia
Boost Your Portfolio Return with This Top Monthly Dividend Stock
One of the biggest misconceptions about income investing is that you need to have a lot of money to start with.
At first glance, it seems that a hefty initial investment is required to generate any significant income in today's environment. The average annual dividend yield of all S&P 500 companies right now is 1.88%. So if an investor wants to earn an extra $10,000 of income a year from dividends, simple calculation shows that they would need an initial outlay of $531,915.
This amount may not seem like much for the Wall Street billionaires, but for the average working-class American, coming up with half-a-million dollars is not easy.
As a result, some people have ditched the idea of income investing altogether and moved into the more profitable—but also significantly more risky—business of trading.
But before you put your money in the hottest high-momentum tech stock, note that you don't need to be an ultra-high-net-worth individual to earn a decent return from an income portfolio. In fact, the company I'm about to show you is now paying investors $10,000 a year on just $123,457 of initial investment. Better yet, the checks are mailed out to investors on a monthly basis.
A High-Yield Stock That Pays Monthly
The company in question is Gladstone Investment Corporation (NASDAQ:GAIN), a business development company (BDC) headquartered in McLean, Virginia.
For those not in the know, BDCs are closed-end funds that invest in small- and medium-sized businesses. Compared to venture capital funds that also focus on early stage companies, BDCs are different because many of them are publicly traded. This means small investors have a chance to in tap into the growth of these companies and liquidity is not an issue.
Here's the best part: BDCs are structured as regulated investment companies (RICs), meaning they pay little or no income tax at the corporate level. In return for having this tax pass-through status, they are required to distribute at least 90% of their taxable income to investors in the form of dividends. (Source: "Section 851.—Definition of Regulated Investment Company," Internal Revenue Service, last accessed July 24, 2017.)
Due to their mandatory distribution requirement, BDCs have become one of the higher-yielding groups of companies in today's stock market. But Gladstone Investment Corporation offers a return that stands out even by BDC standards.
The company was founded in 2005 and has been paying monthly dividends from the start. Right now, its monthly distribution rate is $0.0640 per share, translating to an annual dividend yield of 8.1%. (Source: "Distribution History," Gladstone Investment Corporation, last accessed July 24, 2017.)
Of course, due to the inverse relationship between dividend yield and share price, a high dividend yield could simply be a sign of trouble. If a company's yield is high because people are worried about dividend safety, it would not be a good investment for long-term income investors.
However, that wasn't really the case for GAIN stock. This monthly dividend stock has actually been raising its payout. In the last five fiscal years, the company's dividends have grown 25%.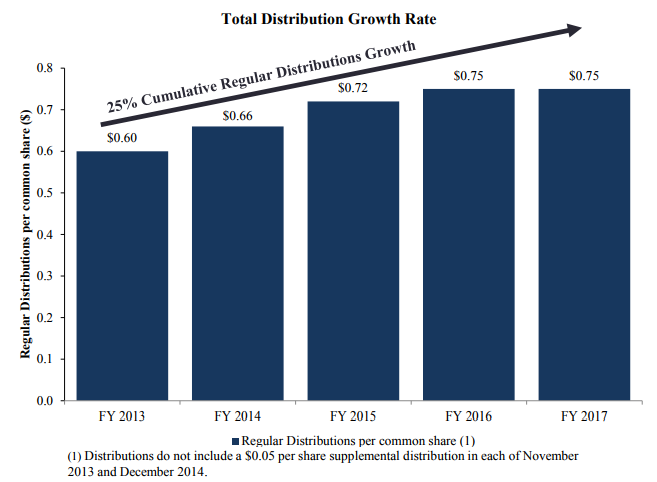 Source: "Corporate Profile March 31, 2017," Gladstone Investment Corporation, last accessed July 24, 2017.
And that's not all. The above chart only includes the monthly dividend stock's regular distributions. When Gladstone makes some extra money outside of its regular income, it rewards investors with special dividend payments on top of its regular dividends.
The company paid a $0.03-per-share special dividend in calendar year 2012, a $0.05 per share special dividend of 2013, another $0.05 per share special dividend in 2014, and a $0.06 per share special dividend in 2017.
The reason why Gladstone can pay special dividends is that the company makes both debt and equity investments. Debt investments provide regular income, while equity investments are expected to generate capital gains. When the appreciated equity investments are sold and the capital gains are realized, Gladstone can distribute the profit to shareholders in the form of special dividends.
Also Read:
The 7 Top Monthly Dividend Stocks for 2017
10 High-Yield Small-Cap Dividend Stocks for 2017
The Bottom Line on This Monthly Dividend Stock
At the end of the day, keep in mind that the real reason to consider this monthly dividend stock is not just its handsome yield, but the company's rock-solid business. Gladstone specializes in lower-middle-market companies that have lesser valuations than larger businesses. It has a talented management team with experience in investment sourcing, conducting due diligence, and risk management. Gladstone delivered interest income growth of 13% per year over the last five years. During the same period, the fair value of the company's total investments increased at a rate of 12% per year.
In an era where everyone is trying to find the next Facebook, Inc. (NASDAQ:FB) or Apple Inc. (NASDAQ:AAPL), boring businesses like GAIN stock are easily ignored by the stock market. But for investors that want to generate a steady stream of income, this 8.1%-yielding monthly dividend stock is certainly worth considering.