Why the Fun Times Aren't Finished for Hasbro, Inc. Dividend Investors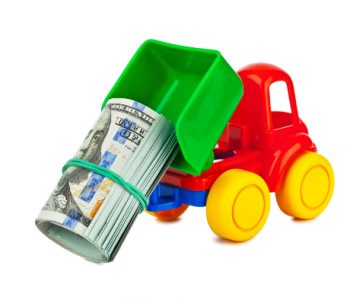 Patience is a virtue, particularly in the stock market. Hasbro, Inc. (NASDAQ:HAS) stock, for example, had traded in a flattish range over the past six months, but is now soaring more than 15% to record-highs in midday Monday trading.
Driving the rally are strong fourth-quarter results and a substantial dividend increase, triggering plenty of excitement over Hasbro's growth prospects going forward. As I always tell our Income Investors readers, if a company's fundamentals consistently strengthen, the stock will eventually follow.
So is it still a good time to jump into HAS stock? Let's take a look at the report and find out.
Girl Powered 
Hasbro posted fourth-quarter earnings per share of $1.64, crushing the average analyst estimate by $0.37. Meanwhile, revenue increased about 11% year-over-year to $1.63 billion, which topped the consensus by $130.0 million.
The blowout results were driven largely by a 52% revenue spike at Hasbro's Girls division, as demand for toys based on Walt Disney Co's (NYSE:DIS) Frozen and Dreamworks' Trolls flew off the charts. Additionally, global revenue at the company's Games division increased a solid 11% over the year-ago period, fueled by strong demand for the company's blockbuster "Magic: The Gathering" and "Pie Face" franchises.
It's also worth noting that revenue at Hasbro's Entertainment and Licensing segment soared 36% year-over-year, while the company's Digital initiatives continue to gain traction, reinforcing optimism over the company's relatively new streams of revenue.
"Hasbro's foresight to build brands led by storytelling, consumer insights and innovation, combined with the relentless execution of our Brand Blueprint including investments in entertainment and digital gaming, is driving our business and creating long-term strategic differentiators for Hasbro," said Goldner, Hasbro's chairman and chief executive officer. "We are well positioned for a successful 2017 and the continued advancement of Hasbro's brand-building capabilities for years to come." (Source: "Hasbro Reports First $5 Billion Revenue Year with Growth in Revenue, Operating Profit and Net Earnings for Full-Year 2016," Hasbro, Inc., February 6, 2017.)
Jumping Dividend
Far more exciting for dividend investors, however, is Hasbro's big 12% bump to its quarterly dividend, from $0.51 per share to $0.57 per share. That increase is pretty much in line with the company's dividend growth rate of late, as management has now returned nearly $1.0 billion in cash to shareholders over the past five years.
Given Hasbro's positive operating momentum and cash flow improvement, I wouldn't expect that dividend growth to slow anytime soon. Moreover, the company's year-end cash balance of $1.28 billion and dividend payout ratio of less than 50% of earnings remains highly comforting.
In other words, Hasbro's dividend seems particularly childproof.
The Bottom Line on HAS Stock
I wouldn't let today's record highs prevent me from looking into HAS stock.
The company remains the third-largest player in the global toy market behind Mattel, Inc. (NASDAQ:MAT) and Lego, with well-known brands in its stable such as "Transformers" and "My Little Pony," providing it with massive market share and cost efficiencies. And while the market for traditional toys continues to decline, Hasbro's entertainment properties, increasing digital leadership, and key licensing agreements give the company plenty of growth opportunities going forward.
More importantly, with HAS stock boasting a forward dividend yield of 2.5% and trading at a price-to-earnings discount to main rival Mattel, there might still be time to bet on more fun times ahead.