FTAI Stock Is a Safe, Reliable 5.2%-Yielding Infrastructure Play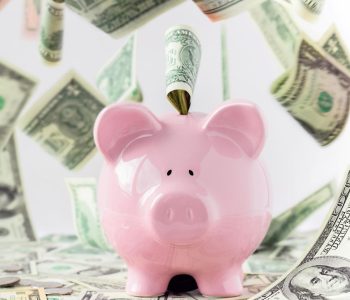 Put Fortress Transportation and Infrastructure Investors LLC on Your Radar
With stocks trading at record levels, it can be difficult for investors to know where to turn. Are stock prices going to keep trending higher? Will there be a correction? Investors certainly don't want to miss out on any leg up—nor do they want to lose money if the markets correct.
On top of that, with inflation running at its highest level in almost 30 years and interest rates near rock bottom, investors want to know that their money is going to work for them.
That's where high-yield dividend stocks come in, but not just any high-yield stock will do. If a company has little to no cash flow, its dividend could get cut. It would also mean the company isn't on the best financial footing, so you could lose your entire investment.
Therefore, it's preferable to find stocks that provide both long-term capital appreciation and reliable, high-yield dividends. It sounds obvious, but it must not be, judging by the high-yield dividend stocks that attract most of the investor interest.
One opportunity that's ripe for the picking at the moment is infrastructure stocks. President Joe Biden recently signed a $1.2-trillion U.S. infrastructure bill.
Most people probably don't spend a lot of time pondering the country's infrastructure, but it's what keeps the country and global economy chugging along. Without dependable roads, bridges, railways, shipping ports, and energy terminals, the economy would grind to a halt.
That's why Fortress Transportation and Infrastructure Investors LLC (NYSE:FTAI) is such a great play. The company has a stake in some of the country's biggest infrastructure projects. This has provided it with a reliable revenue stream and cash flow.
For Fortress Transportation and Infrastructure stockholders, that has translated to a high yield of 5.2%.
Moreover, as of this writing, FTAI stock is up by:
Eight percent year-to-date
26% year-over-year
645% since March 2020
Fortress Transportation and Infrastructure stock's gains this year haven't exactly been stellar, but that has been tempered by the stock's significant gains since bottoming in March 2020.
As you can see in the following chart, FTAI stock had strong momentum leading up to the pandemic-fueled stock market crash in March 2020. The stock has since erased all of those losses and hit numerous new record highs.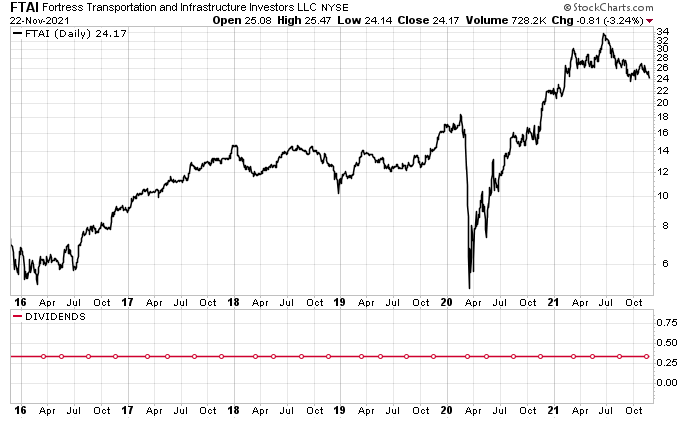 Chart courtesy of StockCharts.com
About Fortress Transportation and Infrastructure Stock
Fortress Transportation and Infrastructure Investors LLC owns and acquires infrastructure and equipment that's essential for the transportation of goods and people globally. (Source: "Jefferies Virtual Industrial Conference," Fortress Transportation and Infrastructure Investors LLC, August 4, 2021.)
The company invests in major sectors within the transportation industry, including aviation, energy, intermodal transport, and rail. It also looks for acquisitions in other areas when the opportunity arises.
Its two primary business units are Equipment Leasing ($1.8 billion book equity) and Infrastructure ($1.0 billion book equity).
The Equipment Leasing unit includes an industry-leading aviation leasing platform. Through this unit, the company owns and leases out 77 passenger aircraft and 207 commercial jet engines. The annualized adjusted earnings before interest, taxes, depreciation, and amortization (EBITDA) return on equity is 19.1%, and there's no debt on the portfolio.
The Infrastructure unit includes the Jefferson Terminal in Beaumont, TX. It consists of a multi-modal crude oil and refined products terminal, as well as other related assets. Jefferson Terminal handles crude oil for local refiners and international markets, as well as refined products for Mexico. It's also the sole handler of liquid hydrocarbons in Beaumont. The terminal connects to three Class I railroads.
The Infrastructure unit also includes the Repauno Port, an approximately 1,630-acre deep-water port along the Delaware River near Philadelphia, PA. It has an underground storage cavern and industrial development opportunities.
Moreover, the Infrastructure unit includes the Long Ridge Energy Terminal, a 1,660-acre+ multi-modal port along the Ohio River with rail, dock, and industrial development opportunities, including a power plant that's under construction. Operations at the terminal began in August, three months ahead of schedule. It has a run-rate EBITDA of $120.0 million, with seven-year to 10-year fixed-price contracts. By the end of 2021, the Long Ridge Energy Terminal will start blending hydrogen into fuel mix, making it the first large gas turbine in the U.S. to do so.
$640-Million Acquisition of Transtar, LLC
In July, Fortress Transportation and Infrastructure Investors LLC announced that it had completed the $640.0 million acquisition of Transtar, LLC from United States Steel Corporation (NYSE:X). (Source: Ibid.)
Transtar provides transportation and logistics services to United States Steel and third-party customers through its portfolio of short-line railroads. It operates six freight rail properties connected to United States Steel's largest production facilities. It also connects to all seven Class I railroads in North America.
The acquisition provides Fortress Transportation and Infrastructure Investors LLC with long-term, stable cash flow. Over the last 12 months, Transtar generated $62.0 million in EBITDA. It's expected to generate approximately $80.0 million in EBITDA in the first year following the close of the acquisition.
Fortress Transportation and Infrastructure expects to execute a 15-year contract with United States Steel to provide exclusive service to each of its facilities. There are also additional opportunities for growth.
Third-Quarter Earnings Report & Dividend Announcement
Fortress Transportation and Infrastructure's enviable infrastructure portfolio is why it makes bucketloads of cash.
In the third quarter, its total funds available for distribution were $39.4 million. Its funds available for distribution for the first nine months were $122.0 million. (Source: "Fortress Transportation and Infrastructure Investors LLC Reports Third Quarter 2021 Results, Declares Dividend of $0.33 per Common Share," Fortress Transportation and Infrastructure Investors LLC, October 28, 2021.)
Its third-quarter adjusted EBITDA were $96.4 million, versus $58.6 million in the same period last year. Its year-to-date adjusted EBITDA were $211.5 million, versus $197.1 million in the same prior-year period.
Furthermore, the company's board declared a cash dividend of $0.33 per share, or $1.32 on an annual basis. FTAI stock went public in May 2015, and it has held its dividend at $0.33 per share every quarter since November 2015.
The Lowdown on FTAI Stock
Fortress Transportation and Infrastructure Investors LLC is an excellent company that continues to generate a reliable cash flow: $122.0 million so far in 2021. Over the same time frame, it paid out $85.2 million in dividends, for a payout ratio of 75%, which is well below my 90% comfort zone.
This suggests that Fortress Transportation and Infrastructure stock's high-yield dividend is, all things being equal, more than safe.