FS KKR Capital Stock: 14%-Yielding Alternative Bank Increases Base Distribution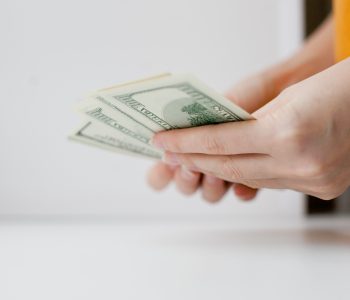 Why FSK Stock Is Worth Looking Into
Finding a company that pays reliable, high-yield dividends is great; finding a company that increases its payouts on a regular basis is even better.
FS KKR Capital Corp (NYSE:FSK) has taken this one step better: it has been increasing its quarterly base distribution and paying special distributions.
Management is excited about the future of the company and believes that its "conservatively structured balance sheet" and defensively positioned investment portfolio will allow it to continue delivering outstanding results.
Why?
FS KKR Capital Corp believes the Federal Reserve's recent interest rate increases will have a positive effect on its net investment income since approximately 89% of its debt investments are floating-rate structures. This is why management was able to increase FS KKR Capital stock's quarterly base distribution and provide strong guidance.
That should be music to the ears of every dividend hog.
About FS KKR Capital Corp
FS KKR Capital is a business development company (BDC) that provides credit solutions to private middle-market U.S. companies with annual revenues in the range of $10.0 million to $2.5 billion and annual earnings before interest, taxes, depreciation, and amortization (EBITDA) in the range of $50.0 to $100.0 million. (Source: "Financial Information: Quarter Ended March 31, 2023," FS KKR Capital Corp, last accessed August 2, 2023.)
The company invests primarily in first-lien senior secured loans, second-lien secured loans, and—to a lesser extent—subordinated loans It seeks to purchase interests in loans through secondary market transactions or directly from the target companies as primary market investments.
Note that a BDC with a lot of "senior" debt stands first in line to get its money back. "Subordinated debt" lenders get paid second. Meanwhile, "preferred" and "equity" investors usually receive only a fraction of their original investments back in the event of a bankruptcy.
The majority (69%) of FS KKR Capital Corp's lending portfolio comprises senior secured loans and senior secured debt. In connection with the debt investments, the firm also receives equity interests, such as warrants or options, as additional consideration.
The company doesn't invest in start-up companies, turnaround situations, or companies with speculative business plans.
Its investment portfolio, which currently consists of 189 companies, has a total fair value of $15.3 billion. As noted earlier, 89% of the BDC's debt investments are floating-rate. Moreover, the portfolio has an annual weighted average yield on accruing debt investments of 11.7%.
FS KKR Capital Corp's biggest exposure by sector includes software and services (16.5%), capital goods (15.4%), health-care equipment and service (12.8%), commercial and professional services (11.6%), and insurance (6.3%). Exposure to the portfolio's top 10 largest companies by fair value is 19%.
Solid First-Quarter Financial Results 
For the first quarter ended March 31, FS KKR Capital announced net investment income of $0.81 per share, up from $0.80 per share in the fourth quarter of 2022. Its adjusted net investment income was $0.78 per share, versus $0.81 per share in the quarter ended December 31, 2022. (Source: "FS KKR Capital Corp. Announces First Quarter 2023 Results," FS KKR Capital Corp., May 5, 2023.)
The company's net asset value on March 31 was $24.93 per share, compared to $24.89 per share on December 31, 2022. It reported earnings per share of $0.71 for the first quarter, compared to $0.24 per share in the fourth quarter of 2022.
Commenting on the results, Michael C. Forman, FS KKR Capital Corp's CEO & chairman, said, "We are pleased to start 2023 with another quarter of positive results, as our first quarter adjusted net investment income per share increased 8% year-over-year and our Net Asset Value per share increased to $24.93." (Source: Ibid.)
Management Declared Q2 Base Distribution & Special Distributions
Thanks to its excellent quarterly results and strong investment portfolio, FS KKR Capital's board declared a second-quarter cash distribution of $0.70 per share, which was paid in July. This included a base dividend of $0.64 and a special distribution of $0.06 per share, for a yield of 14%. (Source: Ibid.)
The company's previous base distribution, paid in April, was also $0.64. In January, it was $0.68. In October 2022, it was $0.61. (Source: "Dividend History," FS KKR Capital Corp, last accessed August 2, 2023.)
In May, the board also declared a special cash dividend totaling $0.15 per share, to be paid in three equal installments in 2023. The first $0.05-per-share special distribution was paid on May 31, the second one will be paid on or about August 30, and the third one will be paid on or about November 29.
With the addition of the $0.15 special distributions, the company's dividend yield grows to 15.6%.
Share-Price Performance & Forecast
FS KKR Capital Corp's distributions and robust guidance have been helping juice its share price. As of this writing, FS KKR Capital stock is up by:
Six percent over the last month
12% over the last three months
25% year-to-date
Five percent year-over-year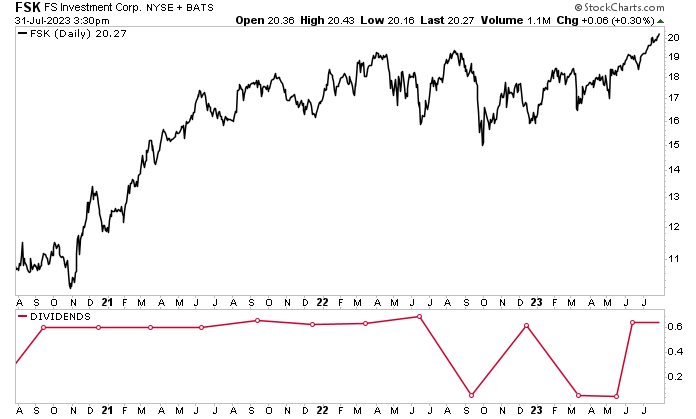 Chart courtesy of StockCharts.com
The outlook for this cash machine is solid.
Even conservative Wall Street analysts believe that shares of FS KKR Capital Corp could rally over the coming quarters by anywhere between four percent and 18.5% to somewhere in the range of $21.00 to $24.00. Either price would put FSK stock well above its all-time record high of $20.43.
The Lowdown on FS KKR Capital Stock
FS KKR Capital Corp is a BDC with a diverse lending portfolio in which 69% of the investments are senior-secured and 89% are floating-rate. This has helped the company throw off some pretty strong quarterly numbers, which is especially commendable in the current interest-rate-sensitive environment.
The BDC reported superb first-quarter financial results, recently increased its base payout to $0.64 per share, and paid a special distribution of $0.06 per share. Not only that, in May, FS KKR Capital declared that it would pay three special distributions in 2023 of $0.05 per share.