FS KKR Capital Corp: 12.7% Yielder Most People Have Never Heard Of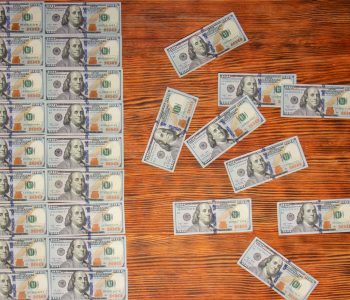 iStock.com/MaYcaL
This Overlooked Stock Pays Oversized Dividends
If sheer dividend yield is what you are looking for, then few companies can do a better job than FS KKR Capital Corp (NYSE:FSK).
Never heard of this company? You are not alone. FS KKR Capital does not serve consumers directly, and as a result, most people aren't familiar with it.
This company pays a generous cash dividend of $0.19 per share to its investors on a quarterly basis. With FSK stock trading at $5.98 apiece, that dividend policy comes out to a jaw-dropping annual yield of 12.9%.
So, how does this little-known company manage to offer such a big payout?
Well, FS KKR Capital provides customized credit solutions to private middle-market businesses in the United States. The company invests primarily in senior secured debt, which can generate a predictable stream of interest income. Then it passes that income to shareholders through regular dividend payments.
As of March 31, FS KKR Capital had a $7.4-billion portfolio diversified across 186 companies in 24 different industries. Senior secured debt accounted for 74% of the company's total investments. (Source: "Investor Presentation May 2019," FS KKR Capital Corp, last accessed July 19, 2019.)
The business is quite lucrative. At the end of March, the weighted average annual yield on the company's accruing debt investments stood at 10.8%.
The big question, of course, is whether this business is lucrative enough to support FS KKR's dividend policy.
Is the Dividend Safe at FS KKR Capital Corp?
Looking at the company's financials, we see that FS KKR Capital generated an adjusted net income of $0.85 per share last year. Its total cash distributions to stockholders, on the other hand, also totaled $0.85 per share for the year. So the company did generate enough profits to cover its payout, but the numbers did not leave any room for error. (Source: "FSK Reports Fourth Quarter and Annual 2018 Financial Results and Declares Regular Distribution for First Quarter," FS KKR Capital Corp, February 27, 2019.)
However, note that FS KKR Capital's total payout to shareholders last year included a special dividend of $0.09 per share. Excluding that special payment, the company's dividend coverage would have looked stronger.
Fast forward to this year and we see that FS KKR's adjusted net investment income came in at $0.18 per share in the first quarter. That amount fell slightly short of covering its quarterly dividend payment of $0.19 per share. (Source: "FSK Reports First Quarter 2019 Financial Results and Declares Regular Distribution for Second Quarter," FS KKR Capital Corp, May 8, 2019.)
Should investors be concerned about the first-quarter results?
Well, at least management remains committed to returning cash to investors. At FSK's latest earnings conference call, the company's Chairman and Chief Executive Officer Michael Forman reiterated that one of the company's core long-term objectives is "delivering to our shareholders a competitive and stable dividend that is supported by recurring investment earnings." (Source: "FS KKR Capital Corp's (FSK) CEO Michael Forman on Q1 2019 Results – Earnings Call Transcript," Seeking Alpha, May 10, 2019.)
Brian Gerson, the company's Head of Private Credit, added: "We continue to feel good about the $0.19 dividend, as we look to further reduce our equity exposure and rotate out of non-income-producing assets along with increasing our exposure to our strategic joint venture and asset base finance investments." (Source: Ibid.)
Bottom Line on FSK Stock
Like most ultra-high yielders, FSK stock is not perfect. While FS KKR Capital Corp is offering oversized dividends, its current level of payout was actually the result of a dividend cut. Two years ago, the company was paying quarterly dividends of more than $0.22 per share. (Source: "," FS KKR Capital Corp, last accessed July 19, 2019.)
Still, if the company can maintain its dividend policy, its 12.7% yield could be worth a look.