Franklin Street Properties Corp.: 5.9%-Yielding REIT Announces Special Dividend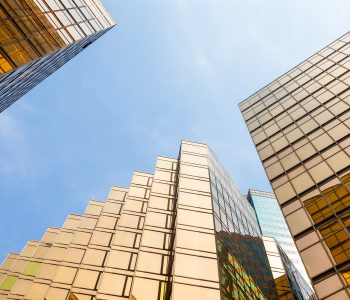 Here's Why Investors Should Look at Franklin Street Properties Stock
Office real estate investment trusts (REITs) have taken a hit recently as the Omicron variant of COVID-19 has sparked concerns about when (or whether) Americans will return to their office cubicles in high numbers.
In October, demand for new office space in the U.S. fell to its lowest rate since the first quarter of 2021. This is only the second consecutive monthly decline. Since peaking in August, new office space demand went down by 30% nationwide. (Source: "Office Stocks Take a Hit as Omicron Variant Concerns Add to Growing Slowdown in Demand," CNBC, November 20, 2021.)
Before the back-to-back slide, new office demand in the U.S. had actually been on a tear. From June 2020 (when demand bottomed) to August 2021, demand went up by 444%. All major U.S. markets experienced a decline, but some fared better than others. Boston, Los Angeles, San Francisco, and Seattle were hit the hardest, while Chicago, New York, and Washington, D.C. were hit the least.
The majority of the leasing has been with newly constructed (infill) buildings and recently renovated buildings. The biggest losers have been the aging office towers that dot the landscape of every major urban area.
That's why, when it comes to investing in office REITs, investors need to take into consideration not just the location, but also the kind of office towers the REIT owns.
That's what makes Franklin Street Properties Corp. (NYSE:FSP) such a compelling play. The REIT owns and operates a real estate portfolio that focuses on infill and central business district (CBD) offices in the U.S. Sunbelt and Mountain West, as well as select opportunistic markets. (Source: "About Us," Franklin Street Properties Corp., last accessed December 7, 2021.)
The company currently owns 26 operating properties, one redevelopment property, and two managed sponsored REITs. Its office buildings are in Colorado, Florida, Georgia, Illinois, Indiana, Minneapolis, North Carolina, Texas, and Virginia. (Source: "Property Gallery," Franklin Street Properties Corp., last accessed December 7, 2021.)
$600 Million in Dispositions in 2021
Franklin Street Properties is always on the hunt for new opportunities and is more than willing to sell off properties. Thanks to high demand and pricing for the company's properties, it has actually made more revenue this year than management thought it would.
To that end, the company increased the top end of its 2021 disposition guidance from a previous range of approximately $350.0–$450.0 million to a new range of approximately $563.0–$600.0 million.
In late October, Franklin Street Properties sold a property in Atlanta, GA for gross proceeds of approximately $224.0 million, which represented a gain of about $86.8 million. (Source: "Franklin Street Properties Corp. Announces Third Quarter 2021 Results," Franklin Street Properties Corp., November 18, 2021.)
In mid-November, the company announced the sale of two properties in Chantilly, VA, for gross proceeds of $40.0 million. (Source: "Franklin Street Properties Corp. Announces the Completion of the Sale of Meadow Point and 4807 Stonecroft in Chantilly, Virginia for Aggregate Gross Proceeds of $40 Million," Franklin Street Properties Corp., November 16, 2021.)
George J. Carter, chairman and CEO, commented, "We have now completed dispositions for aggregate gross proceeds of approximately $600 million to date in 2021. As previously communicated, we intend to use the proceeds from dispositions for debt reduction, repurchases of our common stock, any special dividends required to meet REIT requirements, and other general corporate purposes." (Source: Ibid.)
Debt Reduction
On the debt reduction front, Franklin Street Properties Corp. has taken massive strides in the past two years. That has improved its balance sheet for future growth opportunities.
Between September 30, 2020 and October 25, 2021, the REIT reduced its total indebtedness by approximately 53% from $1.0 to $475.0 million. Between January 1, 2021 and October 25, 2021, the company repaid approximately $50.0 million of its debt. (Source: Franklin Street Properties Corp., November 18, 2021, op. cit.)
This, together with strong demand for its properties, has helped Franklin Street Properties report solid third-quarter results, which included net income of $4.5 million, or $0.04 per share. Its funds from operations (FFO) in the third quarter were $14.8 million, or $0.14 per share. Its adjusted FFO were $0.04 per share.
FSP Stock's Special Dividend Juices Yield to 10.8%
As a REIT, Franklin Street Properties Corp. is legally obligated to return the vast majority of its profits to its shareholders, which it does in the form of frothy dividends. In October, the company declared a quarterly dividend of $0.09 per share, which works out to a yield of 5.9%.
The payout ratio is just 76.6%, which gives the REIT more than enough financial wiggle room to continue paying its high-yield dividends—and even eventually to raise them.
Quarterly dividends aren't the only way Franklin Street Properties returns value to shareholders. In light of the company's $600.0 million in gains from its 2021 dispositions, management declared a special dividend of $0.32 per share, payable on January 12, 2022 to shareholders of record as of the close of business on December 31, 2021. (Source: "Franklin Street Properties Corp. Declares Special Cash Dividend," Franklin Street Properties Corp., December 3, 2021.)
When the company's special dividend is added to its $0.36 annual dividend, the full-year payout is $0.68 per share, for a yield of 10.8%.
To be fair, it's not like Franklin Street Properties' management team got together over lunch and said, "Let's reward our patient shareholders with a special dividend!" To meet REIT requirements, Franklin needs to give that money to its shareholders. That's the joy of investing in an office REIT that's astute with acquisitions and dispositions.
Moreover, Franklin Street Properties Corp. has an aggressive share repurchase program. During the third quarter, the REIT repurchased approximately 1.8 million shares of its common stock for $8.2 million. The company still has $41.8 million left for its current stock repurchase plan.
Franklin Street Properties Stock Performance
The improved balance sheet, special dividend, and solid outlook have helped send FSP stock considerably higher in 2021. As of this writing, Franklin Street Properties stock is up by:
30% over the last month
44% over the last three months
55% year-to-date
While Franklin Street Properties Corp.'s share price has certainly been outperforming the broader market in 2021, there's still room for it to grow.
FSP stock needs to climb by 25% to get to its pre-pandemic level. Everything seems in place for Franklin Street Properties stock to surpass that level over the coming quarters.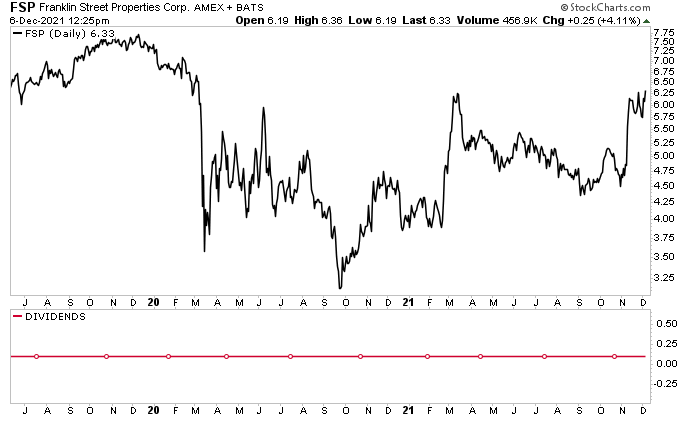 Chart courtesy of StockCharts.com
The Lowdown on Franklin Street Properties Corp.
Franklin Street Properties Corp. is a great office REIT that's in an even better position than it was before the pandemic.
It has an excellent portfolio of properties primarily located in regions with significant upside leasing potential in a post-COVID-19 environment. On top of that, the company has greatly reduced its debt, which strengthens its balance sheet and creates opportunities for growth.
All that should help fuel the price of FSP stock, allow its dividend yield to remain high, and perhaps allow the company to provide additional special dividends.