Franchise Group Stock: Shares of 7.7%-Yielder Up 36% in 2023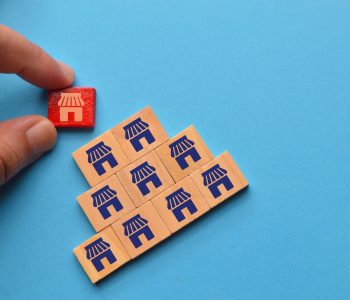 Why Investors Should Take a Look at FRG Stock
Despite the Federal Reserve's best efforts, inflation is still at its highest level in decades. Even though interest rates have been rising, January's U.S. jobs report showed that the economy isn't ready to slow down.
The report said 517,000 jobs were created in the U.S. in January. That was more than double the expected 185,000 jobs. Moreover, the unemployment rate fell from 3.5% to 3.4%, the country's lowest unemployment rate in 54 years. (Source: "Federal Reserve Press Release," U.S. Federal Reserve, February 1, 2023.)
President Joe Biden and corporate CEOs predict that the upcoming recession will be mild and short. That's the kind of good news that has helped juice consumer cyclical stocks like Franchise Group Inc (NASDAQ:FRG).
Franchise Group owns and operates several franchise businesses: "American Freight," "Badcock Furniture," "Buddy's Home Furnishings," "Pet Supplies Plus" (which acquired "Wag N' Wash" in February 2022), "Sylvan Learning," and "The Vitamin Shoppe." (Source: "Overview," Franchise Group Inc, November 3, 2022.)
Franchise Group operates more than 3,000 locations, primarily in the U.S., although its brands are in more than 12 countries. Its locations are either company-run or operated under franchising and dealer agreements.
By market position:
American Freight is the No. 1 ranked national as-is appliance provider
The Vitamin Shoppe is the No. 2 wellness provider
Buddy's Home Furnishings is the No. 3 rent-to-own store
Pet Supplies Plus is the No. 3 pet-care retailer
Sylvan Learning is the No. 3 tutoring provider
Badcock Home Furniture is the No. 3 home furnishing retailer in the Southeast
The Vitamin Shoppe is Franchise Group Inc's biggest business, accounting for 29% of the company's adjusted earnings before interest, taxes, depreciation, and amortization (EBITDA). That's followed by Badcock (24% of adjusted EBITDA), American Freight (20%), Pet Supplies Plus (20%), Buddy's (four percent), and Sylvan (three percent).
Franchise Group Inc is always looking to expand its business empire. It has an acquisition strategy that targets franchised or potentially franchised businesses that have high cash flow, can be scaled, are accretive to Franchise Group, and support its growing dividends.
Sometimes it works out, sometimes it doesn't.
Case in point: in June 2022, Franchise Group Inc entered exclusive negotiations with Kohl's Corporation (NYSE:KSS) to acquire Kohl's for $60.00 per share. Three weeks later, Kohl's terminated the talks to sell its business, saying the retail environment had tanked since the bidding process began. (Source: "Kohl's Ends Sale Talks With Franchise Group, Lowers Outlook," CNBC, June 30, 2022.)
Q3 Revenue Jumps 26%
For the third quarter of 2022, the company announced that its total revenue increased by 26.8% year-over-year to $1.1 billion. It reported a net loss from continuing operations of $121.2 million, or $3.09 per share. Its adjusted EBITDA in the third quarter was $73.1 million, and its adjusted earnings came in at $0.59 per share. (Source: "Franchise Group, Inc. Announces Fiscal 2022 Third Quarter Financial Results," Franchise Group Inc, November 3, 2022.)
During the third quarter of 2022, the company repurchased about 2.2 million shares of its own common stock for $77.9 million, reducing the total outstanding shares by more than five percent to 38.2 million.
For fiscal 2022, Franchise Group Inc expects to announce results that are in line with—or exceed—the financial outlook it provided in November. That outlook included revenues of approximately $4.3 billion and adjusted EBITDA of at least $350.0 million. For 2021, the company reported full-year revenue of $3.3 billion and adjusted EBITDA of $338.4 million.
Franchise Group Inc Hikes Quarterly Dividend By 67%
As you can imagine, Franchise Group's franchising strategy generates a steady flow of cash, which it returns, in part, to investors in the form of high-yield dividends.
In December 2021, the company's board approved a 67% increase to its quarterly cash dividend of $0.625 per share. It has held its payout at that level since then. This works out to a current yield of 7.7%.
In addition to providing investors with reliable, growing, high-yield dividends, Franchise Group stock has recently been performing well in terms of price appreciation. As of this writing, shares of Franchise Group Inc are up by 36% since the start of January.
It hasn't been all good news, though: FRG stock is down by 28.6% over the last 12 months, and it needs to climb by 50% to get to its record high of $50.46 (which was set in January 2022). Franchise Group stock's poor share-price performance in 2022 wasn't an outlier, however; the entire stock market took a beating last year.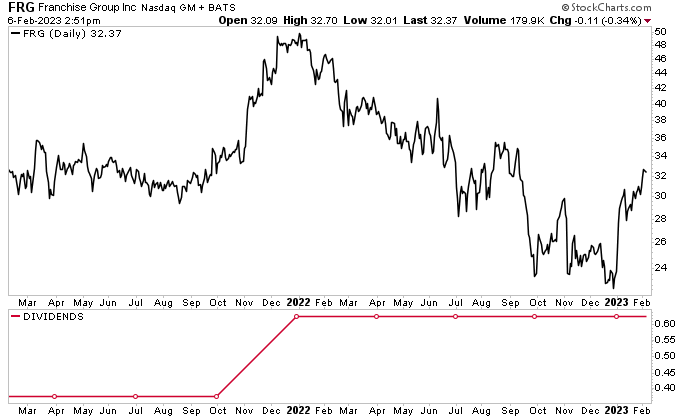 Chart courtesy of StockCharts.com
One good thing you can say about 2022 is that, even though shares of Franchise Group Inc were under pressure last year, the company was able to maintain its frothy dividends.
Wall Street analysts are optimistic that FRG stock will eventually surpass its record high. Of the analysts providing a 12-month share-price forecast, their target range is $40.00 to $48.00. This points to potential upside of 23% to 48%.
The Lowdown on Franchise Group Stock
Franchise Group Inc is an excellent specialty retail company with a growing business footprint featuring top-tier franchises. Despite ongoing supply chain issues and inflationary pressures, the company continues to report tremendous financial results, open new locations, and acquire additional franchise brands.
All of this helps fuel FRG stock's reliable, growing ultra-high yield, inflation-busting dividends.