Franchise Group Inc: Bullish, Stable, High-Yielder Raises Guidance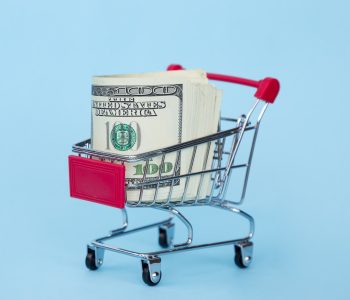 Franchise Group Stock Up 84% YOY; More Gains Expected
With millions of people quarantined and many businesses shutting their doors, the COVID-19 pandemic was supposed to be the death knell of malls and specialty realtors.
That didn't happen. In fact, many retailers have reported revenues and profits that have exceeded their 2019 levels. Some of the retailers that did do poorly during the pandemic restructured through bankruptcies, and now they have stronger balance sheets.
That doesn't mean the retail industry didn't experience huge pains. From 2017 through 2020, department stores and specialty chains closed more than 13,750 stores than they opened. In 2021, there have been 469 net openings.
One specialty retailer that has emerged from the pandemic stronger than ever is Franchise Group Inc (NASDAQ:FRG). As of this writing, FRG stock is up by:
21% over the last month
32% over the last six months
55% year-to-date
84% year-over-year
As you can see in the chart below, over the last two years, Franchise Group stock has outpaced the SPDR S&P Retail ETF (NYSEARCA:XRT) and the S&P 500.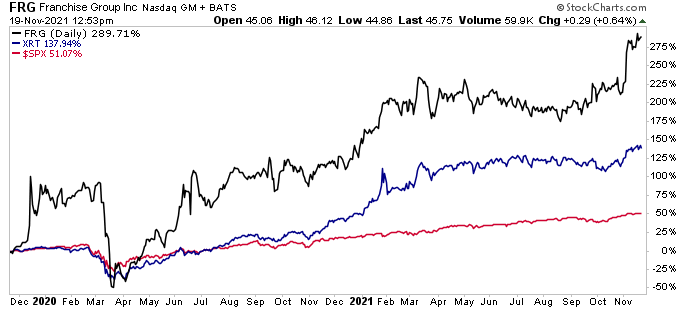 Chart courtesy of StockCharts.com
About Franchise Group Inc
As its name suggests, Franchise Group owns and operates a number of franchise businesses.
The company operates through five segments: "American Freight," "The Vitamin Shoppe," "Pet Supplies Plus," "Buddy's Home Furnishings," and "Sylvan Learning." Franchise Group operates more than 2,600 locations, which are primarily located in the U.S. (Source: "Investor Presentation," Franchise Group Inc, September 27, 2021.)
American Freight is a retail chain that sells furniture, mattresses, and new and out-of-the-box appliances and home accessories (online and in-store). It operates more than 320 stores in 40 U.S. states and Puerto Rico. American Freight is the country's No. 1 as-is appliance provider.
The Vitamin Shoppe is a chain that sells vitamins, nutritional supplements, herbs, sports nutrition products, homeopathic remedies, and natural beauty aids. Franchise Group Inc operates more than 700 stores under the Vitamin Shoppe and "Super Supplements" banners. The Vitamin Shoppe is the No. 2 wellness provider in the U.S.
Pet Supplies Plus is a franchisor and retailer of pet products and services. The chain has more than 550 stores (more than 300 of them are franchised) in 36 states. Pet Supplies Plus is the #3 pet care retailer in the U.S.
Buddy's Home Furnishings is in the rent-to-own business, offering consumers an affordable way to attain electronics, furniture, appliances, and other household items. The specialty retailer operates more than 40 company-owned locations and has more than 250 franchise locations. Buddy's Home Furnishings ranks No. 3 in the rent-to-own industry.
Sylvan Learning is a tutoring franchisor that serves pre-K to grade 12 students in the U.S. Sylvan's growing footprint includes more than 700 locations in 49 states. All but six of the locations are franchised. Sylvan ranks No. 3 in the tutoring services industry.
As you can imagine, Franchise Group Inc's franchising strategy provides it with a steady cash flow, which it returns to FRG stock investors in the form of high-yield dividends.
In August, the company's board declared a quarterly dividend of $0.375 per share, for a yield of 3.3%. (Source: "Franchise Group, Inc. Announces Approval of Quarterly Common Stock Dividend," Franchise Group Inc, August 3, 2021.)
Franchise Group stock's dividend is more than secure. The payout ratio is just 80.2%, well below the 90% threshold I like to see. The financial wiggle room could allow Franchise Group to safely raise its dividend again in the not-too-distant future.
Third-Quarter Results & Full-Year Guidance
For the third quarter ended September 25, Franchise Group's revenue increased by 54% year-over-year to $828.8 million. (Source: "Franchise Group, Inc. Announces Fiscal 2021 Third Quarter Financial Results," Franchise Group Inc, November 2, 2021.)
Its third-quarter 2021 net income from continuing operations was $36.0 million, or $0.83 per share, versus a third-quarter 2020 net loss of $3.8 million, or $0.12 per share. The company's adjusted earnings before interest, taxes, depreciation, and amortization (EBITDA) were $80.8 million, while its adjusted earnings were $0.97 per share.
On July 2, Franchise Group Inc completed its sale of Liberty Tax. Franchise Group received approximately $249.0 million for Liberty Tax, including $182.0 million in cash and about $67.0 million in shares of NextPoint Financial Inc (TSE:NPF.U, OTCMKTS:NACQF). With the proceeds, Franchise Group repaid $182.0 million of its outstanding debt.
As a result of the sale, the operations from the Liberty Tax segment were excluded from Franchise Group's 2021 third-quarter results.
The company closed out the third quarter with $160.0 million in cash and $1.1 billion in outstanding debt.
Commenting on the third-quarter financial results, Brian Kahn, president and CEO, said, "Despite continuing supply chain constraints and overall inflationary pressures, the underlying strength of the Franchise Group brands allows us to increase our financial expectations for fiscal year 2021." (Source: Ibid.)
Kahn noted that Franchise Group Inc's franchising momentum continues to accelerate, with development agreements for 153 new locations, in addition to the 124 new store openings year-to-date. The company is actively pursuing additional brands to help further diversify its cash flow streams and add scale to existing platforms. To that end, Franchise Group said it expects to announce at least one accretive transaction in the near term.
For fiscal 2021, the company expects to report:
Adjusted EBITDA in the range of $320.0 million to $325.0 million
Adjusted earnings per share in the range of $3.45 to $3.80
Revenue in the range of $3.05 billion to $3.1 billion
The Lowdown on Franchise Group Inc
Franchise Group Inc is an excellent specialty retail company with a growing collection of top-tier franchises.
Despite ongoing supply chain issues and inflationary pressures, the company continues to report fabulous financial results, open new franchise locations, and acquire additional brands. It expects to report a new accretive deal in the near term, which should help juice FRG stock's dividend.