Fox Raises Annual Dividend, Profit Jumps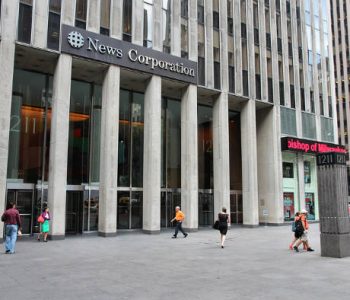 Revenue Surge Comes From Affiliate, Advertising Segments
New York, NY — Twenty-First Century Fox Inc (NASDAQ:FOXA) raised its annual dividend by $0.06 a share and added $3.0 billion to its stock-buyback effort as it posted a stronger-than-expected earnings report for the quarter ended June.
Net income for Fox shareholders jumped to $567 million from $87.0 million in the period last year on revenues of $6.65 billion, up 7.1%.
The top line is a little short of Wall Street's forecast of $6.68 billion, but adjusted earnings at $0.45 a share were well ahead of expectations for $0.37 a share.
The jump in quarterly revenue primarily reflects higher affiliate and advertising revenues generated at Fox's cable network programming and television segments and higher content revenues generated at the filmed entertainment segment. The adverse impact of foreign exchange rates impacted quarterly revenue growth by $116 million, or two percent in total. (Source: "Earnings release for the year and quarter ended June 30, 2016," 21st Century Fox, August 3, 2016.)
"We delivered full-year revenue and earnings growth on the strength of gains in affiliate and advertising revenues despite considerable foreign exchange headwinds and difficult film comparisons," said Executive Chairmen Rupert and Lachlan Murdoch, commenting on the results. (Source: Ibid.)
"Our brands are an indispensable part of any consumer offering, whether from a traditional distributor or a new entrant like Hulu's upcoming live and on-demand service, which will benefit greatly from Time Warner's investment and participation," they added. (Source: Ibid.)
Fox is benefiting from rising ad sales and affiliate fees at both of its TV businesses—cable and broadcast. Fourth-quarter profit from cable was held back by rising program costs, for sports and political coverage during the U.S. presidential election. Lachlan Murdoch said on the call that his father Rupert, the company's 85-year-old founder, was in the best position to lead Fox News after Roger Ailes' resignation.
James and Lachlan Murdoch, who took over leadership of 21st Century Fox from their father Rupert a year ago, told analysts on an earnings call Wednesday that they acted swiftly to protect the highly profitable news channel and its employees when allegations against Ailes surfaced in the form of a harassment suit by a former anchor. The network, now led by Rupert Murdoch on an interim basis, is having its best year ever, they said.
"There is no desire to shift the position it has in the market," Murdoch, chief executive officer of 21st Century Fox, said in response to analysts' questions. (Source: "Fox Stays Course as Rattled News Unit Remains Profit Source," Bloomberg, August 3, 2016.)
"It's a very successful business, and we are undergoing a transition to new leadership that should not flag at all a transition of the underlying positioning or the strategy of the channels," he added. (Source: Ibid.)