Fortress Transportation & Infrastructure Investors LLC: Lock Down This 7.6% Yield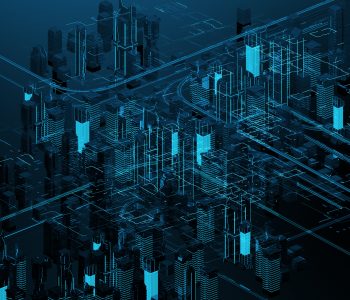 iStock.com/Antiv3D
Can You Trust This Distribution?
Think about all of the infrastructure that keeps the global economy humming: railways, shipping ports, and energy terminals.  Without these essential facilities, business would grind to a halt.
That's one of the main reasons I like Fortress Transportation & Infrastructure Investors LLC (NYSE:FTAI): it owns a stake in all of them.
Analysts prize infrastructure assets for their long lives and predictable revenues. And because they often face limited competition, these businesses gush cash flow. For Fortress unitholders, that has translated into a 7.6% dividend yield.
But can such a high payout be safe? Savvy readers will do more digging before jumping on a high yield. So to be extra sure, let's dig into this distribution.
FTAI Stock: Partnership Generates Ample Cash Flow
For full-year 2018, Fortress Transportation & Infrastructure Investors LLC generated $181.7 million in cash flow. Over the same period, management paid out only $110.6 million in distributions. That comes out to a payout ratio of 61%, well within my oft-mentioned comfort zone of 80% or less.
Fortress continues to earn double-digit returns in its aviation business. These operations involve buying aircraft engines and other parts for carriers, then leasing them back to customers.
The partnership's energy business is also due for a bit of a rebound. Following Fortress' initial public offering, these assets struggled thanks to a slowdown in the oil patch. But with energy prices on the rebound, we've seen a pickup in activity.
You can see this uptick in Fortress Transportation & Infrastructure Investors LLC's recent financial results. Last quarter, the partnership beat analysts' expectations on both the top and bottom line. Funds available for distributions rose roughly three percent from the same period last year. (Source: "FTAI Reports Record Fourth Quarter and Full Year 2018 Results, Dividend of $0.33 per Common Share," Fortress Transportation & Infrastructure Investors LLC, February 27, 2019.)
Wall Street has taken notice. Since the partnership hit a low of $13.00 per unit in December, Fortress has enjoyed quite a run.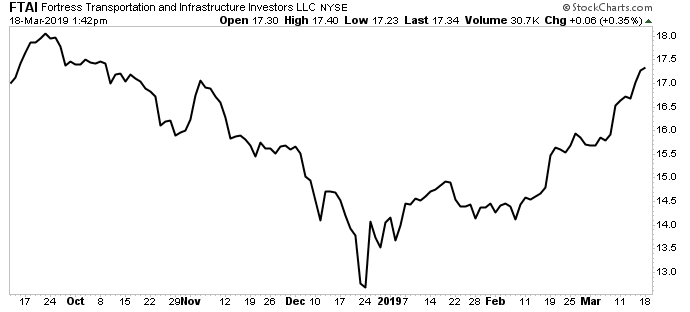 Chart courtesy of StockCharts.com
The Bottom Line on Fortress Transportation & Infrastructure Investors LLC
So what could go wrong here? Debt.
Fortress has borrowed a lot of money to fund its aggressive expansion. The partnership's debt load topped $1.2 billion last year, representing almost half of the company's book value.
Big, growing debt load should always make you nervous. This strategy pays off with spectacular returns during good times. But when the next recession rolls around and credit markets tighten, those big gains could turn into big losses.
I don't foresee Fortress slashing its distribution anytime soon. The business still generates plenty of cash flow to pay both lenders and shareholders. Still, it's a risk worth keeping an eye on.
In the meantime, Fortress Transportation & Infrastructure Investors LLC's payout looks reasonably safe.