Forget the iPhone, This Is the Next Big Thing for Apple Inc. Stock (AAPL)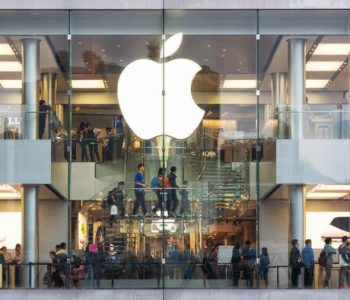 New Device to Prove Apple Stock Bears Wrong?
Apple Inc. (NASDAQ:AAPL) stock bears often argue that the company has reached its peak and will only go downhill. Their argument is that other than the "iPhone," Apple stock doesn't have much else going for it. However, here's the thing: Apple doesn't like to talk about what it's working on, but that doesn't mean there are no exciting projects underway.
Keeping secrets is not easy; that's why we know Apple is developing electric cars. But I'm not talking about that project. Rather, I'm looking at the company's potential in another hot field today: "smart home" systems.
On Friday, September 23, Bloomberg reported that Apple has been developing a smart home device similar to Amazon.com, Inc.'s (NASDAQ:AMZN) "Echo." The device will be based on Apple's "Siri" voice assistant. The project started two years ago and is now in the stage of prototype testing. (Source: "Apple Stepping Up Plans for Amazon Echo-Style Smart-Home Device," Bloomberg, September 23, 2016.)
Sources say that Apple is trying to differentiate its product from competitors' offerings by using more advanced microphone and speaker technology. Another source said that Apple's smart home device could even come with facial recognition sensors. Over the past two years, Apple has acquired facial recognition startups Faceshift AG and Emotient Inc.
Moving into the smart home industry is a big deal for Apple stock. According to MarketsandMarkets, the smart home market is expected to grow from $46.97 billion in 2015 to $121.73 billion by 2022. That would represent a compound annual growth rate (CAGR) of 14.07%. (Source: "Smart Home Market worth 121.73 Billion USD by 2022," MarketsandMarkets, last accessed September 27, 2016.)
Of course, Apple is not the only one eyeing this market. In fact, there are already some heavyweight players in the game. Amazon had a surprise success with its "Echo," while Alphabet Inc (NASDAQ:GOOG) has acquired smart home systems maker Nest Labs and is also working on its own device called "Google Home." Does Apple have a chance in this market?
Well, to answer that question, all you need to do is take a look at the performance of the "Apple Watch," which was first announced in 2014. Apple was not the first company to move into the smart watch industry, but its product still enjoyed tremendous success. According to Juniper Research Ltd, the Apple Watch accounted for more than 50% of global smart watch shipments in 2015. (Source: "Apple Watch Claims Over 50% Of 2015 Smart Watch Market In Less Than a Year of Sales," Juniper Research, January 12, 2016.)
The idea is that Apple knows how to make a good product. But more importantly, it has an unrivalled following in the tech world. Each time it launches a major product, Apple fans line up for it. And because of its huge following, the company doesn't need to be the first mover to succeed in a market.
Don't think it's possible? How about another example: "Apple Music." The iPhone maker was years behind its competitors in the music streaming industry when it launched Apple Music last June. Critics mocked the company's attempt, but Apple Music managed to achieve more than 10 million subscribers in just six months after launch. Spotify AB, one of the first movers in the music streaming business, took six years to reach 10 million subscribers. (Source: "Apple's music streaming subscribers top 10M," Financial Times, January 10, 2015.)
The Bottom Line on AAPL Stock
At the end of the day, keep in mind that Apple stock doesn't need the smart home project to keep rewarding income investors. Despite a slowdown in smartphone sales, the iPhone still brought in $24.0 billion of sales for the company last quarter. Moreover, reports from wireless carriers indicated that sales of the latest version—the "iPhone 7″—could be bouncing back. (Source: "Apple Inc. Q3 2016 Unaudited Summary Data," Apple Inc., last accessed September 26, 2016.)
A solid core business means Apple stock can keep rewarding income investors with growing dividends. Right now, the company has an annual dividend yield of 2.02%.
What the smart home project does is give Apple the opportunity to enter another multi-billion-dollar market. And that's a good thing to know for AAPL stock investors.