Ford Stock: The Real Reason to Own Ford Motor Company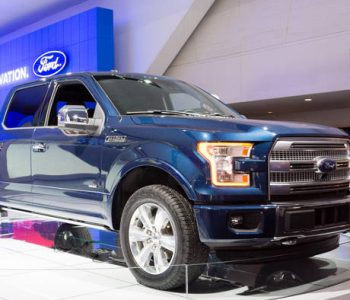 F Stock: F for Future-Proof?
I talk about recession-proof stocks a lot in my columns. I mean, if you are building an income portfolio, the stocks better be something that can handle both good times and bad times. Unfortunately, Ford Motor Company (NYSE:F) stock is not really recession-proof, but that doesn't mean income investors should ignore Ford stock altogether.
You see, in today's ultra-low-interest-rate environment, investors all over the world are searching for yield. As income investors, you already know that fixed-income products don't produce that much return these days. And when it comes to stocks, valuations have become elevated, as the U.S. stock market recently reached its all-time high. Moreover, when a stock does have an attractive yield today, it often turns out to be an alarming sign rather than a good thing.
However, there is still a way for income investors to enjoy a decent yield and relatively low risk. And that involves taking a look at the automotive industry, a place that might bring back some bad memories.
The auto industry is very pro-cyclical; when times are tough, automakers don't do well. Indeed, during the last financial crisis, U.S. automakers, including Ford, saw their business declining dramatically. However, note that Ford was the only one among the Detroit "Big Three" that did not need a government bailout.
Of course, Ford stock still plunged, but it managed to bounce back. During that process, the company also resumed its dividends. Since 2012, Ford stock's quarterly dividend rate has increased by 200%. Right now, Ford is paying $0.15 per share on a quarterly basis, translating to an impressive annual yield of 4.96%.
In today's environment, a near-five-percent yield usually means the company is lacking in something. For Ford stock, that thing comes from the nature of its business—it is not recession-proof. As an automaker, Ford is bound to do well when the economy is booming and people are buying more cars, but when a recession hits, well, we all know what would happen.
So, due to the nature of its business, F stock is not recession-proof. However, it could be future-proof, and that, my dear reader, could make Ford stock a lot more appealing to income investors.
One of the concerns facing automakers is the technology that's going to change the transportation industry in the future. For instance, if all cars become electric and driverless, companies making internal combustion engine-powered cars with steering wheels would be in big trouble.
In fact, that's why Tesla Motors Inc (NASDAQ:TSLA) stock is one of the hottest commodities on the market today. Even though its production scale is still tiny compared to Detroit's "Big Three," investors are willing to pay a premium for the "EV" maker, believing that one day it will take over the auto industry.
However, note that Ford will still be around when the transportation industry enters a new era. And while many automakers have ambitions in the driverless car world, Ford just might be your best bet.
Ford does not have a killer product like the Tesla "Model S" or "Model 3." What it does have is a plan to introduce 13 new electrified vehicles by 2020. This means in just a few years, 40% of Ford's lineup would be electrified. (Source: "Ford Outlines Growth Plan: Fortify Profit Pillars; Transform Underperforming Operations; Invest in Emerging Opportunities to be a Leader in Electrification, Autonomy and Mobility," Ford Motor Company, September 14, 2016.)
At the same time, the company has announced its intention to deliver high-volume, fully autonomous vehicles for ride sharing in 2021. Ford is investing in or collaborating with four startups on self-driving car development and is doubling its Silicon Valley team and more than doubling its Palo Alto Campus. (Source: "Ford Targets Fully Autonomous Vehicle For Ride Sharing In 2021; Invests In New Tech Companies, Doubles Silicon Valley Team," Ford Motor Company, August 16, 2016.)
Of course, Ford has yet to prove that it can deliver on those fronts. But that said, it has one of the best track records as an automaker, especially when it comes to utility: its "F Series" is the world's best-selling full-size pickup truck, and its "Transit" lineup offers the world's best-selling large vans and buses. And while Ford is still in the early stage on those plans, I suspect that when the company does make some serious progress on them, F stock won't be this cheap.
The Bottom Line on Ford Stock
At the end of the day, if there is a recession-proof business that's also future-proof and has an over-five-percent yield right now, I wouldn't even be looking at the auto sector. But since our choice set is limited, Ford stock is still worth taking a serious look at for investors that want to bump up the yield of their income portfolios.