Ford Stock: A New Reason to Own Ford Motor Company?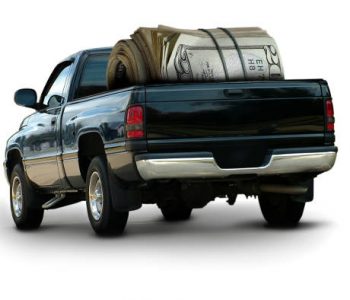 Why Ford Stock Could Still Be Worth Owning
Despite the recent surge in the U.S. stock market, not every stock is shooting through the roof. For instance, even with a 4.75% dividend yield, Ford Motor Company (NYSE:F) stock is having a hard time finding an audience. In the past 12 months, Ford stock returned a disappointing negative-1.2%.
But does that mean income investors should cross Ford stock off their list? Not really. Let me explain.
The main reason why traditional automakers lack investor appeal today is due to what people expect to be the future of the transportation industry. If all cars become electric and driverless in the future, companies making cars powered by internal combustion engines would be in serious trouble.
The thing is, though, Ford is not standing still. While the company is known for making "F-150" pickup trucks, it might not be as irrelevant as people think once the future arrives.
In the electrified vehicle segment, the company just announced seven of the 13 new vehicles coming in the next five years, including the "F-150 Hybrid," "Mustang Hybrid," and "Transit Custom" plug-in hybrid. The company is also investing $700.0 million in its Flat Rock Assembly Plant in Michigan to create a factory capable of producing high-tech electrified and autonomous vehicles. (Source: "Ford Adding Electrified F-150, Mustang, Transit By 2020 In Major EV Push; Expanded U.S. Plant To Add 700 Jobs To Make EVs, Autonomous Cars," Ford Motor Company, January 3, 2017.)
This is a big deal for Ford stock. Many companies have plans to make electrified vehicles, but it's hard to know whether those vehicles would sell well when they come out. What Ford is doing, though, is making its existing lineup future-proof.
You see, the F-150 is the world's best-selling full-size pickup truck, the "Transit" is the best-selling large van and bus, and the "Mustang" is one of the most iconic American muscle cars. Each of these vehicles already has a huge following. By electrifying its already popular vehicles, Ford can almost guarantee that this upcoming lineup will find an audience.
Don't forget that, last summer, Ford announced that it is developing a high-volume, fully autonomous, SAE-level-4-capable vehicle that can be used for ride-hailing or ride-sharing services. Ford plans to debut this vehicle in 2021. It is the first company to set a target date for such an endeavor. (Source: "Ford Targets Fully Autonomous Vehicle For Ride Sharing In 2021; Invests In New Tech Companies, Doubles Silicon Valley Team," Ford Motor Company, August 16, 2016.)
Many people believe that autonomous and electric vehicles will be the future. Just take a look at how much Tesla Motors Inc (NASDAQ:TSLA) stock has gone up over the last five years and you'll see what I mean. Moreover, consumers seem to be very excited about this. At this year's Consumer Electronics Show (CES 2017), many automakers and Silicon Valley firms took the opportunity to show off their latest autonomous driving technology to the world.
No doubt, competition is going to be intense. But if Ford can execute its plan and capture a sizable portion of the new market—like what it did 100 years ago with the "Model T"—it could be a huge catalyst for Ford stock.
The Bottom Line on Ford Stock
At the end of the day, Ford is already running a successful business. Thanks to its solid performance in 2016, the company said that it will pay a special dividend of $0.05 per share in the first quarter of 2017, along with its regular dividend of $0.15 per share. (Source: "Ford To Close 2016 Strong; Declares Regular And Supplemental Dividends; Highlights progress In Auto And Mobility Expansion," Ford Motor Company, January 10, 2017.)
The company's current business should be able to support Ford stock's impressive dividends. Its development in electrified and autonomous vehicles would make it future-proof. That's why, even though Ford stock is not really an exciting ticker, it still deserves a spot in investors' portfolios.