Ford Stock: Dividend History and 2017 Outlook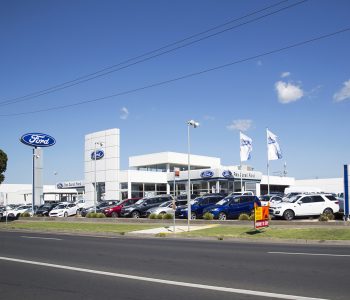 iStock.com/jax10289
Ford Stock Outlook 2017
Ford Motor Company (NYSE:F) pays generous dividends. However, with what happened in the U.S. automotive industry in the last recession, investors may have second thoughts about putting their money into an automaker. Will Ford stock go up in 2017? And will the company raise its dividend?
Let's take an in-depth look at Ford stock from an income investor's perspective.
Ford Stock's Current Dividend Policy
The reason why many investors like Ford stock, especially in today's environment, is its handsome dividends. The company makes quarterly distributions of $0.15 per share. At its current share price, that translates to an annual dividend yield of 5.31%.
In comparison, the average dividend yield of all S&P 500 companies right now is 1.87%. So Ford stock is providing a yield that's nearly three times as large as the S&P 500 average.
Ford Stock's Dividend History
However, sometimes a high dividend yield can be a reflection of investors' concerns about a company's dividend safety. If you have been following Ford stock for a while, you would know that it wasn't always sunshine and rainbows for the Dearborn, Michigan-based automaker.
Ford has been around for more than 100 years and started paying a dividend when the business became public in 1956. It is definitely a company that's willing to return value to shareholders. However, due to the cyclical nature of the auto industry, Ford had to cut its dividend on four occasions: in 1980, 1991, 2002, and 2006.
In 2006, the company cut its quarterly payout from $0.10 per share to $0.05 per share. A few months later, it suspended its dividend payments altogether.
And then the U.S. economy was hit by the Great Recession, which many say was the biggest downturn since the Great Depression. When businesses were closing down and people were losing their jobs, buying a new car was a luxury, and auto sales plunged.
However, the recovery of the U.S. economy was quickly underway. By 2010, auto sales started to climb again. This brought hope to investors of Ford stock.
In December 2011, Ford announced that it would reinstate its dividends, starting with a $0.05-per-share quarterly payment in March 2012. Since then, the company has paid a dividend in every quarter.
Also Read:
7 Companies Set to Pay a Special Dividend in 2017
5 Cheap Dividend Stocks for 2017
What's more is that the payout has been growing. The table below shows Ford stock's dividend history since payment resumed in 2012. As you can see, the company's regular quarterly dividend rate has been raised from $0.05 per share to $0.15 per share. That's an increase of 200%.
| | | | | | |
| --- | --- | --- | --- | --- | --- |
| Declaration Date | Ex-Dividend Date | Record Date | Payment Date | Amount | Payment Type |
| 2017-07-13 | 2017-07-20 | 2017-07-24 | 2017-09-01 | $0.15 | Regular |
| 2017-04-10 | 2017-04-18 | 2017-04-20 | 2017-06-01 | $0.15 | Regular |
| 2017-01-10 | 2017-01-18 | 2017-01-20 | 2017-03-01 | $0.05 | Special |
| 2017-01-10 | 2017-01-18 | 2017-01-20 | 2017-03-01 | $0.15 | Regular |
| 2016-10-13 | 2016-10-25 | 2016-10-27 | 2016-12-01 | $0.15 | Regular |
| 2016-07-14 | 2016-07-26 | 2016-07-28 | 2016-09-01 | $0.15 | Regular |
| 2016-04-08 | 2016-04-27 | 2016-04-29 | 2016-06-01 | $0.15 | Regular |
| 2016-01-12 | 2016-01-27 | 2016-01-29 | 2016-03-01 | $0.25 | Special |
| 2016-01-12 | 2016-01-27 | 2016-01-29 | 2016-03-01 | $0.15 | Regular |
| 2015-10-08 | 2015-10-28 | 2015-10-30 | 2015-12-01 | $0.15 | Regular |
| 2015-07-09 | 2015-07-29 | 2015-07-31 | 2015-09-01 | $0.15 | Regular |
| 2015-04-10 | 2015-04-29 | 2015-05-01 | 2015-06-01 | $0.15 | Regular |
| 2015-01-08 | 2015-01-28 | 2015-01-30 | 2015-03-02 | $0.15 | Regular |
| 2014-10-08 | 2014-10-29 | 2014-10-31 | 2014-12-01 | $0.13 | Regular |
| 2014-07-10 | 2014-07-30 | 2014-08-01 | 2014-09-02 | $0.13 | Regular |
| 2014-04-10 | 2014-04-30 | 2014-05-02 | 2014-06-02 | $0.13 | Regular |
| 2014-01-09 | 2014-01-29 | 2014-01-31 | 2014-03-03 | $0.13 | Regular |
| 2013-10-10 | 2013-10-30 | 2013-11-01 | 2013-12-02 | $0.10 | Regular |
| 2013-07-11 | 2013-07-31 | 2013-08-02 | 2013-09-03 | $0.10 | Regular |
| 2013-04-12 | 2013-05-01 | 2013-05-03 | 2013-06-03 | $0.10 | Regular |
| 2013-01-10 | 2013-01-28 | 2013-01-30 | 2013-03-01 | $0.10 | Regular |
| 2012-10-11 | 2012-10-31 | 2012-11-02 | 2012-12-03 | $0.05 | Regular |
| 2012-07-12 | 2012-08-01 | 2012-08-03 | 2012-09-04 | $0.05 | Regular |
| 2012-03-14 | 2012-04-30 | 2012-05-02 | 2012-06-01 | $0.05 | Regular |
| 2011-12-08 | 2012-01-27 | 2012-01-31 | 2012-03-01 | $0.05 | Regular |
(Source: "Historical Dividends," Ford Motor Company, last accessed July 25, 2017.)
Will Ford Increase the Dividend?
Dividends come from profits. The reason why Ford cut its dividend last time was that the company wasn't making money. To see whether Ford would increase its dividend, let's take a look at its financials.
In 2014, the company generated $144.0 billion of revenue and $0.31 of profits per share. In 2015, Ford's revenue grew 3.8% to $149.55 billion, and earnings per share (EPS) jumped 494% to $1.84. In 2016, revenue further improved to $151.8 billion, while EPS increased to $1.15. Excluding one-time items, Ford's adjusted earnings came in at $1.76 for 2016. Note that last year, Ford's net income of $4.6 billion and adjusted pre-tax profit of $10.4 billion were the second best in the company's history. (Source: "Ford Finishes 2016 Strong; Fourth Quarter and Full-Year Profits in Line with Expectations," Ford Motor Company, January 26, 2017.)
In 2016, Ford's regular quarterly dividends totaled $0.60 per share. Based on the fact that the company's reported EPS was $1.15 and adjusted EPS was $1.76, there was a sizable margin of safety.
So that means there's plenty of room for dividend increases, right?
Well, keep in mind that the automotive industry is a cyclical one. In some years, revenue and profits are high. In other years, they are much lower.
But dividends are supposed to be sticky. While there is no guarantee, the implication is that once a company has started paying a dividend, it will keep paying at least the current amount, going forward.
That creates a problem for the company's dividend policy. If Ford decides to raise its dividend rate when things are good, the payout may not be sustainable when things slow down. That would not be good. As we have seen plenty of times, a dividend cut could be a huge disappointment for stock market investors.
But does that mean there is no way for Ford to reward its shareholders when sales are booming? Not necessarily. While Ford may not want to raise its regular dividend rate to unsustainable levels, the company can return some profits to investors in the form of one-time special dividends.
A special dividend is paid on top of a company's regular quarterly dividend. The term "special" means it is a one-time payment that is not expected to be recurring. In other words, a special dividend is a nice surprise for investors. After a special dividend is paid to investors, there is no obligation for the company to announce the timing or the amount of the next one.
2015 was a great year for Ford. As a result, the company decided to return an extra $1.0 billion to Ford stock investors in the form of a special dividend. Ford announced this special dividend—which translated to $0.25 per share—in January 2016. (Source: "Ford Expects Record 2015 Pre-Tax Profit; 2016 To Be Equal To Or Higher Than 2015; Company Declares $1 Billion Supplemental Cash Dividend And First Quarter Dividend," Ford Motor Company, January 12, 2016.)
And that was not all. 2016 turned out to be another year of solid financial performance for Ford. Therefore, in January 2017, Ford decided to pay another $200.0 million of special dividends to shareholders. The amount translated to $0.05 on a per share basis. (Source: "Ford To Close 2016 Strong; Declares Regular And Supplemental Dividends; Highlights Progress In Auto And Mobility Expansion," Ford Motor Company, January 20, 2017.)
So, if your question is, "Will Ford announce a special dividend in 2017?," the answer is, the company already did that in January.
Add it up: Ford has returned an extra $1.2 billion to investors in special dividends on top of its regular dividends in the last two years. The company was featured in my column on "special dividend 2017." Based on its current financials, Ford has room for an increase in its regular quarterly dividend rate, but, due to the cyclical nature of the industry, management will likely choose to pay a special dividend after a good year of sales.
Will Ford Stock Split in 2017?
When a company's share price rises past a certain level, it may become inconvenient for retail investors. In particular, if there is a minimum trading parcel, a company's high stock price could deter small investors from investing in the company. Moreover, when a company's stock price becomes much higher than its peers, it could make the company appear more expensive, even though valuation involves more than just stock price alone.
One solution that many companies with high share prices have used is stock splits. For instance, a two-for-one stock split would double the number of shares outstanding. If the stock is trading at $200.00 apiece before the split, its price would theoretically be halved to $100.00 apiece after the split. This is because a stock split does not change the fundamentals of the company. When there are twice as many shares outstanding as before, each share is worth half as much.
Ford stock completed its initial public offering (IPO) in 1956. Since then, the stock has split on six different occasions: a two-for-one split in 1962, a five-for-four split in 1977, a three-for-two split in 1986, a two-for-one split in 1988, and another two-for-one split in 1994.

(Source: "Splits and Spinoffs," Ford Motor Company, last accessed July 25, 2017.)
The reason for stock splits is the high share price. Ford stock has surged quite a bit since the Great Recession. However, in recent years, its share price has been consolidating, rather than shooting through the roof. At $11.27, Ford's share price is not high at all, compared to its peers. General Motors Company (NYSE:GM) stock trades at $35.57 apiece, while Fiat Chrysler Automobiles NV (NYSE:FCAU) trades at $11.72.
Given the current price level of Ford stock, I don't think the company will announce a stock split anytime soon.
Will Ford Stock Go Up in 2017?
Right now, Ford appears to be one of the undervalued stockss. It has a price-to-earnings (P/E) multiple of 12.11 times, which is significantly lower than the S&P 500's average P/E ratio of 26.2 times. Moreover, it's also much lower than its industry's average P/E of 17.1 times. (Source: "Ford Motor Co (F.N)," Reuters, last accessed July 25, 2017.)
However, for investors looking for "Ford stock projections" or "Ford stock long term outlook," keep in mind that the cyclical nature of the auto industry will play a role in valuations.
Investors know that auto sales won't be booming forever, and things can go south very quickly. One consequence is that the market is unwilling to reward major automakers with high stock prices. As a result, a giant automaker like Ford tends to have a low P/E when auto sales are strong (like right now).
Ford is a solid company, especially when you take into account its cost-cutting efforts in recent years. It is also the only one of Detroit's "Big Three" automakers that did not need a government bailout in the last recession (although it did receive loans from the government). The future is uncertain, but, at the current price, Ford stock could represent an opportunity for income investors.
Advertisement
Related Articles
© Copyright 2019: Income Investors. All rights reserved. No part of this document may be used or reproduced in any manner or means, including print, electronic, mechanical, or by any information storage and retrieval system whatsoever, without written permission from the copyright holder.
---
Dear Reader: There is no magic formula to getting rich. Success in investment vehicles with the best prospects for price appreciation can only be achieved through proper and rigorous research and analysis. We are 100% independent in that we are not affiliated with any bank or brokerage house. Information contained herein, while believed to be correct, is not guaranteed as accurate. Warning: Investing often involves high risks and you can lose a lot of money. Please do not invest with money you cannot afford to lose. The opinions in this content are just that, opinions of the authors. We are a publishing company and the opinions, comments, stories, reports, advertisements and articles we publish are for informational and educational purposes only; nothing herein should be considered personalized investment advice. Before you make any investment, check with your investment professional (advisor). We urge our readers to review the financial statements and prospectus of any company they are interested in. We are not responsible for any damages or losses arising from the use of any information herein. Past performance is not a guarantee of future results. All registered trademarks are the property of their respective owners

Please wait...
Sign up to receive our FREE Income Investors newsletter along with our special offers and get our FREE report:
5 Dividend Stocks to Own Forever
This is an entirely free service. No credit card required. You can opt-out at anytime.
We hate spam as much as you do.
Check out our privacy policy.