Ford Stock: 3 Reasons to Own Ford Motor Company
iStock.com/:E_Y_E
Why Income Investors Should Consider Ford Stock
Due to what happened in the last financial crisis, automotive companies haven't been the most popular choices for income investors. However, one automaker could still be worth owning—Ford Motor Company (NYSE:F). Let's look at three reasons for investors to consider Ford Stock.
1. Generous Distributions
The number one reason to own Ford stock is to collect its generous dividends. As income investors, we are well aware that because of the rise in overall stock market, dividend yields have been subdued. In fact, the average yield of S&P 500 companies right now is just 1.93%. (Source: "S&P 500 Dividend Yield," Multpl.com, last accessed August 11, 2017.)
Ford stock, on the other hand, is much more generous. Paying a quarterly dividend of $0.15 per share, the company has an annual dividend yield of 5.57% at the current price. In other words, investors purchasing Ford shares today can earn a yield that's nearly three times the S&P 500's average.
Of course, sometimes a company's yield is high simply because its share price has tumbled. And while Ford stock is far from being a hot commodity, the main reason behind its handsome yield is actually the company's ability to raise its payout.
Ford resumed its dividends in 2012. The chart below shows the company's dividend history since then.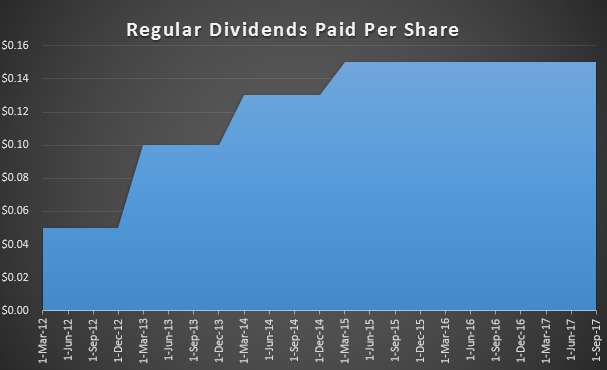 (Source: "Dividends," Ford Motor Company, last accessed August 11, 2017.)
From 2012 to today, Ford's quarterly dividend rate has grown from $0.05 per share to $0.15 per share—a 200% increase!
Don't forget; the chart only shows Ford's regular dividend payments. The company has also rewarded investors with special dividends on top of its regular dividends. Ford paid $1.0 billion in special dividends in 2015, and $200.0 million in special dividends in 2016. Those translated to one-time special payments of $0.25 per share and $0.05 per share, respectively.
Also Read:
Why Ford's Dividend Can Keep Growing in 2017
Ford Stock: Dividend History and 2017 Outlook
2. Growing Business
The company also has a growing business to support its rising payout. In 2012, Ford generated $133.6 billion of revenue. In 2016, Ford's revenue has grown to $151.8 billion. (Source: "Ford Finishes 2016 Strong; Fourth Quarter and Full-Year Profits in Line with Expectations," Ford Motor Company, January 26, 2017.)
The bottom line was solid as well. Ford's reported earnings were $1.15 per share for 2016. Adjusted earnings, which exclude one-time items, were $1.76 per share. No matter which metric you use, it's easy to see that the company was earning quite a bit more than the $0.60 of regular dividends it paid in 2016.
3. Attractive Valuation
While Ford Motor Company's business has grown substantially over the last few years, investors haven't really warmed up to it. As a result, the company now offers very attractive valuations in this bloated stock market.
Trading at $10.77 apiece, Ford stock has a price to earnings multiple of 11.33 times, which is much lower than the industry's average price-earnings ratio of 16.27 times. Moreover, the company's price-to-sales and price-to-book ratios are also significantly lower than the industry's averages. (Source: "Ford Motor Co (F.N)," Reuters, last accessed August 11, 2017.)
In a market where all three major indices recently surged past their all-time highs, bargains are hard to find. With a much improved business and generous distributions, Ford stock deserves a second look from income investors.