For Income Investors, Wal-Mart Stores Inc (NYSE:WMT) Could Be Better Than Amazon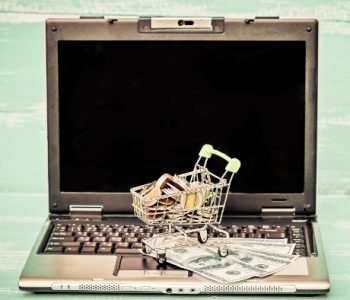 iStock.com/amnarj2006
Why Income Investors Should Consider This Decades-Old Retailer
"WMT stock may not be a hot ticker right now, but its rock-solid business still makes it a top pick for 2017, and beyond."
That's what I told readers of Income Investors earlier this year. In that article, I explained why long-term dividend investors should consider loading up on Wal-Mart Stores Inc (NYSE:WMT).
I hope you followed my advice. Since that article was published, Wal-Mart shares have climbed 19.2%. Not bad for a blue-chip company commanding over $280.0 billion in market cap.
The best part is, even if you missed the boat earlier on, it might not be too late to back up the truck. This is because the company is about to capitalize on a major catalyst: e-commerce.
Unless you've been living under a rock, you will likely have noticed the boom in the e-commerce industry in recent years. Companies involved in this industry have also become some of the hottest commodities in the stock market.
Take Amazon.com, Inc. (NASDAQ:AMZN), for instance. The company started out as an online book store in the 1990s. Today, it operates one of the largest online shopping platforms in the world, and can even deliver fresh groceries in certain metropolitan areas. As Amazon grew its business exponentially, it also made a ton of money for AMZN stock investors. In just the last five years alone, Amazon stock has skyrocketed 355%.
Now, I know what you are wondering: how does the rising e-commerce industry have anything to do with Wal-Mart? Isn't Wal-Mart made up of a chain of brick-and-mortar stores?
Also Read:
WMT Stock: Why Investors Should Not Ignore Wal-Mart Stores Inc.
Well, while it's true that Wal-Mart is known primarily as a physical retailer, it also operates an online shopping segment. And that segment has been firing on all cylinders.
In the third quarter of the company's fiscal year 2018, which ended September 30, 2017, e-commerce net sales at Walmart U.S. rose a staggering 50% year-over-year. Gross merchandise volume, which measures the total U.S. dollar volume of goods and services initiated through the company's e-commerce platforms, increased by 54% year-over-year. (Source: "Walmart U.S. Q3 comps 1 grew 2.7% and Walmart U.S. eCommerce sales grew 50%, Company reports Q3 FY18 GAAP EPS of $0.58; Adjusted EPS2 of $1.00, The company now expects full-year GAAP EPS of $3.84 to $3.92, Adjusted full-year EPS2 of $4.38 to $4.46," Wal-Mart Stores Inc, November 16, 2017.)
The majority of this quarter's e-commerce growth came from Walmart.com. While the platform is still much smaller than Amazon.com, Walmart has expanded its online offerings tremendously. Over the past year, the number of items available on Walmart.com has tripled to more than 70 million stock keeping units. (Source: "Third Quarter Fiscal Year 2018 Earnings Call," Wal-Mart Stores Inc, November 16, 2017.)
Other than growing Walmart.com, the company has also boosted its online presence through a series on acquisitions. Right now, Wal-Mart owns Jet.com, ModCloth, Moosejaw, Bonobos, and several other online shopping web sites.
In October, Walmart announced that it has acquired Parcel, a technology-based delivering service company that operates 24 hours a day. In a press release, Walmart said "We plan to leverage Parcel for last mile delivery to customers in New York City – including same-day delivery – for both general merchandise as well as fresh and frozen groceries from Walmart and Jet." (Source: "Walmart Announces the Acquisition of Parcel, a Technology-Based, Same-Day and Last-Mile Delivery Company," Wal-Mart Stores Inc, October 3, 2017.)
Going forward, Wal-Mart could also leverage its giant geographical footprint to boost its e-commerce segment. It's no secret that Amazon has been building a new distribution network consisting of smaller buildings located closer to the centers of large metropolitan areas. Wal-Mart, on the other hand, already has more than 11,600 stores in 28 countries. These stores can also function as the infrastructure network needed to support its increasing e-commerce operations.
Reliable Dividends
Of course, Wal-Mart is not the only company capitalizing on the growing online shopping industry. However, WMT is quite possibly the best e-commerce play for income investors. The reason is simple: Walmart offers something very few e-commerce companies can provide–a reliable stream of dividends.
You see, in the e-commerce industry, most companies have to reinvest a substantial amount of their profits (if they have any) to expand their businesses. While Wal-Mart is also expanding its presence aggressively, the company's established position in the physical retail industry means it has plenty of resources to support a stable dividend policy.
As a matter of fact, Wal-Mart has been paying not only a steady dividend, but an increasing one. Since the company declared its first ever dividend in March 1974, it has raised its payout every single year. That's 44 years of consecutive annual dividend increases. (Source: "Dividend History," Wal-Mart Stores Inc, last accessed December 6, 2017.)
And if you think the recent downturn in the retail industry is going to affect Wal-Mart's excellent dividend paying track record, think again. Even though some retailers have reported substantial declines in sales recently, Wal-Mart is doing more than fine. In the third quarter of the company's fiscal 2018, Wal-Mart generated $123.2 billion in revenue, representing a 4.2% increase year-over-year. Adjusted earnings came in at $1.00 per share, up two percent from the year-ago period. (Source: "Financial presentation to accompany management transcript," Wal-Mart Stores Inc, last accessed December 6, 2017.)
Both top and bottom lines numbers were better than Wall Street's expectations. Over the past four quarters, Wal-Mart has beaten analysts' earnings per share estimates every single time. (Source: "Wal-Mart Stores, Inc. (WMT)," Yahoo! Finance, last accessed December 6, 2017.)
Final Thoughts on WMT Stock
E-commerce has become such a huge part of Walm-Mrt's business that the company decided to change its name. For more than four decades, the retail giant operated under the official name of Wal-Mart Stores Inc. But now, the company has decided to change its legal name to Walmart Inc., starting February 1, 2018.
"Our customers know us as Walmart and today they shop with us not only in our stores but online and with our app as well," said Wal-Mart's President and Chief Executive Officer, Doug McMillon, in a press release earlier this week. "While our legal name is used in a limited number of places, we felt it was best to have a name that was consistent with the idea that you can shop us however you like as a customer." (Source: "Walmart Changes its Legal Name to Reflect How Customers Want to Shop," Wal-Mart Stores Inc, December 6, 2017.)
With plenty of resources at hand and a clear strategy, Wal-Mart's e-commerce presence will likely continue to expand. Meanwhile, the company should have no problem keep paying an increasing amount of dividends to shareholders. That's why for income investors, WMT stock deserves a serious look.