5.6%-Yielding Foot Locker Stock a Contrarian Play That Could Double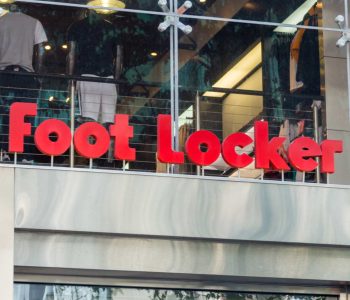 Undervalued FL Stock Has 112% Upside
Retail stocks haven't exactly been taking Wall Street by storm these days. Fears of a recession aren't unfounded, and thanks to soaring inflation, Americans have been changing the way they spend their money. Two bellwethers of consumer spending, Target Corporation (NYSE:TGT) and Walmart Inc (NYSE:WMT), both recently missed on their quarterly earnings estimates and provided weak guidance. Year-to-date, their stocks are down by 40% and 17.5%, respectively.
Not all beaten-down retail stocks are the same, though. Foot Locker, Inc. (NYSE:FL) is an outstanding company that recently announced record 2021 results and solid first-quarter 2022 results. For full-year 2022, management expects the company to hit the upper end of its sales and earnings-per-share (EPS) guidance. Moreover, Foot Locker stock provides high-yield dividends.
Foot Locker is a global retailer of athletic and casual shoes and apparel. It operates stores under the names "Foot Locker," "Kids Foot Locker," "atmos," "Champs Sports," "Eastbay," "Sidestep," and "WSS." The company has about 2,800 stores in 28 countries—in North America, Europe, Australia, New Zealand, and Asia. It also sells products online and through apps. (Source: "About Us," Foot Locker, Inc., last accessed June 21, 2022.)
Solid Q1 Results & Full-Year Outlook
For the first quarter ended April 30, Foot Locker announced that its total revenue inched up by one percent year-over-year to $2.1 billion. Excluding the effect of foreign exchange-rate fluctuations, its total sales in the first quarter increased by three percent year-over-year. Its first-quarter comparable same-store sales were down by 1.9% year-over-year, with apparel significantly outselling footwear. (Source: "Foot Locker, Inc. Reports 2022 First Quarter Results; Updates 2022 Outlook," Foot Locker, Inc., May 20, 2022.)
Foot Locker reported first-quarter 2022 net income of $133.0 million, or $1.37 per share, compared to $202.0 million, or $1.93 per share, in the same prior-year period. Its adjusted net income in the first quarter of 2022 was $1.60 per share, versus $1.96 per share in the first quarter of 2021.
Also during the first quarter, Foot Locker opened 24 new stores, remodeled or relocated 23 stores, and closed 67 stores.
"We are off to a strong start in 2022, reporting a solid quarter against the tough comparisons of fiscal stimulus and historically-low promotions from last year," said Richard Johnson, Foot Locker, Inc.'s chairman and CEO. (Source: Ibid.)
He added, "As we elevate brands across our portfolio, continue to use our real estate flexibility to optimize our footprint, and evolve our omni-channel capabilities, we are excited about our improving ability to expand our customer base and fuel our consumer's desire for self-expression."
Andrew Page, the company's executive vice president and CFO, noted, "Following our solid results from the first quarter, our strong inventory position going into the remainder of the year, and our strengthening vendor relationships, based on our current visibility, we now expect to achieve the upper end of our revenue and earnings guidance for the full year." (Source: Ibid.)
Foot Locker, Inc.'s 2022 Outlook

Sales
Upper End of Down by 4% to 6%
Comparable Sales
Upper End of Down by 8% to 10%
Square Footage
Down by 1% to 2%
Adjusted EPS
Upper End of $4.25 to $4.60
Capital Expenditures
Up to $275.0 million
(Source: Ibid.)
Foot Locker Stock's Quarterly Payout Doubles to $0.40 Per Share
Since Foot Locker is a retail company, investors shouldn't be surprised that it suspended its dividends for one quarter during the depths of the COVID-19 pandemic. Before the pandemic, FL stock paid a quarterly dividend of $0.40 per share. By the time the dividend was reinstated in August 2021, it had fallen to $0.15 per share. (Source: "Dividends & Splits," Foot Locker, Inc., last accessed June 21, 2022.)
It's been all uphill since then.
On May 17, Foot Locker declared a quarterly dividend of $0.40 per share, for a yield of 5.6%. That represents a 100% increase over the $0.20 per share FL stock paid out in May 2021, and is consistent with what it paid out in the first quarter of 2022. The stock's payout is safe, and Foot Locker, Inc. has the financial room to hike it even further if it so chooses. Its payout ratio is a paltry 14.9%.
Foot Locker stock's high-yield dividend is the perfect tonic for investors who have had to weather the stock market sell-off. As of this writing, FL stock is down by:
10% over the last month
10% over the last three months
30% over the last six months
33% year-to-date
50% year-over-year
Once the stock market bottoms, the outlook for Foot Locker stock is exceptionally bullish. Of the analysts who provide a 12-month share-price target for Foot Locker, Inc., their average estimate is $34.38 and their high estimate is $61.00. This points to potential gains in the range of 20% to 112%.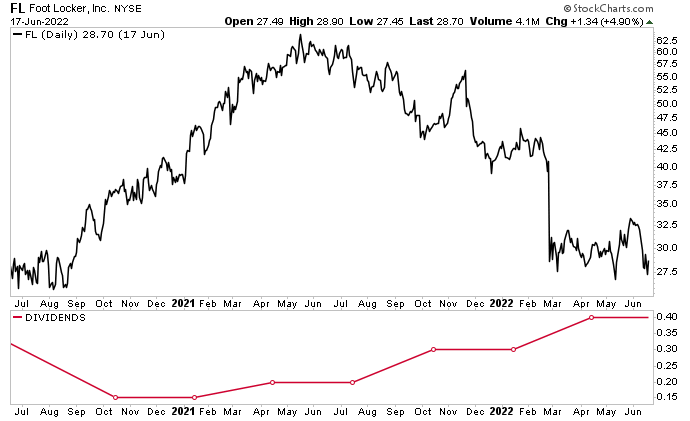 Chart courtesy of StockCharts.com
The Lowdown on Foot Locker, Inc.
Foot Locker is a great retail company with a huge international presence. It recently announced record 2021 financial results, solid first-quarter 2022 results, and an encouraging outlook for the remainder of this year.
FL stock is poised to take off once the stock market bottoms and fears of a recession are in the rearview mirror.
For dividend hogs, Foot Locker stock's payout has been rising since early 2021. Because of Foot Locker, Inc.'s low payout ratio, chances are good the company will hike its dividend again over the coming quarters, which would put its dividend above where it was before the pandemic.