FLEX LNG Ltd: 12.3%-Yielding Shipping Stock Provides Strong Guidance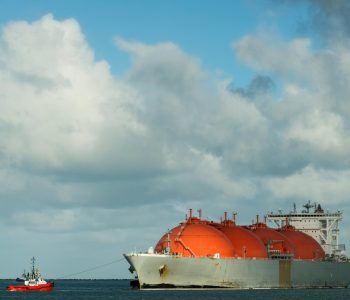 Why FLNG Stock Is Worth a Closer Look
By its very nature, the business of liquified natural gas (LNG) shipping companies like FLEX LNG Ltd (NYSE:FLNG) is cyclical. This means investors can't just add shares to their portfolios and check back in five years. Instead, FLEX LNG stock is the kind of stock that investors need to keep an eye on. Right now, though, it's a great time to be an FLNG stockholder.
FLEX LNG Ltd is an LNG shipping company with a fleet of 13 carriers. The company's fleet is made up of nine M-type Electronically Controlled Gas Injection (MEGI) carriers and four Generation X Dual Fuel (X-DF) carriers built between 2018 and 2021. (Source: "First Quarter 2022 Results," FLEX LNG Ltd, May 11, 2022.)
The company has a large backlog, with about 98% of 2022 already covered. Over the past year, FLEX LNG has secured nine fixed-hire time charters with minimum contract periods of three to five years. The company still has three ships that will be redelivered from existing time charterers during the next 23 months. Given the strong market and general shortage of modern shipping tonnage, FLEX LNG Ltd's management is upbeat about the prospects of recontracting these ships at attractive terms.
LNG is in high demand these days, partly due to the war in Ukraine. U.S. natural gas futures have gone up by more than 130% in 2022 as higher prices in Europe and Asia juiced the demand for U.S. LNG. Russia's invasion of Ukraine in February stoked fears that Russia would cut off gas supplies to Europe. The country has already cut off natural gas supplies to the Netherlands, Bulgaria, Poland, and Finland, as well as to certain firms in Germany and Denmark. (Source: "Russia Cuts Gas Supplies to Netherlands and Firms in Denmark and Germany," The Guardian, May 31, 2022.)
In 2021, Russia supplied 40% of Europe's natural gas. To wean themselves off Russian gas, many countries have been turning to LNG from the U.S. and Asia. In April, LNG imports were up by 47.7% year-over-year and roughly 20% on a sequential basis. (Source: "How Europe Plans to Cope as Russia Cuts Off the Gas," The Economist, June 1, 2022.)
Europe can, in practice, get enough LNG to replace nearly 66% of the Russian piped gas. In 2021, European import terminals ran at just 45% capacity. Europe has been increasingly turning to the U.S. to make up its shortfall. So far in 2022, European imports of LNG have gone up by 52% year-over-year.
This situation should benefit LNG shipping companies like FLEX LNG Ltd for the foreseeable future.
The current economic and political environment has certainly been helping FLEX LNG stock generate market-trouncing gains. As of this writing, FLNG stock is up by:
30% over the last three months
35% over the last six months
55% year-to-date
90% year-over-year
In comparison, the S&P 500 is down by:
10% over the last three months
19% over the last six months
21% year-to-date
11% year-over-year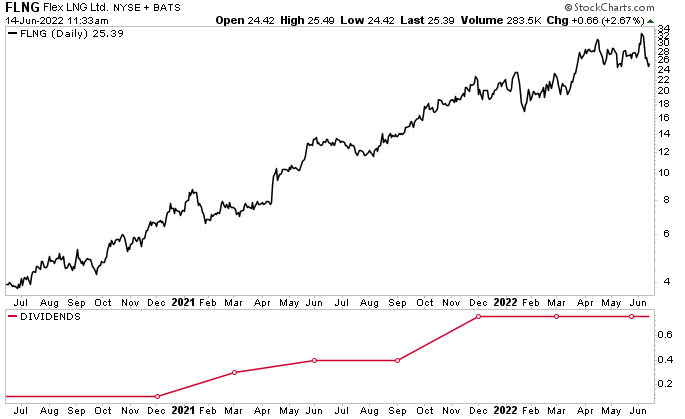 Chart courtesy of StockCharts.com
FLEX LNG Ltd Maintains Dividend at $0.75 per Share
In addition to posting market-trouncing returns, FLEX LNG stock boasts inflation-trumping, ultra-high-yield dividends. Thanks to its excellent cash flow generation, FLEX LNG Ltd has been able to return a huge portion of its earnings to its shareholders.
In May, the company declared a first-quarter dividend of $0.75 per share. At FLNG stock's current price, that represents a yield of 12.3%. It's also 87.5% higher than the $0.40 per share the company paid out in the first quarter of 2021. (Source: "Dividend," FLEX LNG Ltd, last accessed June 15, 2022.)
FLEX LNG stock's high-yield dividend is safe; the company's payout ratio is just 71.7%.
FLEX LNG Ltd can afford to pay growing, ultra-high-yield dividends because it's been doing exceptionally well. In the first quarter ended March 31, the company's vessel operating revenue was $74.6 million and its net income was $55.8 million, or $1.05 per share. (Source: "Flex LNG Ltd. ('Flex LNG' or the 'Company') Today Announced its Unaudited Financial Results for the Three Months Ended March 31, 2022." FLEX LNG Ltd, May 11, 2022.)
The company's adjusted earnings before interest, taxes, depreciation, and amortization (EBITDA) in the first quarter were $56.3 million and its adjusted net income was $23.8 million, or $0.45 per share. FLEX LNG's average time charter equivalent (TCE) rate in the first quarter of 2022 was $62,627 per day, compared to $95,908 in the fourth quarter of 2021.
The company expects to experience gradual revenue growth over the next three quarters.
Other Recent Business Highlights
In March, FLEX LNG Ltd signed a $375.0-million term and revolving credit facility, with an accordion option to increase this by $125.0 million, secured against an additional vessel.
In April, the company signed an aggregate $320.0-million sale and leaseback agreement for the refinancing of the existing facility for its "Flex Constellation" and "Flex Courageous" vessels. The deal is expected to provide the company with $99.6 million.
Also in April, FLEX LNG Ltd's vessel "Flex Volunteer" began a time charter agreement as the fourth vessel with Cheniere Energy, Inc. (NYSE:LNG). Flex Volunteer was delivered approximately two months earlier than scheduled. The vessel's fixed-rate time charter is for a firm period ending in the first quarter of 2026. Cheniere Energy also declared its option for a fifth time charter agreement for the vessel "Flex Aurora." This vessel's fixed-rate time charter will begin in the third quarter of 2022 and end in the first quarter of 2026.
All this bodes well for FLNG stock's high-yield dividends.
The Lowdown on FLEX LNG Stock
FLEX LNG Ltd is a leading LNG marine shipping company with one of the most efficient fleets in the industry. The company recently reported solid first-quarter financial results that were in line with its revenue guidance. As mentioned earlier, management expects the company to gradually increase its revenues over the next three quarters.
Given FLEX LNG Ltd's large backlog, healthy financial position, and positive business outlook, the company has been able to provide investors with growing, ultra-high-yield dividends. This, coupled with a market-thumping share-price performance, should continue to provide some solace to FLNG stockholders in the current volatile economic environment.