FLEX LNG Ltd: 10.5%-Yielder Reports "Knock-Out" Q4 Results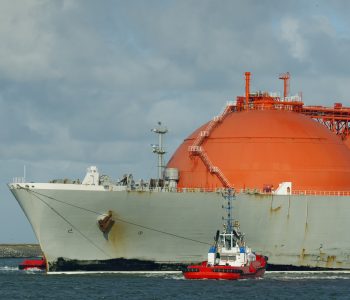 Why Investors Should Consider FLNG Stock Right Now
Russia's war on Ukraine has led many investors to take a closer look at stocks related to oil and natural gas.
At the moment, Europe gets roughly one-third of its liquefied natural gas (LNG) from Russian pipelines, many of which run directly through Ukraine. Russia brazenly violating international law with an unprovoked attack certainly shows the downside of heavily relying on the country for natural gas.
But becoming more independent from Russian LNG imports will take years. European officials have been trying to broker new deals with natural gas producers around the world, including those in the U.S. In December 2021, the U.S. surpassed Qatar as the world's largest exporter of LNG (on a weekly basis) for the first time. In January 2022, the U.S. was responsible for almost half of the record volume of LNG delivered to Europe. (Source: "Europe's Energy Crisis Pays Off for U.S. Natural-Gas Sellers, Global Traders," The Wall Street Journal," February 17, 2022.)
Getting LNG from the U.S. to Europe and other parts of the world relies on specialized shipping companies like FLEX LNG Ltd (NYSE:FLNG).
With a 50% lower fuel consumption rate and a 30% higher cargo capacity than steam-powered ships, the company's 13 vessels provide the lowest transportation costs in the LNG industry. This financial advantage is why FLEX LNG has been able to secure long-term charter contracts, with a contract backlog of 33 years. That backlog could end up extending to more than 69 years. (Source: "Company Profile," FLEX LNG Ltd, last accessed February 28, 2022.)
Record Revenue, Earnings, & Adjusted Net Income
Long-term contracts, tight supply, and high demand have been helping FLEX LNG Ltd consistently report excellent financial results.
For the fourth quarter ended December 31, 2021, the company announced that its revenue increased by 40% quarter-over-quarter to a record $114.6 million. The company's average time charter equivalent (TCE) rate per day during the quarter was $95,908, up by 40% from $68,341 in the third quarter of 2021. (Source: "Fourth Quarter 2021 Earnings Release," FLEX LNG Ltd, February 16, 2022.)
FLEX LNG reported record net income of $69.4 million, or $1.31 per share, for the fourth quarter of 2021. That was more than double the $32.8 million, or $0.62 per share, in the third quarter of 2021.
And the company's records keep coming.
FLEX LNG reported all-time record adjusted net income of $62.8 million, or $1.18 per share, for the fourth quarter. That was a 96% increase over the third-quarter 2021 adjusted earnings of $32.0 million, or $0.60 per share. FLEX LNG Ltd also reported an all-time record for adjusted earnings before interest, taxes, depreciation, and amortization (EBITDA) of $95.5 million, compared to $64.5 million in the previous quarter.
Moreover, the company ended 2021 with a rock-solid cash balance of $201.0 million.
Øystein M Kalleklev, FLEX LNG Ltd's CEO, commented, "We are pleased to deliver knock-out results for the fourth quarter as guided. Fueled by four ships exposed to a red-hot spot market, revenues for the fourth quarter jumped from $82 million to $115 million, slightly ahead of our guidance of approximately $110 million." (Source: Ibid.)
Flex LNG Ltd Hikes Dividend 150% Year-Over-Year
High earnings, a sizeable contract backlog, and a sound financial position have allowed FLEX LNG Ltd to continue rewarding investors with ultra-high dividends. In the fourth quarter of 2021, FLEX LNG stock paid investors $0.75 per share, which was equal to the $0.75 it paid out in the third quarter of 2021 and up by 150% from the $0.30 it paid out in the fourth quarter of 2020. This translates to a yield of 10.5%.
FLNG stock's frothy dividend is safe. The company's payout ratio is just 60.9%, giving it more than enough financial wiggle room to maintain or even raise its dividend over the coming quarters.
In addition to growing dividend yields, FLEX LNG stock provides strong capital appreciation. As of this writing, FLNG stock is up by:
23% over the last month
61% over the last six months
191% over the last year
675% since March 2020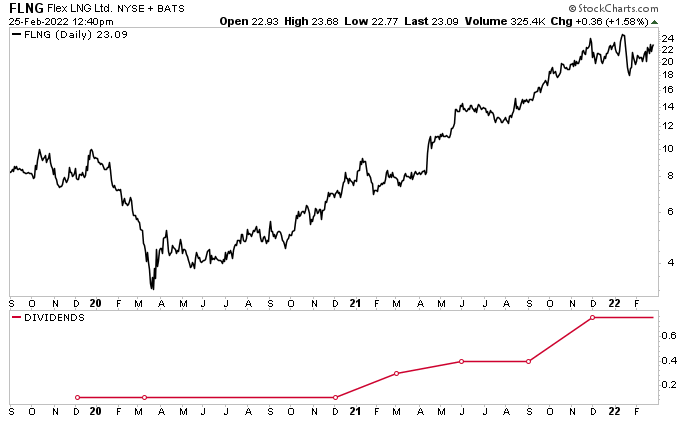 Chart courtesy of StockCharts.com
The Lowdown on FLEX LNG Stock
FLEX LNG Ltd is a leading LNG marine shipping company with one of the most efficient fleets in its industry. The company recently reported "knock-out" fourth-quarter results that featured all-time record revenues, earnings, and adjusted net income. This allowed the company to maintain FLEX LNG stock's ultra-high dividends.
Despite the spot freight market going from red-hot in November 2021 to ice-cold in January 2022, FLNG stock is well positioned to replicate its wonderful 2021 results in 2022.