FLEX LNG Ltd: Energy Play Up 207% YOY & Still Provides 15.8% Dividend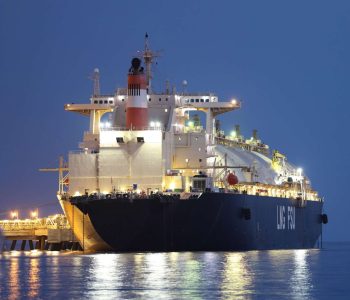 FLNG Stock's Outlook Is Bullish on Raised Guidance
It's tough to find an ultra-high-yield stock that has consistently experienced strong dividend growth and underlying share-price gains. FLEX LNG Ltd (NYSE:FLNG) fits that bill perfectly.
The company operates in one of the biggest growth areas, too: natural gas shipping.
During the 20th century, oil replaced coal as the main energy source. Since the start of the current millennium, there's been a gradual transition from oil to natural gas. According to one report, natural gas will overtake coal and oil as the biggest fossil fuel by 2030. That momentum isn't expected to slow down, either. By 2050, the world's energy demand is expected to be twice as high as it was in 2000. (Source: "Why Invest in Flex LNG Video," YouTube, June 14, 2019.)
That means an even greater demand for liquid natural gas (LNG) and companies that transport it. Right now, Qatar is the largest exporter of LNG, while Japan is the biggest importer. Going forward, the majority of LNG supply growth will come from the U.S., with increased demand from Asian countries. This translates to longer shipping distances and increased demand for LNG vessels.
Flex LNG Ltd is expected to be one of the biggest beneficiaries of this trend. The company has a fleet of 13 fuel-efficient, fifth-generation LNG carriers. (Source: "Company Profile," FLEX LNG Ltd, last accessed January 28, 2022.)
Its ships use 50% less fuel and have a 30% larger cargo capacity than steam-powered vessels. This ends up providing FLEX LNG's customers with the lowest transportation costs in the industry. (Source: YouTube, June 14, 2019, op. cit.)
That might explain why the company has secured attractive long-term time charters with a mixed portfolio of market-rate and fixed-rate contracts. Flex LNG Ltd's shipping fleet has a contract backlog of 33 years, which could extend to more than 69 years. This will provide the company with a reliable revenue and earnings stream for decades to come.
That might explain why some of FLEX LNG stock's largest shareholders are a who's who of the banking and investing community, including Goldman Sachs & Co. LLC, HSBC Holdings plc, and J.P. Morgan Securities plc. (Source: "20 Largest Shareholders as of January 3, 2022*," Flex LNG Ltd., January 3, 2022.)
FLNG stock has been on a tear lately. As of this writing, it's up by:
13% month-over-month
73% over the last six months
207% year-over-year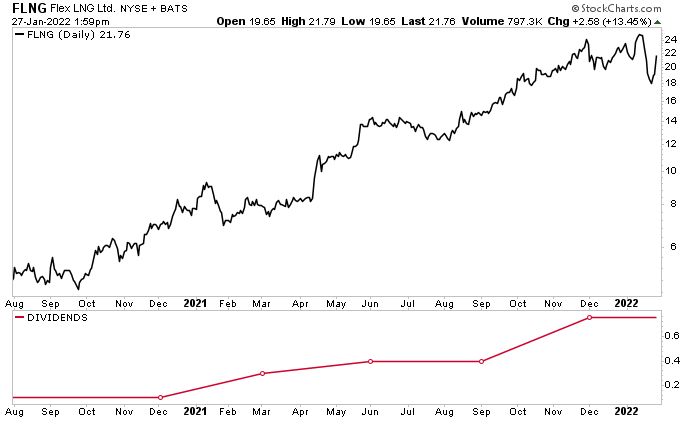 Chart courtesy of StockCharts.com
FLEX LNG Ltd Reports Great Q3 Results & Raises Full-Year Guidance
In the third quarter of 2021, Flex LNG announced that its revenue increased by 24% year-over-year to $81.8 million. Its net income went up by 158% to $32.8 million, or $0.62 per share. The company's average time charter equivalent rate in the third quarter of 2021 was $68,341 per day, versus $57,780 in the second quarter. (Source: "Flex LNG – Third Quarter 2021 Earnings Release," Flex LNG Ltd, November 16, 2021.)
During the third quarter, the company purchased 152,656 treasury shares. Moreover, as of November 16, 2021, it had repurchased 980,000 shares of Flex LNG stock at an aggregate cost of $9.4 million, or $9.64 per share.
Also in November 2021, the company signed a sale and charterback agreement for the vessel "Flex Volunteer," resulting in net proceeds to the company of approximately $37.7 million.
Øystein M Kalleklev, CEO, commented, "We are pleased to announce another strong quarterly report with revenues for the third quarter of $82 million in line with our guidance of approximately $80 million. In the fourth quarter, we will also be handsomely rewarded for maintaining a 30 per cent exposure to the spot market as the spot market is currently on at all time highs." (Source: Ibid.)
As a result of the third-quarter results, the company increased its revenue estimate for the fourth quarter from $85.0–$100.0 million to approximately $110.0 million.
This should result in additional share-price gains and dividend increases.
When it comes to dividends, Flex LNG has raised its payout pretty consistently over the last number of quarters. In December 2021, it announced a quarterly dividend of $0.75 per share, up by 87% from the prior quarter and up by 650% from the same prior-year period.
| | |
| --- | --- |
| Quarter | Dividend Per Share |
| Q3 2021 | $0.75 |
| Q2 2021 | $0.40 |
| Q1 2021 | $0.40 |
| Q4 2020 | $0.30 |
| Q3 2020 | $0.10 |
(Source: "Dividend," Flex LNG Ltd., last accessed January 28, 2022.)
The Lowdown on FLEX LNG Stock
What's not to love about FLNG stock?
FLEX LNG Ltd has one of the most efficient shipping fleets in the industry, it has been reporting fabulous financial results, and it has a contract backlog of 33 years. Furthermore, management has raised their full-year guidance again, expecting the company to report higher earnings. That could result in another hike to FLEX LNG stock's already frothy dividend.