FedEx Corporation, United Parcel Service, Inc. Riding COVID-19 Wave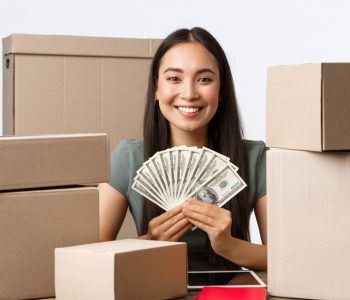 FedEx Corporation, United Parcel Service, Inc. Unexpected COVID-19 Winners
The COVID-19 pandemic has sparked an e-commerce boom…and delivery companies like FedEx Corporation (NYSE:FDX) and United Parcel Service, Inc. (NYSE:UPS) have cashed in.
This appeared to be the main takeaway last month after the two industry giants reported their latest round of earings. And all of this bodes well for investors hunting for new income streams.
Both companies reported quarterly numbers that crushed Wall Street expectations.
FedEx Corporation announced that first-quarter revenues jumped a very impressive 13% year-over-year, driven by a massive spike in residential deliveries. The sales number stands in stark contrast to the 2.5% decline the company reported during the same period in 2019. (Source: "FedEx Corporation Reports Strong First Quarter Results," FedEx Corporation, September 15, 2020.)
More surprising was the big bump in international freight shipments. Historically, FedEx Corporation has always competed with passenger airlines, which ship cargo in their aircraft underbellies. But with COVID-19 grounding millions of flights, cargo shippers have become the only way to ship freight abroad. That has resulted in surging volumns and margins for FedEx Corporation, even while the global economy borders on a depression.
United Parcel Service, Inc. did even better. Business-to-consumer package shipments, which benefited from the boom in online sales, surged 65% year-over-year. International shipping revenues surged seven percent, adjusted for swings in foreign exchange rates driven by bustling demand from Asia and Europe. And, while management didn't issue guidance for their full-year 2020 results, executives struck an optimistic tone in the company's conference call. (Source: "United Parcel Service, Inc. Releases 2Q 2020 Earnings," United Parcel Service, Inc., July 30, 2020.)
And these gains may not be temporary, either.
Thousands of retailers have shut their doors as a result of rolling government shutdowns. And with Americans getting used to buying products online, they might not necessarily go back to their old shopping habits when the economy reopens. This could result in a new, permanent base of sales for FedEx Corporation and United Parcel Service, Inc.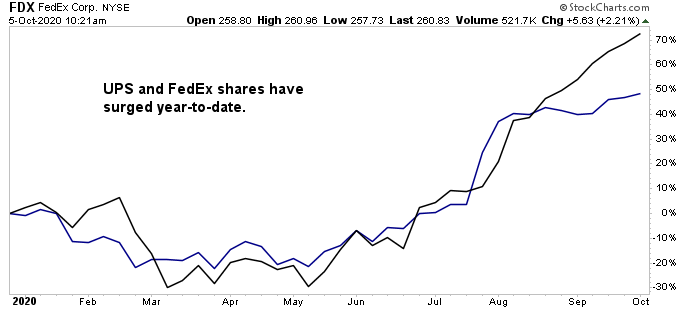 Chart courtesy of StockCharts.com
None of this is meant to imply that shipping names are a sure thing.
The COVID-19 recession has hammered business-to-business shipments. Domestic package deliveries have some of the lowest margins in the industry. Amazon.com, Inc. (NASDAQ:AMZN) also continues to gobble up a larger and larger percentage of online sales. Given that the internet retailer has started to insource its shipping operations, this could become a real threat to incumbents like FedEx Corporation and United Parcel Service, Inc.
But so far, anyway, the industry duo seems to be navigating the COVID-19 pandemic pretty well. This bodes well for income investors going forward.