FedEx Corporation: Low Yield, High Growth, & High Total Returns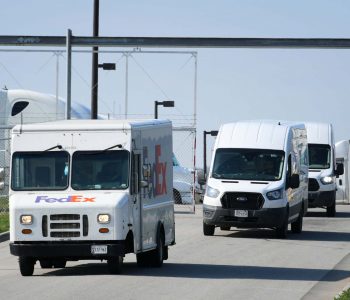 A Good Opportunity for Income Investors?
When it comes to pandemic-proof plays, the most popular ones have been e-commerce stocks, social media stocks, and other Internet stocks that made the stay-at-home environment more bearable.
Indeed, these companies have generally performed much better than other types of businesses—including those in traditional, recession-proof sectors like consumer staples and utilities.
But technology isn't the only sector that has been prospering during these extraordinary times. FedEx Corporation (NYSE:FDX), for instance, has also provided huge returns to investors.
As a multinational delivery company that has been around since 1971, FedEx doesn't seem nearly as exciting as the tech names. But its share-price performance has been nothing short of impressive.
Take a look at the chart below. Before the COVID-19-induced stock market crash last year, FedEx stock was trading around $160.00 per share. Today, it's trading at more than $295.00 per share. That's an increase of more than 84%!
And for investors who were buying the dip at about $100.00 per share during the sell-off in March 2020, the return would be nearly 200%.
Again, we're not talking about some exciting tech play or "next-big-thing" industry. We're looking at the returns from a five-decade-old courier.
FedEx Corporation (NYSE:FDX) Stock Chart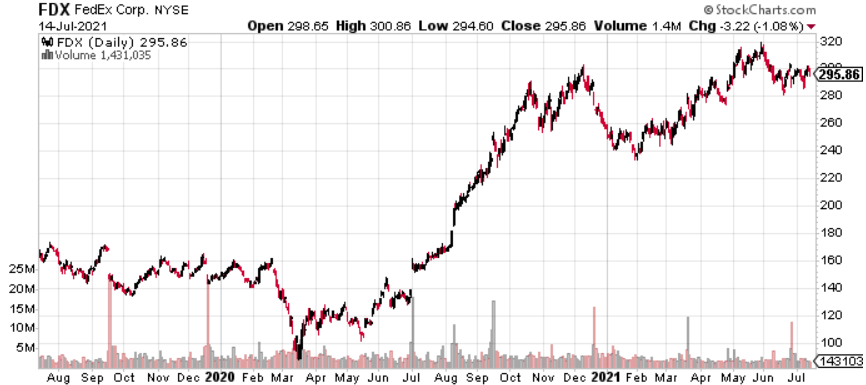 Chart courtesy of StockCharts.com
The reality is, FedEx provides an essential service, and its role became even more important during the pandemic-driven e-commerce boom. And it just so happens that the company is very generous to income investors.
In June, FedEx's board of directors declared a quarterly cash dividend of $0.75 per share, representing a 15.4% increase from the company's prior quarterly dividend of $0.65 per share. The dividend was paid on July 12 to shareholders of record as of June 28.
In a note to investors, FedEx's executive vice president and chief financial officer, Michael C. Lenz, said, "Our balance sheet and cash flow allow us to strategically invest in long-term, profitable growth while also rewarding our shareowners by raising our dividend." (Source: "FedEx Corp. Board Increases Quarterly Dividend 15 Percent," FedEx Corporation, June 14, 2021.)
And that wasn't the first time FDX stock returned more cash to investors. When the company first started paying dividends in the summer of 2002, its quarterly payout was $0.05 per share. So the new quarterly rate of $0.75 per share represents a total increase of 1,400% over the years. (Source: "Stock Information," FedEx Corporation, last accessed July 16, 2021.)
Of course, because FedEx stock has gone up in price, it's not exactly a high yielder, despite its dividend rising by a lot. At the time of this writing, FDX stock yields just over the one-percent mark.
But don't ignore FedEx stock simply because of its yield. While the company has already enjoyed enormous growth in the stay-at-home environment, its business could also prosper as the shipping industry enters a pro-cyclical growth phase.
In fact, the momentum can be seen in the company's latest earnings report. In the fourth quarter of FedEx's fiscal year 2021, which ended May 31, it generated $22.6 billion of total revenue. That amounted to a 29.9% increase year-over-year. (Source: "FedEx Corp. Reports Record Fourth Quarter and Full-Year Results," FedEx Corporation, June 24, 2021.)
Its adjusted earnings came in at $5.01 per share for the quarter, which nearly doubled the $2.53 per share the company generated in the year-ago period.
There was improvement across the board. FedEx Express saw exceptional growth in international export and U.S. domestic package services. FedEx Express also expanded its adjusted operating margin by 340 basis points. FedEx Ground enjoyed strong growth in its business-to-business shipments and saw a 14% increase in revenue per package. At FedEx Freight, the average daily shipments rose by 30% and the revenue per shipment increased by six percent.
In FedEx's full fiscal year 2021, its revenue grew by 21.4% year-over-year to $84.0 billion, while its adjusted earnings per share increased by 91.3% year-over-year to $18.17.
Bottom Line on FedEx Corporation
FedEx Corporation's management said they expect the strong momentum to continue in the company's fiscal 2022. Moreover, FedEx has been making investments in its areas of highest returns, such as e-commerce.
However you look at it, FDX stock has been a solid growth stock. Combining a fast-growing business and a rising stream of dividends, FedEx stock deserves the attention of income investors—despite its low yield.