FedEx Corporation: 1,200% Dividend Increase Already, with More to Come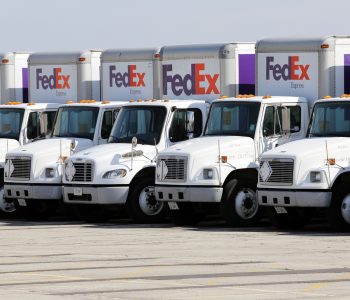 iStock.com/gk-6mt
Own FedEx Stock for Growing Dividends
For the most part, FedEx Corporation (NYSE:FDX) hasn't been a staple for income investors. While the company is decades old and runs an established business, it did not have a dividend policy until 2002.
Since then, however, FedEx's dividend growth has been nothing short of impressive. When the company first set up its dividend policy, it was paying investors $0.05 per share each quarter. Management has raised the payout at least once every year. Today, the company's quarterly dividend rate stands at $0.65 per share, representing a total increase of 1,200%. And that's no misprint. (Source: "Dividends," FedEx Corporation, last accessed June 13, 2018.)
Still, consistent dividend increases don't always translate to high dividend yields. Because FedEx stock has also surged quite a bit during this period, its dividend yield actually stayed quite subdued. Trading at $263.80 apiece, FDX stock has an annual yield of around one percent.
A one-percent yield is hardly enough to meet anyone's income investing target these days. But before you cross FedEx stock off your list, keep in mind that with continuous dividend hikes, investors can collect might higher yield on cost than what the current numbers suggest.
For instance, if an investor bought FedEx shares five years ago, they would be locking in a measly yield of just under 0.6%. However, due to the company's rising dividends over the last five years, that investor would now be earning a yield on cost of more than 2.6%.
As I always say, past performance does not guarantee future results. But in the case of FedEx Corporation, the company is more than set to continue its dividend increase track record.
A Booming Business
You see, dividends come from profits. A company may borrow money to fund its payout momentarily, but in order to pay sustainable dividends in the long run, it needs to generate a recurring stream of profits. And if the company wants to raise its payout, it'd better be growing those profits, too.
The good news is, that's exactly what FedEx Corporation has been doing. In the third quarter of the company's fiscal year 2018, ended February 28, 2018, FedEx generated adjusted earnings of $3.72 per diluted share, representing a whopping 61.7% increase year-over-year. (Source: "FedEx Corp. Reports Third Quarter Earnings," FedEx Corporation, March 20, 2018.)
The top-line number grew as well; in the third fiscal quarter, the courier generated $16.5 billion in revenue, up 10% from the year-ago period.
Note that the company's adjusted earnings of $3.72 per diluted share provided more than enough coverage of its dividend payment of $0.50 per share for the third quarter.
During the earnings call, management also updated their guidance. For full-year fiscal 2018, management expects FedEx Corporation's adjusted earnings to come in at between $15.00 and $15.40 per diluted share. If the company achieves the midpoint of its guidance range, it would earn an adjusted net income of $15.20 per share. (Source: "Third Quarter FY18 Earnings Review," FedEx Corporation, March 20, 2018.)
Conservative Payout Ratio
What does that mean?
Well, FedEx's declared total dividends of $2.00 per share in its fiscal year 2018. Therefore, by achieving the midpoint of its guidance, the company would have a payout ratio of just 13.2%.
Here at Income Investors, we like to see companies paying out less than 75% of their profits due to the margin of safety. At just 13.2%, FedEx's expected payout ratio not only does that, but should also give management plenty of room for future dividend increases.
FedEx Corporation: The Best Could Be Yet to Come
Going forward, the company could also capitalize on a major catalyst: e-commerce. As consumers shift from physical stores to online vendors, the demand for delivery services could see a substantial increase.
In fact, FedEx is already seeing the effect of the booming e-commerce industry. For instance, FedEx Ground, which provides small package delivery services in North America, enjoyed an 11% increase in revenue and a 23% increase in operating income in the most recent quarter.
The company has also expanded its presence in the industry. According to the latest investor presentation, FedEx has increased its market share in the ground shipping business for 19 consecutive years. (Source: "FedEx Roadshow Presentation," FedEx Corporation, last accessed June 13, 2018.)
At the end of the day, keep in mind that FedEx Corporation is already one of the biggest players in the global shipping business. With over 660 aircraft, more than 170,000 vehicles, and 425,000 employees, the company provides delivery services to more than 220 countries and territories.
And that has created a natural defense line for the company's revenues and profits. If someone wants to challenge FedEx's position, they would need to set up an equally impressive global logistics network, which would be extremely costly, to say the least.
With limited competition, FedEx can keep generating oversized profits. And those profits should fuel the company's future dividend growth.