Federal Reserve Leaves Rates Unchanged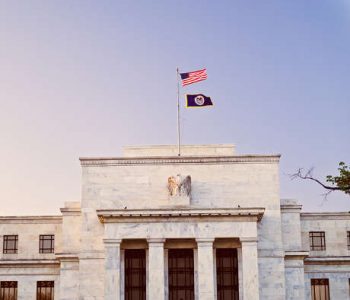 Risks to Economy Diminished
New York, NY — The Federal Reserve said today that the "near-term risks to the economic outlook have diminished," upgrading its assessment of the U.S. economy and signaling that it may resume its interest rate increases soon.
Nine out of 10 members of the Fed's policy-making committee voted to leave the benchmark federal-funds rate unchanged between 0.25% and 0.5%, but the statement showed a more upbeat description of the labor market and other sectors of the economy.
The "labor market strengthened and that economic activity has been expanding at a moderate rate," the Federal Open Market Committee (FOMC) said after its two-day meeting. "Job gains were strong in June following weak growth in May. On balance, payrolls and other labor market indicators point to some increase in labor utilization in recent months." (Source: "U.S. Federal Open Market Committee July 27 Statement: Text", Bloomberg, July 27, 2016.)
That assessment was more optimistic than the one the FOMC released six weeks ago, when the central bank said the pace of improvement in jobs growth had "slowed." The pace of hiring bounced back in June to a gain of 287,000 jobs, from just 11,000 in May. Moreover, officials described household spending as "growing strongly," and economic activity as expanding at "a moderate rate."
The S&P 500 index was little changed after the statement, while U.S. government bonds held relatively steady after the statement. In recent trading, the yield on the benchmark 10-year Treasury note was 1.522%, according to Tradeweb, compared with 1.530% just before the Fed's interest-rate statement. It settled Tuesday at 1.561%.
"Near-term risks to the economic outlook have diminished," Fed officials said, another hint that they are leaning toward raising short-term rates in the months ahead. (Source: Ibid.)
The statement suggested officials have become less concerned about the economic outlook than they were in June, when the weak May jobs report, slow first-quarter growth, and a looming vote by the U.K. on whether to stay in the European Union gave them trepidation about the outlook and whether to raise short-term rates.
The Fed's decision on whether and when to raise short-term interest rates will depend on the flow of economic data in the weeks ahead. The statement Wednesday effectively left the Fed's options open for its September 20 to 21 gathering.
"It's kind of an upbeat statement, although guarded," said Roberto Perli, partner at Cornerstone Macro LLC in Washington and former associate director for monetary affairs at the Fed Board. "It's a sign of a little bit of confidence, if you want, in the outlook going forward." (Source: "Fed Says Risks Have Diminished as It Leaves Rate Unchanged," Bloomberg, July 27, 2016.)