FAT Brands Inc Provides Fat Stock Gains & Dividends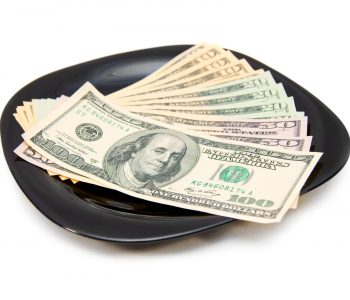 FAT Stock Set to Rip Higher as Economy Reopens
Shares of FAT Brands Inc (NASDAQ:FAT) took a hit during COVID-19, but with the economy reopening and Americans hitting the road, this restaurant stock is emerging from the coronavirus pandemic stronger than ever.
And that's saying something.
Of all the industries to take a huge beatdown during COVID-19, few can compare to restaurants. According to Hudson Riehle of the National Restaurant Association, "2020 was certainly the worst year for the restaurant industry in its history." (Source: "Restaurants Staged Nimble Responses to COVID's Blows in 2020, but 6 Years of Growth Were Wiped Away," CNBC, January 26, 2021.)
More than 110,000 restaurants shut their doors in 2020, either temporarily or permanently. And the restaurants that managed to stay open cut their staffing levels to preserve cash. This resulted in the loss of 2.5 million restaurant-industry jobs.
As expected, in 2020, restaurant sales volumes were gutted, tumbling to 2014 levels. To put it another way, COVID-19 erased six years of sales growth. In 2020, the restaurant and food-service industry generated $659.0 billion in sales. That sounds decent, but before the pandemic, the projections for 2020 were $899.0 billion in total sales. That represents a difference of more than 26%.
With the economy opening back up, the restaurant industry is poised for serious growth. Admittedly, getting back to pre-COVID-19 levels will take time. Restaurant-industry sales are forecast to hit $731.5 billion in 2021. That's far below pre-pandemic levels but certainly up from the 2020 numbers.
2021 will be a year of transition for the restaurant sector, but for companies with wide economic moats and undeniable brand loyalty, it could be a year of solid growth.
That's where FAT Brands Inc comes in. FAT (which stands for fresh, authentic, tasty) Brands is a leading global franchising company that acquires, develops, and markets fast-casual and casual restaurants around the world. (Source: "Fat Brands Investor Presentation: May 2021," FAT Brands Inc, last accessed July 20, 2021.)
You might not have heard of FAT Brands, but you're probably aware of at least some of their nine restaurant brands, which include "Buffalo's Cafe," "Fatburger," "Hurricane Grill & Wings," and "Ponderosa and Bonanza Steakhouse."
According to the latest data, FAT Brands' 321 franchisees and 85 multi-unit franchisees operate 646 restaurants in 36 countries and 37 U.S. states. The company also has 38 restaurants under construction and more than 200 new locations set to be built.
Acquisition of Global Franchise Group
In late June, FAT Brands announced that it's acquiring Global Franchise Group, LLC for $442.5 million. This acquisition adds five quick-service restaurant brands to FAT Brands' portfolio: "Round Table Pizza," "Great American Cookies," "Hot Dog on a Stick," "Marble Slab Creamery," and "Pretzelmaker." (Source: "FAT Brands Inc. Agrees to Acquire Global Franchise Group for $442.5 million," FAT Brands Inc, June 28, 2021.)
With the acquisition of Global Franchise Group, FAT Brands will have more than 2,000 franchised and company-owned restaurants around the world, with combined annual sales of approximately $1.4 billion. Approximately 87% of Global Franchise Group's stores are in the U.S.
The acquisition is expected to eventually increase annual FAT Brands' earnings before interest, taxes, depreciation, and amortization (EBITDA) by approximately $40.0 million to approximately $55.0–$60.0 million.
Solid Q1 Results
In May, FAT Brands announced that its revenue for the first quarter (ended March 28) increased by 50% year-over-year to $6.6 million. (Source: "Fat Brands Inc. Reports First Quarter 2021 Financial Results," FAT Brands Inc, May 11, 2021.)
Excluding revenues from "Johnny Rockets" (which FAT Brands acquired on September 21, 2020) and revenues from advertising, the company's first-quarter revenues were $3.54 million, up from $3.49 million in the first quarter of 2020.
FAT Brands reported a net loss of $2.4 million ($0.20 loss per share), compared to a first-quarter 2020 net loss of $2.4 million ($0.20 loss per share). The company reported EBITDA of $585,000, versus an EBITDA loss of $362,000 in the first quarter of 2020. Its adjusted EBITDA were $1.1 million, compared to $283,000 in the same prior-year period.
FAT Brands Inc's store count at the end of the first quarter stood at 651, with 36 under construction and set to open in 2021.
Andy Wiederhorn, president and CEO, commented, "The first quarter showed a steady progression of sales improvements across all of our brands with particular strength seen at Fatburger, Buffalo's, and Hurricane." (Source: Ibid.)
He added, "Our pipeline of new locations is in excellent shape with an expected acceleration in growth over the coming quarters. We are encouraged by the performance of the Johnny Rockets brand and continue to expect the reopening of special venues during the second and third quarters of 2021."
Because of the company's solid performance, acquisitions, and expanding footprint, FAT Brands stock has been on a tear. As of this writing, FAT stock is up by 710% over the last 12 months and 113% over the last six months.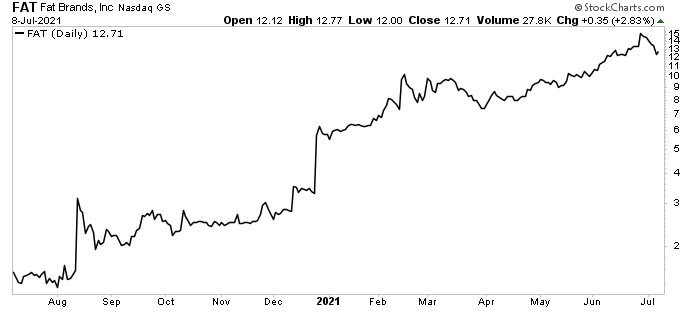 Chart courtesy of StockCharts.com
Optimism about the reopening of the global economy and return to pre-COVID-19 sales levels has resulted in FAT Brands stock resuming its quarterly dividends. In April and June, the company's board of directors declared quarterly dividends of $0.13 for FAT stock, for a dividend yield of 3.7%. (Source: "FAT Brands Inc. Announced Second Quarter Cash Dividend on Common Stock," FAT Brands Inc, June 2, 2021.)
Dividend hogs looking for a higher yield might want to consider FAT Brands Inc Cum. Pref. Shrs Series B (NASDAQ:FATBP), which currently pays $0.171875 monthly. That works out to a yield of 9.5%
If you're not familiar with preferred shares, they trade like common stocks, but preferred shareholders don't normally get voting rights. The underlying price of preferred shares doesn't move much. The trade-off is that shareholders get less volatility, even during times of economic hardship (like 2020). Preferred shares act more like bonds than common stocks, and they trade around a par value.
Why are they called preferred shares? It's because the owners get preferential treatment. Dividend payouts go to preferred shareholders first. Not only that, but a company cannot suspend preferred-share dividends until after it suspends common-share dividends.
Even then, most companies will suspend or cut their payouts to owners of common shares but continue to pay preferred shareholders. That happened a lot in 2020.
The Lowdown on FAT Brands Inc
FAT Brands stock is a great restaurant stock that has seen its share price rebound significantly over the last 12 months. While the initial financial impact of the coronavirus pandemic was harsh, FAT Brands Inc reported successively better quarterly results in 2020. That momentum has continued in 2021, with the company's improved first-quarter revenues reflecting the ongoing economic recovery.
Continued business improvements, including the successful integration of Global Franchise Group, should help juice FAT stock's price and dividend payout.