Exxon Stock's Dividend Has Increased for 40 Consecutive Years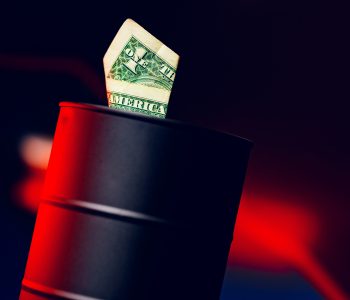 XOM Stock Maintains Dividend Aristocrat Status
Investors looking for long-term stock market gains plus reliable, growing dividends should keep a close watch on dividend aristocrat stocks like Exxon Mobil Corp (NYSE:XOM), an integrated oil and gas giant.
A dividend aristocrat is an S&P 500-listed stock that has raised its dividend annually for at least 25 consecutive years. Right now, 65 stocks qualify as dividend aristocrats.
Dividend aristocrats like Exxon Mobil Corp are a great way to fight inflation and stock market volatility. Not only do dividend aristocrats raise their payouts every year, but they have a history of outperforming the broader stock market in terms of share price. The sector that Exxon stock belongs to, energy, was the biggest winner of the market in 2021 and 2022. Last year, the Energy Select Sector SPDR Fund (NYSEARCA:XLE) advanced 64%. That would be considered a massive gain in any year, but especially so in a year that ended with the S&P 500 flirting with a bear market.
The outlook for the energy sector in 2023 is solid. In addition to energy stocks such as XOM stock being generally undervalued (low price-to-earnings ratio) these days, oil prices are expected to remain high. That's in large part due to the ongoing war in Ukraine, demand rebounding in China, and potential production cuts by the Organization of the Petroleum Exporting Countries (OPEC). Wall Street analysts predict that energy stocks will climb by 16% in 2023, compared to 10% for the broader stock market.
About Exxon Mobil Corp
Exxon explores for, produces, and refines energy around the world. The company is also one of the world's largest manufacturers of commodity and specialty chemicals.
In 2021, the company produced 2.3 million barrels of liquids and 8.5 billion cubic feet of natural gas per day. At the end of 2021, the company's reserves were 18.5 billion barrels of oil equivalent, 66% of which were liquids. Exxon is the world's largest oil refiner, with a total global refining capacity of 4.6 million barrels of oil per day. The company markets fuels, lubricants, and chemicals under four brand names: "Esso," "Exxon," "ExxonMobil" and "Mobil." (Source: "2021 Annual Report," Exxon Mobil Corp, last accessed January 24, 2023.)
Exxon makes a ton of money. In 2021, the company generated $48.0 billion in cash flow from operating activities, its highest level since 2012. This was more than enough to cover its capital investments, debt reduction, and dividends. Exxon's cash flow also allowed the company to initiate a $10.0-billion share repurchase program.
That momentum carried into 2022, with Exxon Mobil Corp generating $14.8 billion of cash flow in the first quarter, $17.9 billion in the second quarter, and $19.7 billion in the third quarter. That was already more than it generated in all of 2021.
Exxon Stock's Dividends Rise at Annual Rate of 5.9%
Exxon Mobil Corp's outstanding financials are why XOM stock is able to pay reliable, growing dividends.
In October 2022, the company's board declared a fourth-quarter dividend of $0.91 per share, for a yield of 3.3%. This represents a $0.03 increase over the $0.88 it paid out in the prior-year fourth quarter. It also represents the 40th straight year that the company raised Exxon stock's dividends. Over those 40 years, XOM stock's dividends have grown at an average annual rate of 5.9%. (Source: "Dividend Information," Exxon Mobil Corp, last accessed January 16, 2022.)
When it comes to reliable dividend growth in the energy sector, no one tops Exxon. Many energy stocks pay dividends, but they don't have the history that Exxon Mobil Corp does. In terms of dividend increases, Chevron Corporation (NYSE:CVX) is the company's closest peer, having raised its payouts for 35 consecutive years.
The following table outlines Exxon stock's dividend growth over the last 14 years.
| | |
| --- | --- |
| Year | Annualized Dividend |
| 2022 | $3.55 |
| 2021 | $3.49 |
| 2020 | $3.48 |
| 2019 | $3.43 |
| 2018 | $3.23 |
| 2017 | $3.06 |
| 2016 | $2.98 |
| 2015 | $2.88 |
| 2014 | $2.70 |
| 2013 | $2.46 |
| 2012 | $2.18 |
| 2011 | $1.85 |
| 2010 | $1.74 |
| 2009 | $1.66 |
| 2008 | $1.55 |
(Source: Ibid.)
As you can see in the above table, Exxon Mobil Corp's management hiked XOM stock's payout more in some years than in others. The year 2021 saw Exxon stock's smallest increase, just one cent. Keep in mind that this was during the COVID-19 pandemic, when the entire energy sector took a beating. It's nice to know that, during the worst economic crisis in 100 years, Exxon was still able to increase its payout.
Moreover, XOM stock's dividend is safe; the company's payout ratio is just 28.7%.
Exxon Stock Crushes S&P 500
There's more to Exxon Mobil Corp than its dividends; it also has a growing share price.
Save for the 2020 stock market sell-off, when the world entered a recession and oil prices cratered, XOM stock has been steadily outpacing the S&P 500. Since 2000, with dividends reinvested, Exxon stock has posted total returns of 465%. In comparison, the S&P 500 posted total returns of just 172%.
As of this writing, XOM stock is up by:
12% over the last three months
36% over the last six months
66% year-over-year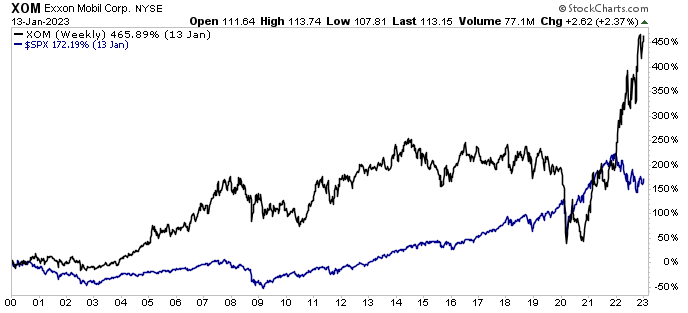 Chart courtesy of StockCharts.com
The Lowdown on Exxon Mobil Corp
If you're a buy-and-hold investor looking for a reliable blue-chip stock that gives annual raises no matter what, put Exxon stock on your radar. An industry behemoth with a market cap of $466.0 billion, Exxon Mobil Corp has a long history of providing investors with significant share-price gains and reliable, growing dividends.
Thanks to its portfolio mix and new projects, the company's cash margins should improve. Exxon's management said it expects the company to double its earnings and cash flow potential by 2027.
All this bodes well for XOM stock's future price and dividend growth.