Exxon Mobil Corp Maintains Dividend Aristocrat Status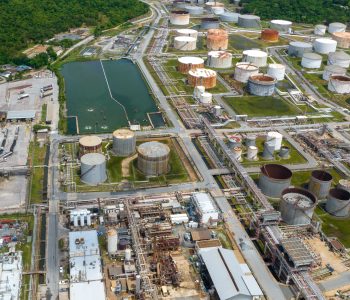 XOM Stock's Dividend Rises for 40 Consecutive Years
Suffice it to say, 2022 was a terrible year for Wall Street, with rising interest rates and decades-high inflation weighing down stocks. Nevertheless, there was one clear winner in the stock market last year: the energy sector. Stock market analysts expect energy stocks to beat the market for a third consecutive year. Analysts forecast that energy stocks will advance 16% in 2023, compared to 10% for the broader market.
If you're looking for an energy stock that provides excellent long-term financial growth and one of the most reliably growing dividends, look no further than Exxon Mobil Corp (NYSE:XOM), which currently has a market cap of $455.0 billion.
With its ubiquitous global presence, chances are good you know what Exxon Mobil Corp does. The Irving, TX company is an integrated oil and natural gas giant that explores for, produces, and refines oil around the world. The company markets fuel, lubricants, and chemicals worldwide under four brand names: "Esso," "Exxon," "Mobil," and "ExxonMobil." (Source: "Who We Are," Exxon Mobil Corp, last accessed January 12, 2023.)
Exxon Mobil Corp is the world's largest refiner, with a total global refining capacity of 4.6 million barrels of oil per day. It's also one of the world's largest manufacturers of commodity and specialty chemicals. In 2021, Exxon produced 2.3 million barrels of liquids and 8.5 billion cubic feet of natural gas per day. At the end of 2021, its reserves were 18.5 billion barrels of oil equivalent, 66% of which were liquids.
While many of its peers have been announcing new strategies to divert their investments toward renewables, Exxon Mobil Corp is still committed to oil and gas. Why not? The industry has served the company well for decades. While the end of oil as a fuel is inevitable, that won't happen for decades. Natural gas is expected to have an even longer shelf life thanks to its relative attractiveness over coal and the need to supplement intermittent renewable power.
These trends should help Exxon continue to deliver exceptional returns. To that end, Exxon recently announced plans to double its earnings and cash flow potential by 2027 and increase its investments in lower-emission initiatives. (Source: "ExxonMobil Announces Corporate Plan – Company Expects to Double Earnings and Cash Flow Potential by 2027," Exxon Mobil Corp, December 8, 2022).
All of this should help increase the company's cash flow and earnings, allowing Exxon to keep reducing its debt and increasing its distributions to shareholders.
On that note, the company recently announced an expansion of its $30.0-billion share-repurchase program, which is now up to $50.0 billion through 2024.
Not only did Exxon stock have a phenomenal 2022 in terms of share price, rallying by 87% (making it the fifth-best-performing stock in the S&P 500), but it also raised its dividend for the 40th consecutive year. By year-end 2022, the company distributed approximately $30.0 billion to its shareholders, comprising $15.0 billion in dividends and $15.0 billion in share repurchases.
Another Strong Quarter of Earnings Growth
For the third quarter ended September 30, 2022, Exxon announced that its revenue increased 51% year-over-year to $112.0 billion. Its earnings in the quarter more than doubled year-over-year to $19.6 billion, or $4.68 per share. The company's free cash flow increased in the third quarter of 2022 to $22.0 billion, up from $9.0 billion in the third quarter of 2021. (Source: "3Q 2022 Earnings Release," Exxon Mobil Corp, October 28, 2022.)
Darren Woods, Exxon Mobil Corp's chairman and CEO, noted, "The investments we've made, even through the pandemic, enabled us to increase production to address the needs of consumers. Rigorous cost control and growth of higher-margin petroleum and chemical products also contributed to earnings and cash flow growth in the quarter." (Source: Ibid.)
He continued, "At the same time, we are expanding our Low Carbon Solutions business with the signing of the largest of its kind customer contract to capture and permanently store carbon dioxide, demonstrating our ability to offer competitive emission-reduction services to large industrial customers around the world."
In October 2022, Exxon, CF Industries Holdings, Inc. (NYSE:CF), and EnLink Midstream LLC (NYSE: ENLC) entered the largest-of-its-kind commercial agreement to capture, transport, and permanently store up to 2.0 million metric tons of carbon dioxide emissions annually from CF Industries' manufacturing complex in Louisiana. (Source: "Landmark Emissions-Reduction Project in Louisiana Announced," Exxon Mobil Corp, October 12, 2022.)
CF Industries is a leading global manufacturer of hydrogen and nitrogen products. EnLink provides various natural gas, natural gas liquid (NGL), crude oil, and condensate services.
The project, which is scheduled to start up in early 2025, supports Louisiana's objective of net-zero carbon dioxide emissions by 2050. The 2.0 million metric tons of captured emissions is the equivalent of replacing approximately 700,000 gasoline-powered cars with electric vehicles.
Exxon Stock Maintains Dividend Aristocrat Status
In October 2022, Exxon Mobil Corp's board declared a fourth-quarter dividend of $0.91 per share, for a yield of 3.3%. This represents a $0.03 increase over the $0.88 that XOM stock paid out in the same prior-year quarter. It also represents the 40th straight year that the company raised its dividend. Over those 40 years, Exxon Mobil Corp's dividends have grown at an average annual rate of 5.9%. The dividend is safe, since the company's payout ratio is just 28.7%.
Exxon's shareholder distribution in the third quarter was $8.2 billion, including $3.7 billion in dividends and $4.5 billion in share repurchases, bringing its year-to-date repurchases at the time to $10.5 billion.
When it comes to the energy sector and reliable dividend growth, no one tops Exxon Mobil Corp. Many energy companies pay dividends, but they don't have the history Exxon does. Chevron Corporation (NYSE:CVX) is the company's closest peer, having raised its annual dividend for 35 consecutive years.
This makes Exxon stock the top energy dividend aristocrat on Wall Street. By all accounts, it looks like it will stay that way.
A dividend aristocrat is an S&P 500-listed stock that has raised its annual dividend for at least 25 consecutive years. Not only do dividend aristocrat companies raise their dividends every year, but they have a history of outperforming the broader market in terms of share price. Therefore, dividend aristocrats are a great way to fight inflation and stock market volatility.
XOM Stock Outpaces Broader Market
As you can see in the chart below, Exxon Mobil Corp has been providing investors with excellent long-term capital appreciation over the last 20 or so years. That doesn't mean Exxon stock has always gone up, though. Its share price is tied to oil and gas demand, supply, and prices.
That said, the stock market is more often in a bull market than a bear market. Even during periods of severe volatility, such as the 2008/2009 financial crisis and the COVID-19 pandemic, XOM stock was able to ride things out and rebound more quickly than the broader market.
When Exxon stock is trading sideways, investors can take solace in knowing they're on the receiving end of rising dividends. It doesn't matter if we're facing a pandemic, recession, war, or another Black Swan event, Exxon Mobil Corp is there to hand out annual raises to XOM stockholders. The company's annual distribution growth rate is 5.9%.
Of course, everything is relative on Wall Street. There's no point bragging about a 10% share-price gain if the broader market is up by 25%.
This is where Exxon pulls ahead. Since 1995, with dividends reinvested, Exxon stock has posted total returns of about 460%. For the same time frame, the S&P 500 has posted total returns of about 160%.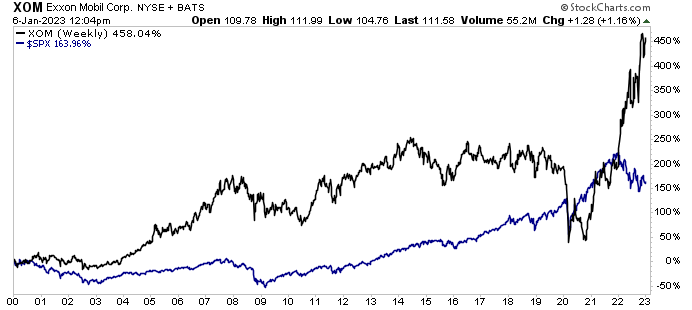 Chart courtesy of StockCharts.com
Save for the 2020 stock market sell-off (when oil prices cratered), shares of Exxon Mobil Corp have been steadily outpacing the S&P 500 for decades. As of this writing, XOM stock is up by:
Seven percent over the last month
10% over the last three months
36% over the last six months
69% over the last year
The Lowdown on Exxon Mobil Corp
Exxon is an industry juggernaut that has a storied history of providing investors with significant share-price gains and reliable, growing dividends. Investors might be dubious about oil and gas stocks, especially in light of the push toward zero emissions, but Exxon Mobil Corp has responded to shareholder concerns by reducing spending and announcing emission reduction targets.
Thanks to new projects and a shift in its portfolio mix, the company should see its cash margins improve. Moreover, management also said it expects the company to double its earnings and cash flow potential by 2027.
Exxon's five-year business plan is expected to continue on the same path that helped the company deliver "industry-leading results in 2022."
All that bodes well for Exxon stock's price and dividends.