Extra Space Storage, Inc. at Record Share-Price Level; Raises Dividend Again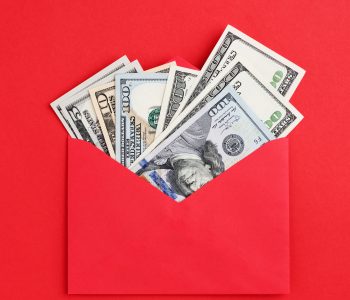 EXR Stock Rips Higher on Great Q3 Results
Who knew dead space could be so lucrative? Extra Space Storage, Inc. (NYSE:EXR), the biggest pure-play self-storage real estate investment trust (REIT) in the U.S., has been rewarding investors with healthy share-price gains and dividend growth. And, judging by how much stuff we buy and have no space for, Extra Space Storage stock should continue to reward investors for years to come.
Why? The self-storage industry is a cash cow.
In 2019, the U.S. self-storage industry earned $39.5 billion in revenue. To put that in perspective, Hollywood brought in $42.2 billion that year. (Source: "Self Storage Industry Statistics 2020," Neighbor, December 18, 2019.)
In 2018, self-storage construction spending increased by 27% year-over-year to $5.0 billion. From 2008 to 2018, that spending increased by 344%. From 1998 to 2018, it increased by 444%.
As of 2018, the U.S. boasted 1.7 billion square feet of rentable self-storage space and 45,547 to 60,024 self-storage facilities. Those are big numbers. At the midpoint estimate (52,786), there were more self-storage facilities in the country than the combined count of Starbucks, McDonald's, Wendy's, Dunkin Donuts, and Pizza Hut restaurants.
Despite its massive size, the self-storage industry is highly fragmented, with small operators owning 73% of all U.S. self-storage facilities in 2019. Publicly traded companies and REITs owned 18% of the U.S. self-storage facilities in that year. Public companies might own a smaller percentage of the self-storage facilities, but they own a larger share of the square footage. That means the industry is ripe for both construction and acquisitions.
That's also why Extra Space Storage has been doing so well.
About Extra Space Storage, Inc.
Extra Space Storage is a self-administered, self-managed REIT that owns and/or operates more than 2,000 self-storage facilities in 40 U.S. states and D.C. These facilities have 1.4 million storage units, totaling 156 million square feet of rentable space. That equals roughly 2,709 NFL football fields. (Source: "Company Presentation: September 2021," Extra Space Storage, Inc., last accessed November 4, 2021.)
Extra Space Storage is the largest self-storage management company in the U.S. and the second-largest owner and/or operator of self-storage stores in the country. The company got this way because it has an aggressive acquisition and investment strategy. In 2020, it invested more than $950.0 million in external growth initiatives. As of July 27, it had $595.0 million invested in deals that were closed or under contract.
In 2011, the company operated 882 wholly owned, joint venture, and managed branded stores. As of June 30, 2021, that number had risen to 1,817. Of particular note, no single property is worth more than one percent of Extra Space Storage's property portfolio, and no single metropolitan statistical area contributes more than 13% of the company's same-store revenue.
This strategy has helped Extra Space Storage, Inc. report five years of average same-store outperformance. Compared to its peers, the REIT has higher revenue, higher net operating income, the highest core funds from operations (FFO) growth, and the lowest expenses.
For the third quarter ended September 30, Extra Space Storage announced that its net income increased by 64% year-over-year to $188.2 million, or $1.40 per share, from $114.6 million, or $0.88 per share, in the same prior-year period. (Source: "Extra Space Storage Inc. Reports 2021 Third Quarter Results," Extra Space Storage, Inc., October 27, 2021.)
The company's FFO came in at $261.7 million, or $1.85 per share. That's a 44% increase over its third-quarter 2020 FFO of $180.9 million, or $1.31 per share.
Thanks to record-setting occupancy (96.7%) and exceptionally high rental rates, Extra Space Storage's same-store revenue rose by 18.4% and net operating income rose by 27.8%.
Extra Space Storage, Inc. Raises Dividend Again
Consistently strong financial results are why Extra Space Storage has been able to enact significant dividend growth. In the fourth quarter of 2020, EXR stock distributed $0.90 per share. This increased to $1.00 per share in the first quarter of 2021 and increased to $1.25 per share in the third quarter. That represents a total increase of 38.9% in that period. (Source: "Dividend History," Extra Space Storage, Inc., last accessed November 4, 2021.)
That works out to an annual dividend of $5.00 per share of Extra Space Storage stock and a yield of 2.5%. Admittedly, that probably isn't high enough for most dividend hogs, but investors have to take into consideration EXR stock's share-price growth.
It's better to have a stock with a share price that trounces the broader market and a dividend that's safe than a stock with a share price that underperforms and a dividend with an extremely high yield.
I enter the following as evidence.
Extra Space Storage, Inc. has reported the best-in-class stock performance over the past 10 years, advancing 1,160%. Over the same time frame, CubeSmart (NYSE:CUBE) stock advanced 636.1%, Life Storage Inc (NYSE:LSI) stock climbed by 596.9%, and Public Storage (NYSE:PSA) stock went up by 288.5%.
When it comes to all publicly traded REITs, Extra Space Storage comes in second place. Over the past 10 years, only CoreSite Realty Corp (NYSE:COR) performed better, with 1,233.6% share-price growth.
Investors don't need to wait 10 years to experience solid gains from Extra Space Storage stock. As of this writing, EXR stock is up by:
19% month-over-month
77% year-to-date
76% year-over-year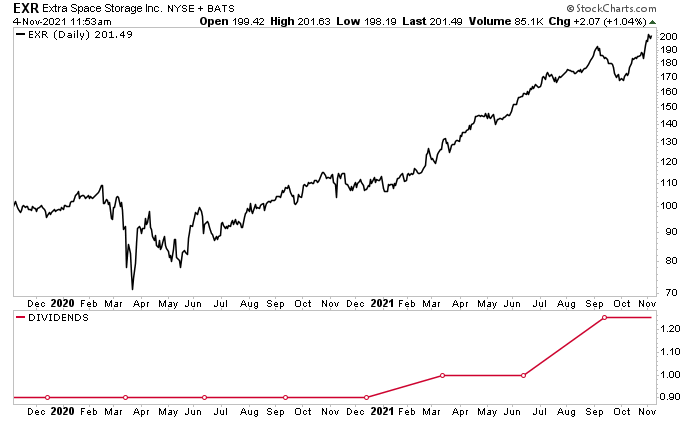 Chart courtesy of StockCharts.com
The Lowdown on Extra Space Storage Stock
What's not to love about Extra Space Storage, Inc.?
The company is an industry leader in a sector that's exploding. Despite the economic turbulence in 2020, the REIT has continued to expand its national footprint and report record occupancy levels. Extra Space Storage has also continued to report wonderful financial results and dividend growth.
The growth trajectory for EXR stock is expected to continue in 2022 and beyond.