Extra Space Storage, Inc. Raises Dividend 20% QOQ & 50% YOY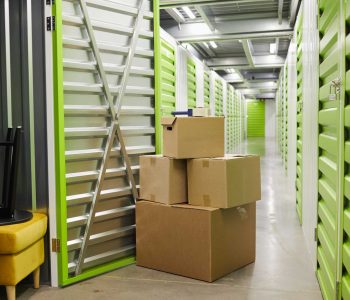 Extra Space Stock Hits Record-High Prices & its Dividend Rises
When it comes to income and growth, it's tough to compete with Extra Space Storage, Inc. (NYSE:EXR). Admittedly, self-storage might not be as exciting as the metaverse or an oil and gas play, but EXR stock has been one of the best under-the-radar stocks going. The company has a solid balance sheet, strong partnerships, and disciplined business growth.
Since bottoming in March 2009, Extra Space Storage stock has advanced 6,128%, expanding at an eyewatering compound annual growth rate (CAGR) of 31.5%. EXR stock's growth in 2021 was especially good, more than doubling and ending the year at a record level. Extra Space Storage stock has given up some much-deserved ground since then, but so too has the broader stock market. That said, shares of Extra Space Storage, Inc. are still trading up by 59% year-over-year.
EXR stock needs to climb by 15% to get to its December 31 high. Will it get there? Wall Street analysts seem to think so. Of the analysts providing a 12-month share price target for Extra Space Storage, Inc., their average forecast is $221.00 and their high estimate is $246. This points to potential near-term gains of 13% and 26%, respectively.
In addition to consistently providing significant capital gains, Extra Space Storage stock has provided buy-and-hold investors with growing dividends. Since 2010, EXR stock's quarterly dividend has increased by 275% from $0.40 to $1.50 per share. (Source: "Dividend History," Extra Space Storage, Inc., last accessed March 22, 2022.)
Even during 2020, the year the global economy fell to its knees, Extra Space Storage was able to raise its dividend by 1.1% to $3.60 per share. If the worst economic crisis in 100 years can't derail the company's dividend increases, what can?
More recently, in February 2022, Extra Space Storage, Inc.'s board declared a quarterly dividend of $1.50 per share. This represents a 20% increase over the previous quarter's dividend and a 50% increase over the 2021 first-quarter dividend.
Extra Space Storage stock is able to hand out rising dividends because the demand for self-storage continues to explode. Globally, the self-storage market was worth $78.2 billion in 2019. It's expected to top $123.1 billion by 2026, with a CAGR of 7.2%. (Source: "Global Self Storage Market Size is Projected to USD 123.14 Billion by 2026 Says Brandessence Market Research," Cision PR Newswire, August 30, 2021.)
The self-storage market is projected to grow the fastest in the U.S., registering a CAGR of eight percent over the 2020–2025 period. (Source: "United States Self-Storage Market – Growth, Trends and Forecast (2020 – 2025)," ReportLinker, last accessed March 22, 2022.)
Not only are people accumulating more things and living in smaller spaces, but businesses have also discovered that renting storage space is a lot more cost-effective than creating more warehouse space. It's a win-win for companies like Extra Space Storage, Inc.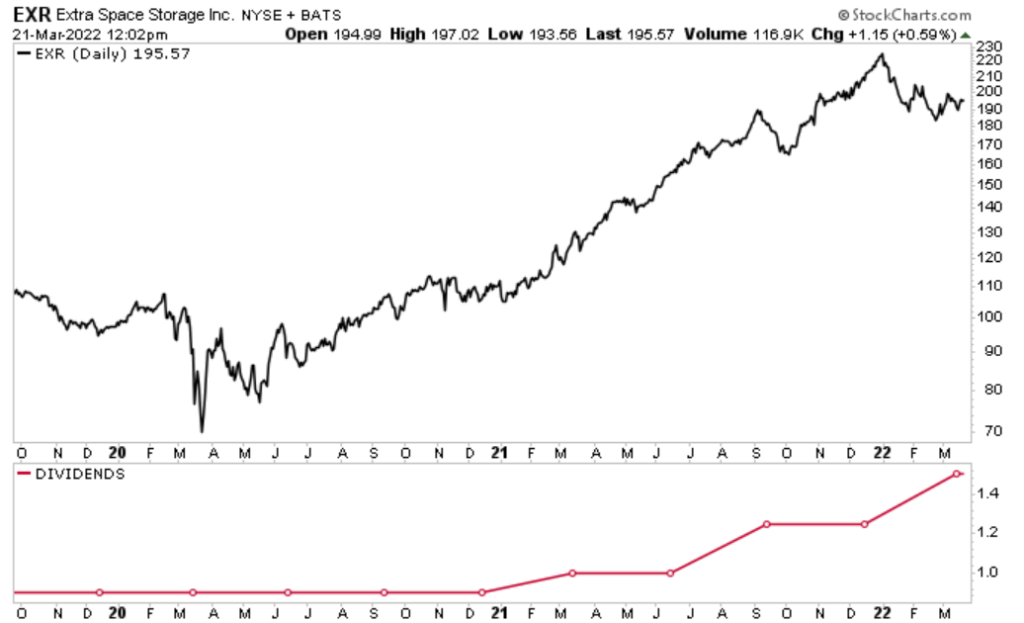 Chart courtesy of StockCharts.com
About EXR Stock
Extra Space Storage is a real estate investment trust (REIT) that owns and/or operates approximately 2,100 self-storage properties in 41 states and Washington, D.C. The company's facilities comprise approximately 1.4 million storage units and cover approximately 152.6 million square feet of rentable space (equivalent to about 2,650 NFL football fields or 848 Walmart stores). (Source: "Company Presentation: March 2022," Extra Space Storage, Inc., last accessed March 22, 2022.)
Of its 2,096 locations, 47% are wholly owned by the REIT, 13% are owned in joint ventures, and 40% are managed on behalf of independent owners by Extra Space Storage's "ManagementPlus" platform.
Extra Space Storage, Inc. is the biggest self-storage management company in the U.S. and the second-biggest owner and/or operator of self-storage facilities in the country. The company accounts for about eight percent of the U.S. self-storage market by square foot.
Therefore, the REIT still has lots of room for growth and consolidation. About 25% of the U.S. self-storage market is made up of non-REIT, non-institutional-quality properties, and roughly 45% of the market comprises non-REIT institutional properties. This indicates a lucrative opportunity for growth over the coming years.
"Exceptional" Q4 Financial Results
For the fourth quarter ended December 31, 2021, Extra Space Storage reported net income of $268.4 million, or $2.00 per share, up by 68.1% from $156.0 million, or $1.19 per share, in the same prior-year period. (Source: "Extra Space Storage Inc Reports 2021 Fourth Quarter And Year-End Results," Extra Space Storage, Inc., February 23, 2022.)
The REIT's funds from operations (FFO) and core FFO in the fourth quarter were both $1.91 per share, up by 29.1% year-over-year.
Also during the fourth quarter, the company increased its same-store revenue by 18.3% and same-store net operating income (NOI) by 24.2% year-over-year. As of December 31, 2021, its same-store occupancy was 95.3%, compared to 94.9% as of December 31, 2020.
Extra Space Storage, Inc. also acquired 37 operating locations and one location at completion of construction, for a total cost of approximately $699.4 million. In conjunction with joint venture partners, the company also acquired 28 operating locations, for a total cost of approximately $455.5 million, of which Extra Space Storage invested $146.2 million. Moreover, Extra Space Storage, Inc. sold 17 locations during the quarter, for a total sales price of $210.6 million, resulting in a gain on real estate transactions of $76.9 million.
Joe Margolis, CEO, commented, "We had exceptional performance with all-time high occupancy and strong pricing power, resulting in same-store NOI of 24.2% in the fourth quarter and 19.7% for the year." (Source: Ibid.)
Margolis said he expects solid fundamentals again this year, anticipating same-store revenue growth of 11.5% and core FFO growth of 13.2% at the midpoints.
The Lowdown on Extra Space Storage, Inc.
Extra Space Storage stock is an excellent, under-the-radar play for investors who are seeking significant long-term income and growth. As explained earlier, the REIT is an industry leader in a sector that's exploding.
Despite recent economic challenges, Extra Space Storage, Inc. has continued to expand its national footprint and report near-record occupancy levels. That momentum is expected to continue, with industry headwinds allowing the company to provide strong guidance for 2022.