Extra Space Storage, Inc.: The Most Overlooked Blue-Chip Dividend Stock?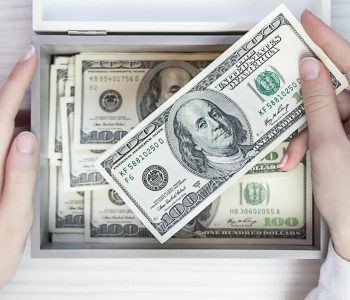 EXR Stock Deserves Income Investors' Attention
In volatile times like this, blue-chip dividend stocks can come in handy. Not only are they known for being more resilient than the smaller stocks, but their reliable dividends can provide investors with cash returns regardless of market ups and downs.
Most blue-chip dividend stocks are well-known names, such as Walmart Inc (NYSE:WMT), Procter & Gamble Co (NYSE:PG), and Coca-Cola Co (NYSE:KO).
Today I want to discuss a dividend payer worthy of blue-chip status that most people have never heard of: Extra Space Storage, Inc. (NYSE:EXR).
As its name suggests, the company is in the storage business. Structured as a real estate investment trust (REIT), Extra Space owns and/or operates 1,921 self-storage properties consisting of about 1.4 million units totaling approximately 149.2 million square feet of rental storage space. (Source: "Company Presentation: March 2021," Extra Space Storage, Inc., last accessed April 1, 2021.)
Owning and operating self-storage properties is not a sexy business, and that's one of the reasons the press rarely covers EXR stock. However, the company has built a very strong presence in its industry. In fact, it's the second-largest owner and/or operator of self-storage properties in the U.S. and the largest self-storage management company in the U.S.
Note that EXR stock is also a component of the S&P 500 index.
And here's something you might not expect from such a "dull" industry: very exciting returns. In the 10-year period ended December 31, 2020, Extra Space Storage stock delivered a total return of 831.3%, substantially outperforming every REIT in the storage sector. In fact, there are plenty of fast-growing tech companies that underperformed EXR stock over the past decade.
The self-storage REIT's business model is great for returning cash to investors. Think about it: when people put their stuff in a storage unit, they tend to keep it there for a long time. Moreover, the hassle of changing lockers allows storage facility landlords to increase their prices every year without losing customers. At the same time, the cost to operate these facilities is very low compared to most other types of real estate.
Add it up and it's easy to see that Extra Space Storage is running a recurring business with high operating margins and low capital expenditures. As a result, Extra Space Storage stock can return plenty of cash to investors.
Consider this: at the beginning of 2016, EXR stock had a quarterly dividend rate of $0.59 per share. Now it pays quarterly dividends of $1.00 per share. So in the past five years, the company's quarterly payout has increased by 69.5%. (Source: "Dividend History," Extra Space Storage, Inc., last accessed April 1, 2021.)
With EXR stock trading at $133.00 per share, that cash payout translates to an annual yield of just over three percent.
According to the company's latest earnings report, Extra Space Storage generated core funds from operations (FFO) of $1.48 per share in the fourth quarter of 2020. That amount not only covered Extra Space Storage stock's fourth-quarter dividend of $0.90 per share with ease, but actually represented a 16.5% increase compared to the same period in 2019. (Source: "Extra Space Storage Inc. Reports 2020 Fourth Quarter and Year-End Results," Extra Space Storage, Inc., February 22, 2021.)
Also in the fourth quarter, Extra Space Storage's same-store revenue increased by 2.3% year-over-year and its same-store net operating income rose by 3.4% year-over-year. The company's same-store occupancy rate stood at 94.8% as of December 31, 2020, up from 92.4% at the end of 2019.
In full-year 2020, the REIT's core FFO increased 8.2% from 2019 to $5.28 per share. That's right, in a year when commercial real estate was deeply impacted by the COVID-19 pandemic, this self-storage REIT managed to grow its business. And considering that EXR stock paid total dividends of $3.60 per share last year, its core FFO was well in excess of its payout.
For the current year, management expects the company to generate core FFO between $5.85 and $6.05 per share. Meanwhile, the REIT is on track to pay total dividends of $4.00 per share for the year. Therefore, if the company reaches management's guidance range, its dividends in 2021 will be more than safe.
Bottom Line on Extra Space Storage, Inc.
Long-time readers of Income Investors would know that I like to find boring businesses that produce exciting returns. Owning and managing self-storage facilities is certainly boring, but as we've seen, the returns from Extra Space Storage, Inc. are nothing short of impressive.
Factoring in the safe and rising dividends, EXR stock deserves the attention of income investors.