Extra Space Storage, Inc.: My Top Dividend Stock in This Breakout Industry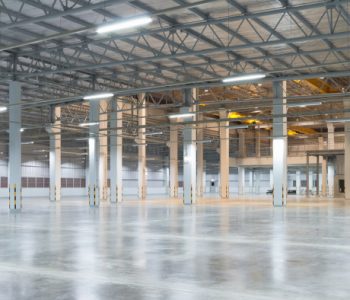 iStock.com/RonFullHD
Stock Poised to Hike Payout
I love bear markets.
That might sound like an odd thing to say. After watching tens of thousands of dollars vanish from my brokerage accounts, most people wouldn't be so chipper.
But here's the thing: bear markets serve as a giant reset button. The excesses from the last cycle get washed out of the system. That sets us up for the new wave of opportunities during the next bull run.
Bear markets also give you a hint as to which industries will lead next. While the broader indices hemorrhage points, these stocks stubbornly hold their ground. You can almost feel them pushing, clinching, and straining their muscles to the point of exhaustion.
Why? Even in a bear market, capital still flows into these prospering sectors. And when the weight of the downturn gets lifted, their stocks rocket higher.
One of the stocks holding up now is one of the big self-storage trusts, Extra Space Storage, Inc. (NYSE:EXR).
Extra Space Storage hasn't just done better than the broader market. The partnership has started gushing cash flow (and dividends), which could make it a popular stock in the next bull run.
You don't need an MBA to wrap your head around Extra Space Storage, Inc.: the company rents out self-storage lockers to tenants, and each month, those tenants write the partnership a check.
It's surprisingly difficult to break into this business. In many cities, strict zoning regulations and high land prices make building new facilities expensive. That keep competitors out and margins fat.
High switching costs also pad Extra Space Storage's bottom line. Customers, after all, usually won't rent a truck and move their stuff just to save $10.00 a month. As a result, executives have passed on steep price hikes each year.
And business, it seems, is booming. While the size of the average home has tripled over the past 50 years nationwide, Americans still struggle with clutter. Today, nearly one in 10 people rent offsite storage, making it one of the fastest-growing segments of the commercial real estate industry. (Source: "Company Presentation," Extra Space Storage, Inc., November 6, 2018.)
That has translated into outstanding profitability for Extra Space Storage, Inc. Over the past 12 years, the partnership's fund flows from operations per unit has increased fivefold. Last year, same-store sales, a metric that excludes revenue from acquisitions or newly built facilities, jumped 3.2%.
Analysts expect that growth to continue. The company has several levers to boost profitability further, through a combination of acquisitions, rent hikes, and new construction. Overall, "the street" projects cash flow to grow at a mid-single-digit annual clip over the next five years.
For holders of EXR stock, this has translated into a respectable income stream.
As you can see in the chart below, management has boosted the payout more than tenfold since the financial crisis. Units now pay out a quarterly dividend of $0.86 per share, which comes out to an annual yield of 3.5%.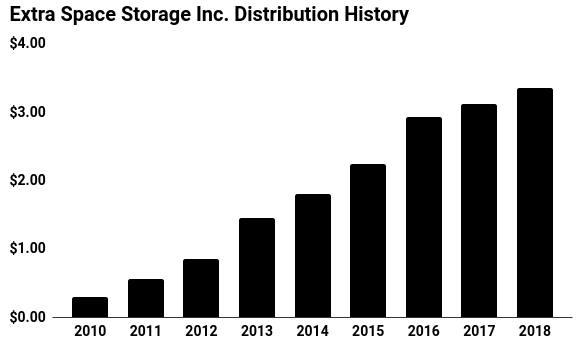 Source: "Dividend History," Extra Space Storage, Inc., last accessed December 18, 2018.
I expect those dividend bumps to keep rolling in. Historically, Extra Space Storage has boosted its payouts each spring. While a distribution hike isn't set in stone, investors can likely expect another increase in the new year.
The Bottom Line on EXR Stock
As with many other companies discussed on this site, nobody can call this trust a sure thing.
Higher interest rates could nick profits. And as long stocks overall keep selling off, I doubt EXR stock will hit new highs anytime soon.
But Extra Space Storage, Inc.'s ability to hold strong during the broader market sell-off has impressed me. The smart money is quietly buying up EXR stock, and for good reason. And when the bear market clears, whenever that might be, this trust could rocket higher.