Extra Space Storage, Inc.: Safe Real Estate Stock Pays Growing Dividends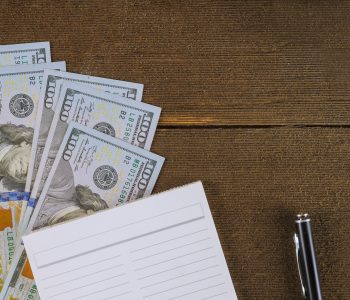 iStock.com/photovs
Extra Space Storage, Inc. Keeps Hiking Payout to Unitholders
If you want an investment to impress your friends at the summer barbecue, then you might want to skip Extra Space Storage, Inc. (NYSE:EXR). But while the partnership's self-storage facilities won't captivate anyone at parties, investors have made a fortune in these gray, nondescript warehouses. 
In July, Extra Space Storage posted better-than-expected numbers for the quarter through June 30. Revenue jumped nine percent while operating profit, excluding currency translations, rose 11%. Fund flows from operations, a common measure of business performance in the real estate industry, jumped six percent to $1.21 per share. (Source: "Extra Space Storage Inc. Reports 2019 Second Quarter Results," Extra Space Storage, Inc., July 30, 2019.)
Rent hikes provided the biggest contribution to the results. Management raised rates on customers by almost four percent year-over-year, which followed a 4.5% bump from 2018. Yet despite these hikes, customers haven't balked. Executives saw almost no dip in the partnership's vacancy rate. 
This news should not surprise Income Investors readers, given our previous coverage of the industry.
During the last financial crisis, the self-storage business boomed as millions of people downsized, moved, or faced foreclosure. Sales caught a second wind in recent years as a new generation of space-starved millennials moving into cities looked for places to stash their belongings. The United States now boasts about 50,000 self-storage locations, more than the number of McDonald's restaurants. (Source: "The Hottest Industry Right Now Is Storing All Your Stuff," Bloomberg, June 13, 2017.)
Extra Space Storage has taken advantage of this opportunity. Over the past five years, management has invested $4.6 billion on new warehouse acquisitions. Since 2013, the partnership's property empire has almost doubled to almost 1,700 properties, most of which are located in California. (Source: "Company Presentation June 2019," Extra Space Storage, Inc., last accessed August 30.)
That has created a profit machine for investors. Since I featured Extra Space Storage stock in the paid-subscription newsletter Retirement Riches in January, EXR units have delivered a total return, including distributions, of about 40%. That has crushed the gain from the broader S&P 500 over the same period.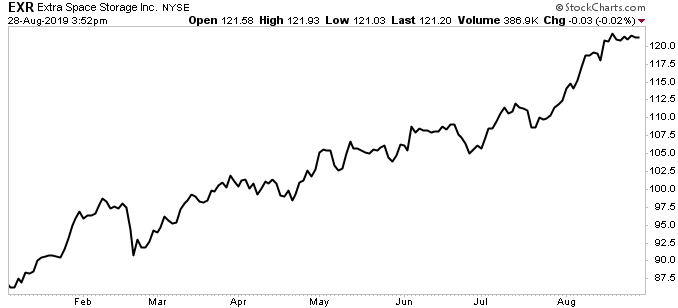 Chart courtesy of StockCharts.com
Of course, you can't call self-storage trusts a slam dunk. Last year, developers added 40 million square feet, or about 800 facilities, to the market. New construction spending now tops $4.0 billion annually, three-times more than what the industry has historically averaged. Analysts fear that a glut of new properties could swamp the market, lowering rents and pushing up vacancies. (Source: "The $38 Billion Business of Storing Your Junk Is Getting Tougher," Bloomberg, March 19, 2018.)
Extra Space Storage, Inc., however, has positioned itself to survive any downturn. Another thing is that strict zoning laws, high land costs, and local opposition often prevents the construction of new facilities. That endows incumbents with near-monopolies, protecting investors from competition.
And despite fears about an economic slowdown, management seems optimistic. In June, they boosted the quarterly dividend five percent to $0.90 per share. (Source: "Dividend History," Extra Space, Inc., last accessed August 30, 2019.)
Extra Space Storage executives also raised their guidance for the upcoming year, projecting that fund flows from operations per share will come in between $4.76 and $4.84. Those actions represent a big vote of confidence on the part of the c-suite in the underlying business. 
No, this partnership won't make for the most stimulating conversation over the grill this summer. Extra Space Storage unitholders, though, probably don't mind.