Extra Space Storage, Inc.: Little-Known Stock Keeps Beating the S&P 500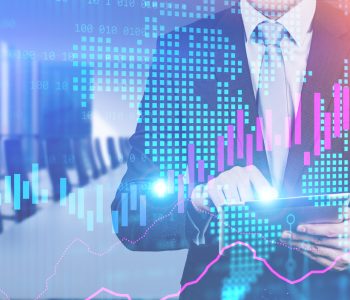 iStock.com/ismagilov
EXR Shares Have Soared 1,550%, More Upside Ahead
I often say the tried and true beats the hot and new. And no company highlights that point better than Extra Space Storage, Inc. (NYSE:EXR). You won't hear this warehouse owner mentioned at too many cocktail parties, yet this "boring" dividend stock keeps posting outsized returns for investors.
Let's break down the numbers: since mid-2009, management has boosted the partnership's distribution on nine occasions. And through that period, the self-storage real estate investment trust (REIT) has emerged as in income machine, hiking its dividend ninefold.
For shareholders, that has also translated into respectable capital gains, with Extra Space Storage stock delivering a return of 1,550%. That puts this stock in the same league as names like Tesla Inc (NASDAQ:TSLA) and Apple Inc. (NASDAQ:AAPL), though Extra Space Storage has received much less press coverage.
This could be just the beginning; the trust has quietly built an impressive portfolio of assets, which should throw off a growing stream of distributions. Income investors should take note.
The Investment Case for Extra Space Storage, Inc.
Admittedly, self-storage REITs have none of the glitz and glamour of other types of commercial properties. Investors dream of striking it rich with office towers or shopping malls, not dull, gray warehouses where people keep their extra junk.
But while names like Extra Space Storage Inc. lack the excitement of other companies, EXR stock has turned out to be a pretty solid investment—sometimes better than other types of real estate investments. Low operating costs allow the company's facilities to make a profit with occupancy rates as low as 30%.
The hassle of changing lockers allows storage facility landlords to raise rents year after year. And the business is generally recession-proof. During the 2008 financial crisis, the broader REIT sector posted huge losses. Self-storage companies, by comparison, sailed through the downturn, collecting rents from tenants and paying dividends to shareholders.
Of course, such attractive economics attract competition. Storage developers added over 100.0 million square feet and spent more than $4.0 billion on new facilities last year, twice what they spent in 2016. This rash of new supply has swamped the marketplace, pushing up vacancy rates and reducing the pace of rent hikes. That's bad news for incumbents like Extra Space Storage, CubeSmart (NYSE:CUBE), and Public Storage. (Source: "Where Does the Tidiness Craze Leave Self-Storage Stocks?" BNN Bloomberg, March 4, 2019.)
That said, investors seem to have priced in these concerns. Extra Space Storage has traded sideways for the better part of two years, allowing its earnings to catch up to its stock price. Today, the trust trades at only 20-times forward fund flows from operations (FFO), a common measure of profitability in the real estate business. While not a bargain, that valuation stands at the lower end of the trust's historical average multiple.
Furthermore, Extra Space Storage has positioned itself better than many of its rivals. The partnership generates almost one-third of its rental income from California, which enjoys many "moaty" qualities.
Storage developers have struggled to bring new supply online, due to the state's strict zoning restrictions, scarcity of affordable land, and opposition from local residents for new construction. These dynamics keep competitors out and rents high. As a result, Extra Space has continued to post impressive growth numbers despite a slowdown in the wider industry.
But for investors looking beyond the next quarter, the prospects for the self-storage business remain bright. The basic reason for the industry's success is pretty straightforward to anyone who has lived in suburban America: we love our stuff and don't want to throw it away. With households filled to the brim with junk, self-storage lockers have enjoyed a steady stream of demand. That growth rate could accelerate in the years ahead as aging baby boomers leave large suburban McMansions for smaller condos. City-loving millennials have also turned to self-storage facilities to make up for a lack of space in their smaller apartments.
This has allowed Extra Space Storage to cash in. Last quarter, the trust saw rental income jump by $323.6 million, a nine percent improvement year-over-year. FFO came in at $1.22 per share, beating Wall Street's consensus estimate by $0.02. (Source: "Extra Space Storage FFO beats by $0.02, beats on revenue," Seeking Alpha, July 30, 2019.)
"We had a solid quarter with positive rate growth and healthy occupancy in a competitive summer leasing season," said CEO Joe Margolis in the partnership's second-quarter conference call. (Source: "Extra Space Storage, Inc. (EXR) CEO Joe Margolis on Q2 2019 Results – Earnings Call Transcript," Seeking Alpha, July 31, 2019.)
"We are pleased with our results in the first half of the year and the success our team and best-in-class platform have had mitigating the impact felt from new supply."
And Margolis believes the good times will continue. Following the strong earnings report, Extra Space executives raised their full-year 2019 profit outlook. Management now sees core FFO coming in between $4.79 and $4.87 per share, up from a previous range of $4.76 and $4.84. (Source: "Supplemental Financial Information for the Three and Six Months Ended June 30, 2019," Extra Space Storage, Inc., June 30, 2019.)
Executives also estimate that sales from existing properties will increase by three percent year-over-year. Of course, those numbers aren't set in stone. But management would not have raised investors' hopes unless they were confident they could deliver.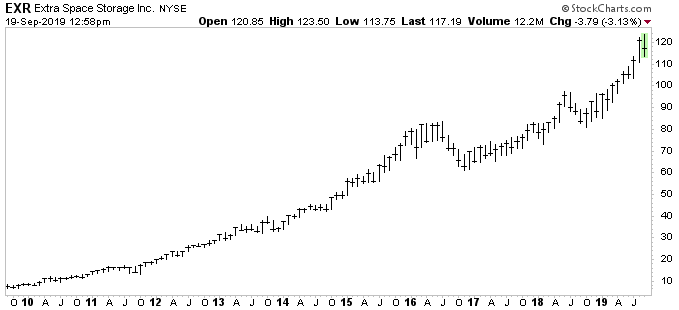 Chart courtesy of StockCharts.com
For Extra Space Storage stock investors, this has translated into a robust income stream. In June, the company boosted its quarterly dividend five percent to $0.90 apiece. That raised the forward yield on shares to almost three percent, a decent payout in a world of zero-percent interest rates.
You can expect that payout to keep growing, too. Over the next five years, Wall Street is looking for Extra Space to grow its fund flows per share at a high single-digit annual clip. That number looks modest, in my opinion, on account of management's track record of setting low expectations.
And given the partnership's conservative 73% payout ratio, executives have the financial wiggle room to boost the dividend in line with—or even faster than—profitability.
That should result in respectable gains for shareholders. If we take our upfront yield and add a distribution growth rate between six and seven percent annually over the next five years, that translates into a total return expectation in the low double-digits. That meets my hurdle for a quiet, recession-proof business like Extra Space Storage.
The Bottom Line on Extra Space Storage
In a nutshell, you probably won't hear Extra Space Storage, Inc. mentioned too often around the office water cooler. Admittedly, the partnership doesn't have the "sex appeal" of Netflix Inc (NASDAQ:NFLX) or Tesla. But what this self-storage REIT lacks in coolness, it more than makes up for in profitability. And with American households filled to the brim with stuff, EXR stock will likely keep pumping out robust distributions and capital gains for quite some time.
So again, the tried and true continues to beat the hot and new.