EVA Stock: A Stock That Turns Timber Into a 7.6% Dividend Yield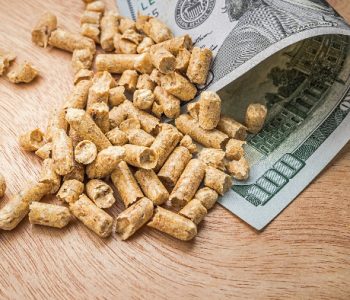 iStock.com/Irina Vodneva
Little-Known Stock Yields 7.6%
Today's chart highlights my favorite place to scoop up yields as high as five, seven, and even nine percent: clean energy.
We likely can't continue to pump out unlimited tons of carbon to power our economies. For that reason, governments around the world have embraced clean, renewable sources of fuel.
And for those funding this transition, it has created one of the biggest income opportunities in a generation. Case in point: Enviva Partners LP (NYSE:EVA). This little-known firm owns a number of processing terminals producing wood pellets for electricity. And for yield-hungry investors, it represents one stock idea to investigate further.
Wood pellets have become a kind of "brown gold," for starters. Many people burn these small, rounded slugs of compressed sawdust to heat their homes, but utilities across Northern Europe and Japan make for the real market. Renewable energy sources like wind and solar don't make economic sense at higher latitudes. Biomass products, such as wood pellets, make for a ready alternative which is more or less carbon-neutral.
And as these countries phase out their coal-fired power plants, demand has surged. Europe, for instance, now burns 19-million metric tons each year, much of which is imported from the United States. To put this number in perspective, picture a large container ship carrying 50,000 tonnes across the Atlantic every day. (Source: "A burning question: Throw wood on the fire for 21st-century electricity?," CNBC, September 18, 2017.)
We're still in the early innings of this boom. With the signing of the Paris Treaty, more countries want to cut their carbon footprints. That could double the demand for industrial wood pellets by 2025, according to industry analysts. (Source: "Global pellet market outlook in 2017," Wood Pellet Association of Canada, last accessed October 5, 2017.)
Enviva has positioned itself in the middle of this boom. Today, the partnership ranks as the world's largest supplier of wood pellets. And with a market capitalization of $780.0 million, it's more than double the size of its nearest rival.
Aside from some temporary production issues last quarter, the business has been on a steady march higher. Sales have tripled over the past four years. Per-ton gross margins for pellets have also crept higher.
Those impressive numbers will likely keep rolling in. Management has already secured contracts for all of its production over the next decade, giving it a bond-like stream of income. Over the next five years, analysts see Enviva growing cash flow at a mid-teen annual clip.
Also Read:
10 High-Yield Small-Cap Dividend Stocks for 2017
For owners, this has created a bankable income stream.
To avoid paying income taxes, management structured the business as a master limited partnership. In exchange for this benefit, however, the company must pass on most of its profits to unitholders.
As a result, Enviva owners enjoy one of the biggest payouts around. Today, the partnership pays out a quarterly distribution of $0.57 per unit, which comes out to an annual yield of 7.6%. I expect this payout to grow in-line with earnings.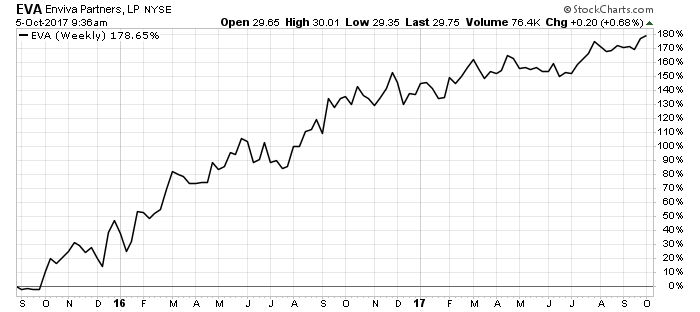 Source: StockCharts.com
The Bottom Line on EVA Stock
You have to admire Enviva for its dominant global market share, bond-like income stream, and massive eight percent dividend yield. And with the shift to clean energy, the partnership is on the front line of one of the biggest investment stories of the next few decades. This is definitely one dividend stock to investigate further.