Euroseas Stock: Undervalued 9.5%-Yielder With Low Payout Ratio Has 135% Upside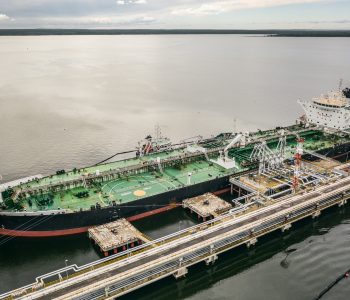 ESEA Stock Is a Shipping Stock With High Potential
Marine shipping stocks like Euroseas Ltd (NASDAQ:ESEA) have mainly been on the back burner for most income investors. With a recession looming, the demand for marine shipping will be muted, but the long-promised recession has yet to materialize.
Sure, we could face a recession in late 2023 or early 2024, but inflation has been falling lately, the Federal Reserve has taken a more dovish tone, the economy remains resilient, the unemployment rate is hovering near pre-pandemic lows, and gross domestic product (GDP) growth has continued.
These dynamics bode well for the broader economy, which is why it's a good idea to take a closer look at certain marine shipping stocks.
Euroseas Ltd has been around for a century but only went public in 2005. The Athens, Greece-based company owns and operates dry bulk and container carrier vessels and is a provider of seaborne transportation for dry bulk and containerized cargoes. Eurobulk Ltd. manages the company's operations.
Euroseas also owns and operates dry bulk carriers that transport major bulk commodities such as iron ore, coal, and grain, and minor bulk commodities such as bauxite, phosphate, and fertilizer.
The company has a fleet of 18 vessels, including 10 feeder container ships and eight intermediate container ships. Euroseas' 18 container ships have a cargo capacity of 58,871 20-foot equivalent units (teu). (Source: "Overview," Euroseas Ltd, last accessed June 14, 2023.)
One teu is the volume of a typical 20-foot-long shipping container.
After the delivery of nine feeder container ship newbuildings in 2023 and 2024, Euroseas' fleet will consist of 27 vessels with a total carrying capacity of 81,071 teu.
While the marine shipping industry took a hit in the early days of the COVID-19 pandemic, things quickly began to ramp up as quarantined people started to shop at home. Between its March 2020 low of $1.10 and its multiyear high of $35.05 in September 2021, Euroseas stock ripped 3,086% higher.
ESEA stock has retraced a little from that high level. As of this writing, it trades in a tight range near $21.00 per share.
Thanks to a big comeback in container ship charter rates, the outlook for Euroseas stock is bullish. Wall Street analysts have provided a 12-month share-price target between $39.50 and $49.00. This points to potential gains in the range of approximately 88% to 135%.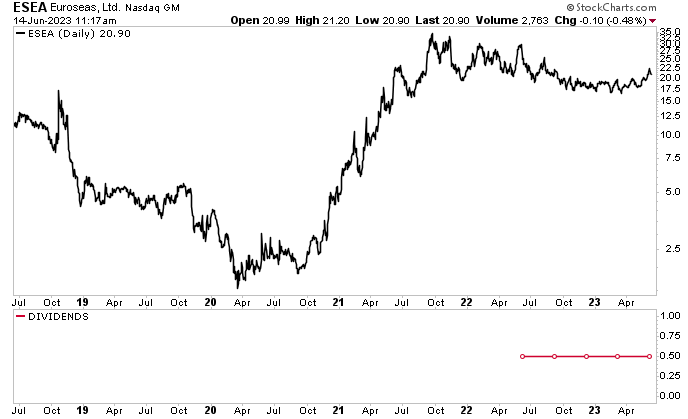 Chart courtesy of StockCharts.com
First-Quarter Financial Results
Why the bullishness for ESEA stock? Euroseas Ltd has continued to report superb financial results and provide an even better outlook.
For the first quarter ended March 31, the company announced that its revenues slipped to $41.9 million. The 7.6% year-over-year decrease was mostly a result of a lower time charter equivalent (TCE) rate of $29,231 per day, compared to $33,986 in the same period last year. (Source: "Euroseas Ltd. Reports Results for the Quarter Ended March 31, 2023," Euroseas Ltd, May 16, 2023.)
On a per-vessel-per-day basis, Euroseas' ships earned a 14.0%-lower average TCE, but the sum of its vessel operating expenses, management fees, and general and administrative expenses increased by 10.2% year-over-year. This resulted in a first-quarter net income of $28.7 million, or $4.11 per share, down slightly from $29.9 million, or $4.15 per share, in the first quarter of 2022.
In a market where charter rates slid significantly compared to last year, Euroseas Ltd's net revenue and net income fell only marginally.
The company's adjusted net income in the first quarter was $21.7 million, or $3.09 per basic share, compared to $26.8 million, or $3.70 per share, in the same quarter of last year. Its adjusted earnings before interest, taxes, depreciation, and amortization (EBITDA) were $26.0 million, compared to $31.1 million in the same prior-year period.
About $400 Million Worth of Contracted Revenues
The outlook for Euroseas Ltd is solid. During the first quarter and through mid-May, container ship charter rates staged a comeback of 15–20%, compared to the low levels reached for most segments in February.
Also in the first quarter and through mid-May, Euroseas Ltd was able to re-charter two of its vessels (whose contracts expired) for two-year and three-year charters at rates higher than originally anticipated. This reflects the resilience of the market and the idea that feeder vessels will be in short supply.
Larger vessels establish the overall trends in the market, but the better supply dynamics for feeder and intermediate-size vessels should provide a certain degree of comfort for shipping companies like Euroseas Ltd.
Aristides Pittas, the company's chairman and CEO, commented, "The larger comfort for Euroseas, though, lies with our charter coverage which runs well into 2025 and amounts to about $400 million of contracted revenues." (Source: Ibid.)
He continued, "In terms of coverage, our fleet is contracted in excess of 90% for the remaining of 2023 and in excess of 65% for 2024. Our contracted revenues alone over 2023 and 2024 are expected to generate earnings in excess of $20 per share which will be further increased by the revenues from our yet unchartered days."
Euroseas Ltd Reinstated Quarterly Dividends
After consistently paying dividends for years, Euroseas paused its payouts in 2013. But changing industry dynamics, including increased profitability and earnings visibility, led the company to reinstate Euroseas stock's dividends and its share-repurchase program in May 2022.
Management said the board decided to use a small amount of the company's contracted earnings to reward shareholders by declaring a common stock dividend of $0.50 per share and initiating a $20.0-million share-repurchase program. (Source: "Euroseas Ltd. Reports Results for the Quarter Ended March 31, 2022," Euroseas Ltd, May 23, 2022.)
In May 2023, Euroseas Ltd's board again declared a quarterly dividend of $0.50 per share, for a current yield of 9.5%. In comparison, U.S. inflation is sitting around four percent, its lowest level since March 2021.
Investors who are afraid that management will suspend ESEA stock's dividend again later can breathe easier. The company's payout ratio is just 13.6%, and—as mentioned earlier—it has about $400.0 million worth of charter coverage booked into 2025.
The Lowdown on Euroseas Stock
Euroseas Ltd is a leading global marine shipping company with one of the lowest operating cost structures among publicly traded shipping companies. The company has a modern fleet, which it expanded in April.
The company reported solid first-quarter results and said it has a high number of shipping charters booked for the next two years. This earnings visibility provides the company with a long-enough perspective to allow it to continue rewarding investors with reliable, ultra-high-yield dividends.
Strong industry tailwinds are also why Wall Street analysts believe ESEA stock could more than double over the next year.