ETP Stock: Lock in This 11.7% Yield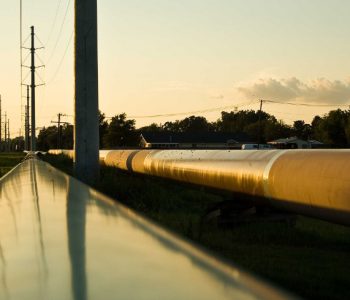 Flickr.com/Ray Bodden
This MLP's 11.7% Yield Really is Safe
Investors flock to big payouts like firebugs to matches.
But, if you play around with flames long enough, you'll eventually get burned. Who hasn't reached for a big distribution, just as the bottom falls out of the stock?
For that reason, you can ignore most double-digit payouts. A big yield usually means something's wrong. Oftentimes, you're buying just ahead of a dividend cut.
Every rule has an exception, though.
Case in point: Energy Transfer Partners LP (NYSE:ETP). The partnership owns about 71,000 miles of pipelines, totaling enough steel tubing to crisscross the country 28 times.
Normally, the 11.7% yield would get me worried. In most cases, I'd skip it altogether. But, if you dig into the numbers, you find enough good things to question that snap judgement.
I love the recession-proof business, for starters.
ETP collects a small fee on each cubic foot of natural gas that flows through its network. In effect, the partnership acts like a toll road for the energy industry.
Analysts prize these assets for their steady cash flows. Once you have a pipeline in the ground, they don't cost much to maintain. And, while energy prices can swing wildly, the actual volume of gas shipped each year stays pretty consistent.
For owners, this has meant reliable income.
ETP has paid a distribution to unitholders for 15 straight years. Since then, management has boosted that payout almost every single quarter.
Expect those checks to keep rolling in. Through the first six months of the year, ETP generated $1.9 billion in cash flow. At the same time, the executives paid $1.6 billion in distributions.
In other words, management mails out $0.84 in distributions for every $1.00 of cash flow. Generally, you want firms to pay out less than 85% or less of their profits in distributions just in case business slumps. ETP's payout ratio is at the upper limits of my comfort zone, but we still have plenty of wiggle room here.
If anything, though, profits will likely grow. New technologies have unlocked vast quantities of natural gas, increasing the demand for new pipelines. Over the next five years, analysts project that ETP will grow earnings at a high single-digit clip.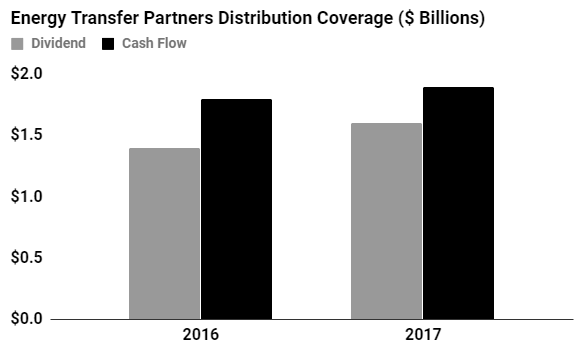 (Source: "Energy Transfer Partners LP," Google Finance, last accessed September 20, 2017.)

My only concern? Debt.
ETP has racked up $32.1 billion in liabilities, versus only $29.0 billion in equity. That could backfire if interest rates rise or business sours.
The distribution appears fairly safe as long as the cash flows remain robust, however. Management has done a good job locking in today's low interest rates with long-term bond issues. That should leave the balance sheet in good shape in the event borrowing costs take a sharp turn higher.
Bottom line: high-yield stocks have burned too many investors. But, when you dig into the numbers, Energy Transfer Partners looks like a rare exception. At this point in time, ETP stock's 11.7% yield is safe.