ETP Stock: Billionaire T. Boone Pickens Owns This 11.1% Dividend Stock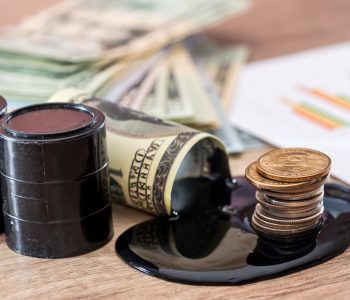 iStock.com/alfexe
T. Boone Pickens Is Bullish on This Stock
T. Boone Pickens has made several fortunes in the oil patch.
First, he did it as a small-time wildcatter during the 1950s and 1960s. Then he took on "Big Oil" as a shareholder activist in the 1970s and 1980s. More recently, he has become an evangelist for American "energy independence."
For this reason, I always pay attention to his thoughts on the business. And in recent quarters, Pickens has started placing huge bets on pipeline stocks. He has also quietly boosted his position in a new company: midstream giant Energy Transfer Partners LP (NYSE:ETP). Investors should take note.
New technologies have unleashed vast supplies of oil and natural gas, sparking a North American energy boom. The total number of rigs drilling for oil across the country has more than doubled over the past year. As drillers continue to cut costs, they have found ways to make money, even at today's low spot prices.
The West Texas Permian Basin has fueled most of this growth because it's the easiest to drill. The formation resembles a layered cake, with several fields of oil-soaked rock stacked one on top of the other. The demand for rig hands, truck drivers, and other workers has reached such a fevered pitch that $80,000/year jobs go unfilled. (Source: "$80,000 jobs find few takers in shale country," Midland Reporter-Telegram, March 8, 2017.)
And this might just be the beginning. Last month, the Department of Energy predicted that U.S. oil output will rise to a record 10.0 million barrels per day next year. American crude exports could grow fourfold to 2.3 million barrels per day by 2020, putting the country in the same league as exporters like Kuwait and the United Arab Emirates. (Source: "US oil output poised to hit 10 million barrels a day next year, breaking 1970 record, EIA says," CNBC, June 6, 2017.)
Energy Transfer Partners stands to make a fortune. Right now, infrastructure remains the biggest factor holding back the oil boom. The industry doesn't have enough pipelines, storage terminals, or processing plants to handle all of the crude coming out of the ground.
For the partnership, this spells opportunity. Earlier this year, management wrapped up work on the Comanche Trail Pipeline, Trans-Pecos Pipeline, and WAHA Header system. These routes will export natural gas to Mexico and provide a big boost to the bottom line.
Executives expect to complete several more projects later this year. These include the completion of the Revolution System, Rover Pipeline, and Mariner East 2 in the northeast, which should all become operational by the fourth quarter. Like a highway tollbooth collecting fees on each passing car, analysts project ETP's profits to soar with more barrels flowing through its network. For owners, this should create a lucrative stream of income.
Today, the partnership pays a quarterly distribution of $0.54 per unit. That comes out to an annual yield of 11.1%.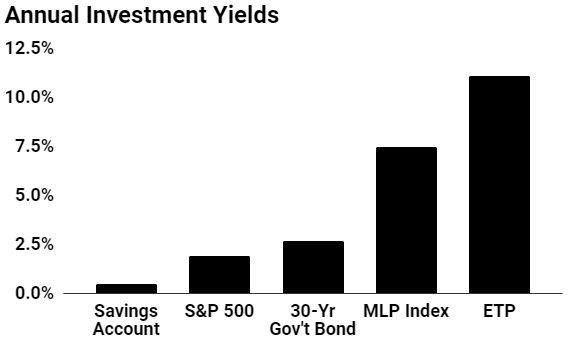 (Source: "Energy Transfer Partners L.P.," MarketWatch, last accessed July 24, 2017.)

That payout could grow in the years ahead. Analysts project that cash flow per unit will increase at a high-single-digit clip over the next five years, according to numbers compiled by Reuters. Management will probably use most of these proceeds to pay down debt, but some of those funds will likely trickle down to unitholders, too.
The Bottom Line on ETP Stock
T. Boone Pickens made a brilliant bet right here. Rather than hoping to strike it rich on the next gusher, he's betting on firms supplying the tools and services to the oil boom. Pipeline owners like Energy Transfer Partners make money regardless of who finds oil.
It's the safer and more profitable way to invest in America's energy revolution. Just remember, as always, do your research before allocating capital.