ETP Stock: Earn a 11.8% Yield from This Top Dividend Stock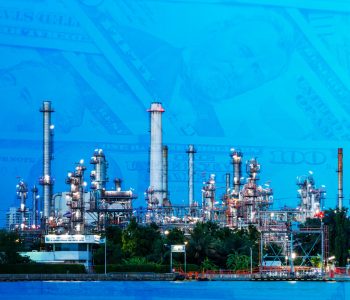 iStock.com/pawinp
ETP Stock Pays Generous Dividends
Today's chart highlights a top dividend stock with a jaw-dropping yield of 11.82%.
If you've been following the stock market, you'd know that the current environment isn't really the best for income investors. Looking around, the blue-chip companies that investors used to love rarely offer a yield north of five percent.
That's why Energy Transfer Partners (NYSE:ETP) is special. Paying $0.55 on a quarterly basis, this partnership yields 11.82% at today's price.
Of course, a high dividend yield could simply be a sign of trouble. If a company currently offers a huge yield but does not have a recurring business to back its dividends, it would have no choice but to cut its payout in the long run. For income investors, buying a stock before its dividend is cut can turn out to be a very expensive lesson.
The good news is, Energy Transfer Partners does not fall into that category, because the partnership actually runs a rock-solid business.
Headquartered in Philadelphia, Energy Transfer Partners is in the midstream oil and gas business. It owns and operates a large portfolio of crude oil, natural gas, natural gas liquids, and refined products transportation and storage assets.
Obviously, since ETP operates in the energy sector, there will likely be some concerns about whether it could handle the downturn in commodity prices. Because many oil and gas companies have fallen deep into the doldrums in recent years, investors today tend to have second thoughts about putting their money in this sector again.
However, if investors decide to ignore ETP stock due to the industry downturn, they could be missing a big opportunity. This is because Energy Transfer Partners not only survived the huge drop in commodity prices, but was actually raising its payout during this period.
In fact, one of the main reasons ETP is a top dividend stock is its ability to deliver a steadily increasing stream of dividends—something you rarely see in the oil and gas business. The partnership has raised its payout at least once a year for the past 15 years.
ETP Stock Distribution History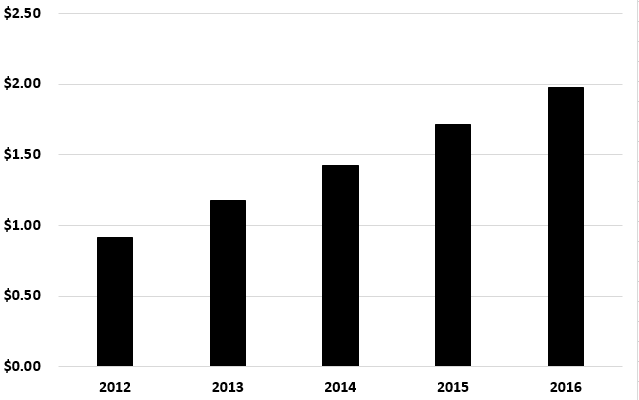 (Source: "Distribution History," Energy Transfer Partners LP, last accessed October 6, 2017.)
As you can see from the above chart, in just the last five years alone, ETP's per-unit distribution rate has more than doubled.
And if you're worried about whether those dividend hikes were too aggressive, a look at the partnership's financials should be reassuring. In the most recent quarter, Energy Transfer Partners had a distribution coverage ratio of 1.18 times, leaving a wide margin of safety. (Source: "Energy Transfer Partners Reports Second Quarter Results," Energy Transfer Partners LP, August 8, 2017.)
Why Investors Should Consider This Top Dividend Stock
Past performance does not guarantee future results, but ETP is well positioned to continue its track record. This is because the partnership is running a largely fee-based business. Essentially, companies pay ETP a fee to transport and store energy products using its pipeline and terminal network. ETP does not have any exploration and production activity; therefore, it doesn't have to worry too much about commodity prices.
Here's the bottom line: as long as there are energy products to move and store, Energy Transfer Partners will be able to keep generating oversized cash flows. Adding in its double-digit yield, ETP is certainly a top dividend stock in today's market.