Ethan Allen Interiors Inc.: High-Yield Stock With Rising Price Pays Special Dividends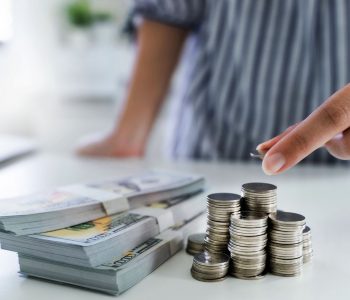 Outlook for Ethan Allen Stock Is Bullish
There are many high-yield dividend stocks that investors overlook for any number of reasons. One of them is Ethan Allen Interiors Inc. (NYSE:ETD). It might not have the cache of an energy stock or a tech stock, but when it comes to timing, ETD stock might be one of the better high-yield dividend stocks out there.
Thanks to the red-hot U.S. housing market, low unemployment, rising wages, and pent-up demand for home furnishings following the COVID-19 pandemic, Ethan Allen stock is poised to run higher.
And the increased demand for home furnishings isn't tied simply to the economic rebound following the coronavirus pandemic. The trend has legs. The average annual expenditure on furnishings per U.S. consumer increased from $355.00 in 2010 to $5,200 in 2019. (Source: "United States Home Furniture Market 2021-2026: Growth, Trends, COVID-19 Impact, and Forecasts," Business Wire, July 13, 2021.)
Between 2020 and 2025, worldwide home furnishing revenue is projected to climb by 37% from $330.8 to $455.4 billion. Over the same period, the North American home furnishing industry is expected to advance 23.3% to $98.3 billion. (Source: "The Home Furnishing Industry: Ecommerce Marketing Trends and Growth Strategies in Decor, Furniture & Home Goods," Common Thread Collective, June 11, 2021.)
That's good news for Ethan Allen Interiors Inc. and helps explain why ETD stock has been on a tear since the stock market crashed in March 2020. As of this writing, Ethan Allen stock is up by:
32% year-to-date
90% year-over-year
230% since bottoming in April 2020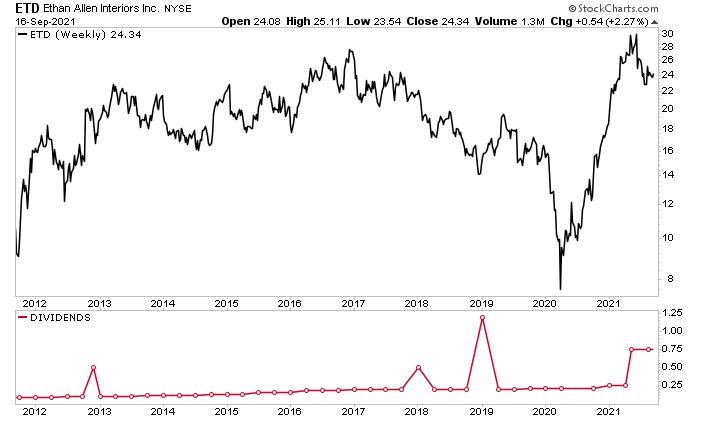 Chart courtesy of StockCharts.com
About Ethan Allen Interiors Inc.
Ethan Allen is a leading interior design company, home furnishing manufacturer, and retailer.
The Danbury, CT-based company sells a full range of furniture products and home accents (beds, dressers, tables, chairs, entertainment units, etc.) through a retail network of approximately 300 design centers in the U.S and abroad, as well as through its web site. (Source: "Company Profile," Ethan Allen Interiors Inc., last accessed September 22, 2021.)
While many companies tightened their belts in 2020, that wasn't the case with Ethan Allen. In its fiscal 2021 (June 30, 2020 to June 30, 2021), the company opened several new design centers, including in Oxnard, CA; Towson, MD; Alpharetta, GA; and Portland, OR.
Ethan Allen Interiors Inc. also owns and operates nine manufacturing facilities: six in the U.S., two in Mexico, and one in Honduras.
Strong Q4 & 2021 Results
For the fourth quarter of fiscal 2021, ended June 30, Ethan Allen announced that its net sales increased by 94.7% year-over-year to $178.3 million. Its wholesale net sales went up by 106% to $106.4 million, while its retail net sales rose by 113% to $150.7. (Source: "Ethan Allen Reports Fiscal 2021 Fourth Quarter and Full Year Results," Ethan Allen Interiors Inc., August 9, 2021.)
The company's operating expenses decreased in the fourth quarter from 65.9% to 45.2% of its net sales. Its operating expenses increased by $20.2 million due to higher selling, delivery, and incentive compensation expenses due to strong net sales growth.
Ethan Allen reported fourth-quarter 2021 net income of $18.1 million, or $0.71 per share, compared to a fourth-quarter 2020 net loss of $12.0 million, or $0.48 per share. Its fourth-quarter 2021 adjusted earnings per share (EPS) were $0.74, versus a fourth-quarter 2020 adjusted EPS loss of $0.15.
The company finished the fourth quarter in an enviable position, having generated $27.8 million of cash and $104.6 million of cash on hand. It also had no outstanding debt.
In fiscal 2021, Ethan Allen Interiors Inc.'s net sales increased by 16.2% to $685.2 million. Its wholesale net sales went up by 22.2% to $413.1 million and its retail net sales climbed by 19.9% to $555.0 million.
The company's operating expenses in fiscal 2021 decreased from 52.3% to 46.1% of net sales due to improved operating leverage.
Ethan Allen reported fiscal 2021 net income of $60.0 million, or $2.37 per share, compared to $8.9 million, or $0.34 per share, in fiscal 2020. Its adjusted EPS in fiscal 2021 were $2.37, compared to $0.52 in fiscal 2020.
Despite the toughest economic climate in 100 years, Ethan Allen was able to generate $129.9 million of cash from operating activities and repay 100% of its outstanding debt during the year.
The outlook for Ethan Allen Interiors Inc. is solid. In addition to reporting strong fourth-quarter and fiscal year results, the company strengthened its business by expanding its capacity and enhancing its use of technology.
While demand trends have certainly been tailwinds for Ethan Allen's business, it continues to have a big backlog of written orders, which is a result of supply chain issues. That said, 75% of the company's products are made in North America, which, together with its strong logistics network of national distribution centers, gives it a leg up on the competition.
ETD Stock Gives Investors a Raise With Two Special Cash Dividends
Ethan Allen Interiors Inc.'s fiscal 2021 was an excellent year for dividend hogs.
Although the company suspended its regular cash dividend in April 2020 (during the COVID-19 pandemic), it reinstated the dividend on August 4 of that year—and made up for lost time.
Last November, the company increased its regular cash dividend by 19% and paid a special cash dividend of $0.75 per share in May 2021. The good times continued to roll in August, when Ethan Allen Interiors Inc.'s board of directors declared another special cash dividend of $0.75 per share, in addition to Ethan Allen stock's regular quarterly dividend of $0.25 per share, or $1.00 per share on an annual basis.
At its current share price, that represents an annual yield of four percent. Investors who are afraid that the company will suspend its dividend need not worry. The payout ratio is just 40.5%, which is way below the 90% threshold I like to see.
The Lowdown on Ethan Allen Interiors Inc.
Ethan Allen Interiors Inc. may not be the first high-yield dividend stock that comes to mind, but it should certainly be on your radar.
The company has a rock-solid balance sheet, zero debt, strong brand recognition, and a large, growing physical footprint. Moreover, it has been reporting strong financial results.
While the price of ETD stock can be susceptible to economic cycles, the company is currently in a sweet spot, one that it should be able to capitalize on for years to come.