Equitrans Midstream Corp: Undervalued Stock With 7.2% Dividend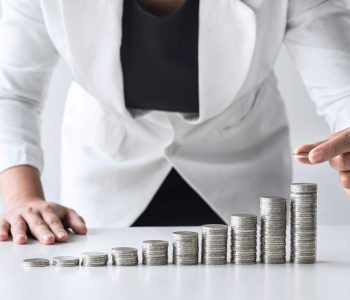 Wall Street Bullish on Equitrans Midstream Corp
U.S. crude oil and gas prices have been recovering, and along with them, many energy stocks. One area that appears to be lagging the rest of the sector and remaining undervalued is U.S. midstream energy stocks.
Why? There are a few reasons.
First, higher oil and gas prices benefit exploration and production companies more directly than midstream companies. On top of that, midstream oil and gas companies are more concerned about volumes than about oil and gas prices. Many U.S. oil and gas producers are holding volumes flat for the time being.
Second, aside from organic volume growth, capital spending on new pipeline projects, which are key earnings drivers, is—for the most part— expected to be delayed. Pipelines are only approved by regulators when there's an economic need, and pipeline development takes about three years.
That's the so-called bad news for midstream oil and gas companies. The good news? There will always be a need for the infrastructure to get oil and gas from point A to point B and to store and treat it. And just because the oil and gas industry isn't developing new pipelines doesn't mean there aren't any pipelines getting built.
Moreover, despite the lack of near-term growth drivers, the high yields and excess cash flows after distributions, dividends, and capital spending leave midstream energy companies with more flexibility to reduce their debts, improve their bottom lines, and repurchase their own shares.
One of the most interesting midstream oil and gas companies right now is Equitrans Midstream Corp (NYSE:ETRN). It's a premier North American midstream services company and the third-largest natural gas gatherer in the U.S. (Source: "Corporate Profile," Equitrans Midstream Corp, last accessed April 1, 2021.)
The company, which provides midstream services to EQT Corporation (NYSE:EQT) and multiple third parties in Pennsylvania, West Virginia, and Ohio, operates through three business segments: Gathering, Transmission, and Water.
Equitrans Midstream has an operational focus on gas transmission and storage systems, gas gathering systems, and water services that support natural gas development and production across the Appalachian Basin.
Equitrans Midstream Corp's infrastructure is strategically positioned to de-bottleneck the Appalachian Basin. Major growth projects include the Mountain Valley Pipeline (MVP) and MVP Southgate projects, both of which provide a key link between supply sources and major demand markets in the U.S.
The company is targeting a full in-service date for the MVP project in late 2021. It's expected that Equitrans Midstream will have a 47.6% ownership interest in the $6.0-billion joint venture.
Equitrans Midstream Corp's infrastructure transports 8.2 billion cubic feet of natural gas every day. It has 950 miles of regulated interstate pipelines and 1,900 miles of high- and low-pressure gather lines. (Source: Ibid.)
The company has had zero incidents of non-compliance resulting in a fine or penalty, incidents of non-compliance resulting in a warning, or incidents of non-compliance with voluntary codes. (Source: "Pipeline Safety, Spills, & Leaks," Equitrans Midstream Corp, last accessed April 1, 2021.)
Despite unprecedented times, Equitrans Midstream was able to report solid fourth-quarter and full-year earnings. The company's fourth-quarter net income was $136.6 million ($0.27 per share) and its adjusted earnings before interest, taxes, depreciation, and amortization (EBITDA) were $286.4 million. (Source: "ETRN Announces Full-Year and Fourth Quarter 2020 Results," Equitrans Midstream Corp, February 23, 2021.)
Equitrans Midstream was also able to generate predictable and stable revenue of $367.1 million and deferred revenue of $76.9 million in the quarter. The company's net cash from operating activities in the fourth quarter was $316.7 million, while its free cash flow was $86.6 million.
In fiscal 2020, Equitrans Midstream Corp generated net income of $638.0 million ($1.06 per share) and adjusted EBITDA of $1.2 billion.
Also in the fiscal year, 66% of the company's total operating revenue was from firm reservation fees. Equitrans Midstream increased its total gathering volumes by five percent, and it reduced its gathering, operating, and maintenance expenses per gathered volume by 14%.
The company's full-year revenue was $1.5 billion and its full-year deferred revenue was $225.7 million. Its fiscal 2020 net cash from operating activities was $1.1 billion and its free cash flow was $317.4 million.
Thomas F. Karam, Equitrans Midstream Corp's chairman and CEO, noted that 2020 was transformational on many fronts.
The company simplified its corporate structure, emerging as a single C-Corp entity. It executed a gathering agreement that allows it to optimize its assets and realize meaningful capital savings. Equitrans Midstream also controlled its costs and deployed capital in order to strengthen its balance sheet.
Solid financial results coupled with optimism about the rollout of coronavirus vaccines and a red-hot economy in the second half of 2021 has helped lift Equitrans Midstream stock. ETRN stock is up 62.8% year-over-year and 1.5% year-to-date.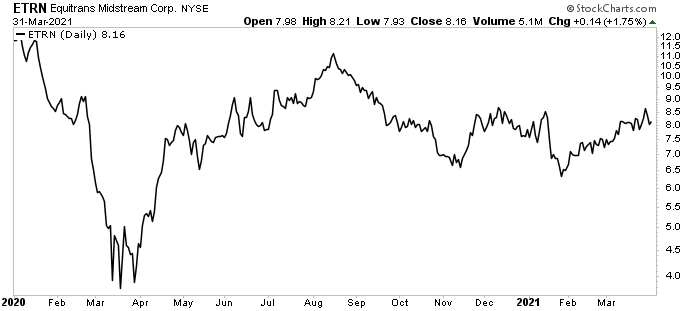 Chart courtesy of StockCharts.com
Equitrans Midstream stock has plenty of room to grow. It needs to climb approximately 50% to erase all of its losses associated with the March 2020 stock market sell-off. Wall Street seems bullish on ETRN stock, with an average "Outperform" rating. For the next 12 months, Wall Street has a median price target of $10.50 and a high estimate of $13.00.
For the fourth quarter of 2020, Equitrans Midstream stock paid a quarterly cash dividend of $0.15 per common share. At its current price, ETRN stock's dividend stands at 7.2%, with a dividend rate of $0.60.
It's safe, too. The payout ratio is just 84.4%, well below my 90% threshold. That gives Equitrans Midstream Corp lots of financial wiggle room to continue paying its dividend.
That doesn't mean there haven't been some bumps. The company actually cut its quarterly dividend in the second quarter of 2020 from $0.45 to $0.15. But again, that reduction had everything to do with COVID-19.
The Lowdown on Equitrans Midstream Corp
One of the biggest natural gas pipeline companies in the U.S., Equitrans Midstream Corp has an enviable footprint in the prolific Appalachian Basin.
That footprint allows the company to have the enhanced potential to expand its customer base and organic growth, which bodes well for ETRN stock.