Market-Thumping, 7.7%-Yielding EPR Properties Stock Pays Monthly
Why Undervalued EPR Stock Has 25% Upside
Many real estate investment trusts (REITs) have had a tough go of it since 2020.
First, quarantine orders during the COVID-19 pandemic meant people were forced to stay at home. This wasn't good for REITs that specialized in office buildings, shopping malls, or entertainment venues.
Second, although the dark days of the pandemic may be over, the reopening of the global economy has led to decades-high inflation. In response, central banks have raised interest rates. This has made borrowing more expensive, which weighs down on REITs' profitability.
These headwinds have taken the wind out of the sails of a lot of REITs, but lately, many REIT stocks have been rallying off their lows and rewarding patient investors. A good example of this is EPR Properties (NYSE:EPR).
The company is the leading diversified specialty REIT that owns "experiential" properties. The REIT's $6.7-billion+ real estate portfolio is made up of 363 locations in 44 U.S. states and Canada. (Source: "Investor Presentation: Q2 2023," EPR Properties, last accessed October 24, 2023.)
As of June 30, the company's owned experiential properties consisted of approximately 20.1 million square feet, which included a total of $80.7 million worth of property under development and $20.2 million in undeveloped land inventory. As of that date, the properties were 98% leased to more than 200 tenants.
EPR Properties' real estate portfolio currently consists of:
171 theater properties
64 early childhood education centers
57 "eat & play" properties (golf facilities and bowling centers with restaurants and bars)
24 attractions (water parks and amusement parks, as well as nearby lodging)
16 fitness and wellness centers
11 ski resorts across the U.S.
Nine private school properties
Seven experiential lodging facilities (resorts with water parks, recreational facilities, or leisure centers)
Three cultural properties (zoos, aquariums, and museums)
One commercial gaming facility
Movie Theater Investment Update
Even though the global economy has reopened since the pandemic, it hasn't been all fun and games for EPR Properties.
In September 2022, one of EPR's tenants, Regal Entertainment Group, filed for bankruptcy protection. At the time, Regal was leasing 57 movie theaters from EPR. As a result of the bankruptcy, Regal hadn't paid its rent or monthly deferral payments to EPR for September 2022. (Source: "EPR Properties Reports Second Quarter 2023 Results," EPR Properties, April 26, 2023.)
Eventually, it paid a portion of the amount owed, pursuant to an order of the bankruptcy court. Then, starting in October 2022, Regal Entertainment resumed paying its rent and deferral payments for all of its leases. It continued to make those payments through July 2023 (maybe longer, but that information was as of early August).
In June, EPR Properties entered a restructuring agreement with Regal Entertainment, providing it with stronger tenant credit, a long-term master lease, and an arrangement that allows EPR to recover funds from Regal's box office sales. This situation has provided EPR with more insight into its earnings outlook.
In July, Santikos Theaters, LLC acquired VSS-Southern Theatres. The relevance to EPR Properties is that EPR has investments in 10 Southern Theatres properties.
The acquisition didn't result in any structural changes to those theaters' existing lease terms with EPR. Moreover, Southern Theatres paid EPR its entire remaining deferred rent of $11.6 million. That deferred rent will be recognized in EPR's third-quarter results.
Q2 Funds From Operations (as Adjusted) Up 10.2%
For the second quarter ended June 30, EPR Properties announced that its total revenues increased by 7.7% year-over-year to $172.9 million. The company's net income went down to $7.5 million, or $0.10 per share, from $34,876, or $0.46 per share, in the second quarter of 2022. (Source: Ibid.)
The REIT's funds from operations as adjusted (FFOAA) climbed by 10.2% year-over-year to $97.7 million, or $1.28 per share. Meanwhile, its adjusted funds from operations (AFFO) went up by 7.1% to $100.1 million, or $1.31 per share.
During the second quarter, in addition to collecting its regular quarterly rent, EPR Properties collected $7.3 million of deferred rent. Through June 30, the company collected about $135.0 million of rent and interest that had been deferred as a result of the pandemic.
Also during the quarter, the REIT's investment spending totaled $32.2 million, bringing its year-to-date total to $98.7 million. Its investment spending for the quarter was primarily related to experiential build-to-suit development and redevelopment projects.
As of June 30, EPR Properties had committed approximately an additional $224.0 million for experiential development and redevelopment projects. The company expects to fund these projects over the next two years without needing to raise extra capital.
EPR ended the quarter with a fabulous liquidity position, with $99.7 million of cash on hand, no borrowing on its $1.0-billion unsecured revolving credit facility, and a consolidated debt profile that's all at fixed interest rates with no maturities until 2024.
Commenting on the results, Greg Silver, EPR Properties' president and CEO, said, "During the quarter, we reached a meaningful milestone as we entered into a restructuring agreement with Regal, providing us with a significantly stronger tenant credit, a long-term master lease and a percentage rent component allowing us to participate in the recovery of the box office." (Source: Ibid.)
He added, "Having completed approximately $100 million of investments this year, we are selectively growing our experiential portfolio while being prudent in our capital allocation…We have continued to enhance our financial flexibility with a priority on maintaining our strong liquidity position and leverage profile."
Prior to the second quarter, EPR Properties wasn't providing earnings guidance. Its outlook was slightly uncertain due to its positions with Regal Entertainment and Southern Theatres. But now that those two issues have been resolved, it can provide earnings guidance for full-year 2023.
The REIT is currently projecting FFOAA-per-share growth of nine percent (at the midpoint of its guidance range).
Board Declared Monthly Cash Dividends of $0.275/Share
In order to qualify as a REIT, a company is legally required to distribute at least 90% of its taxable income to its shareholders.
EPR Properties' fantastic liquidity position and more visibility into its earnings outlook bodes well for its dividends. On October 16, the company's board declared a monthly dividend of $0.275 per share, for an inflation-crushing yield of 7.74%.
When it comes to REITs and their dividends, it's important to look at the company's AFFO, which is a measure of its true cash flow. EPR's second-quarter AFFO of $1.31 per share was more than enough to comfortably cover its quarterly payout of $0.825 per share.
EPR Properties stock's distribution needs to grow a fair bit to get to the record-high level it was at before the pandemic. Before the company suspended its payout in June 2020, its monthly dividend stood at $0.3825 per share. Management resumed EPR stock's distribution in July 2021, at $0.25, and raised it to $0.275 in December 2022. The REIT has held its dividend at that level since then.
Thanks to the company's solid 2023 FFOAA-per-share guidance, there's a good chance that its board will announce another distribution hike over the coming quarters.
EPR Properties Stock's Price Has Rebounded
It wasn't just EPR stock's dividend that was at record-high levels before the pandemic; its share price was as well. While EPR Properties stock's price has made some big gains, it still needs to climb by about 40% to get to where it was in January 2020.
That said, EPR stock has done fairly well in 2023, actually outperforming the S&P 500. As of this writing, EPR Properties stock is up by roughly 21% year-to-date and 25% year-over-year. In comparison, the S&P 500 has rallied by about 14% year-to-date and 19% year-over-year.
Those are big gains, and EPR stock has more room to run. Wall Street analysts have provided a 12-month share-price target in the range of $49.50 to $54.00. This points to potential gains in the range of 15.0% to 25.5%.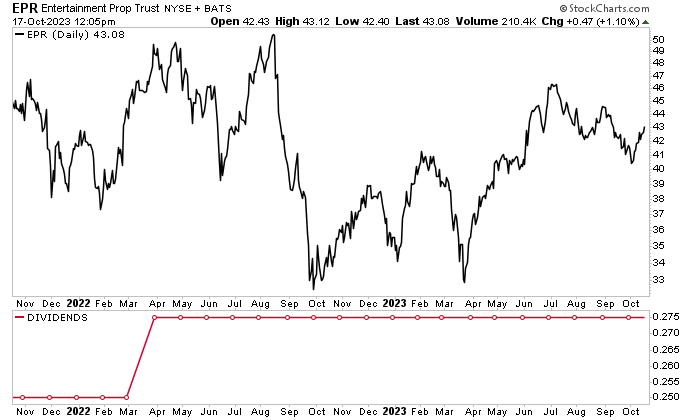 Chart courtesy of StockCharts.com
The Lowdown on EPR Properties
EPR Properties is a great specialty REIT with a growing, diverse portfolio of experiential properties. It reported excellent 2022 results, and that momentum has carried into 2023.
Most significantly, the company recently announced a resolution to the bankruptcy of one of its tenants, Regal Entertainment. Furthermore, Santikos' recent acquisition of Southern Theatres resulted in Southern paying EPR the entire amount of deferred rent it had owed.
This, coupled with significant payments of deferred rent from other tenants, leaves EPR in a better liquidity position than before.
This has allowed management to provide full-year 2023 guidance that includes FFOAA-per-share growth of nine percent. It also bodes well for EPR Properties stock's share price and high-yield dividends.