EPR Properties Stock: Investors Get Paid Monthly From This Undervalued 8%-Yielder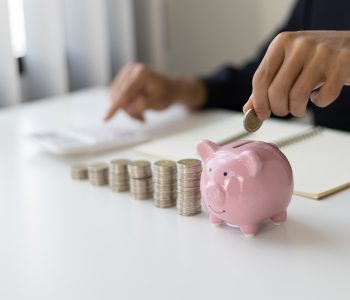 Why EPR Stock Is Attractive Right Now
COVID-19 was not kind to many industries. Quarantine orders forced restaurants to shut their doors and shopping malls to become ghost towns. It was also disastrous for the "experiential" industry, which includes casinos, live-performance venues, museums, nightclubs, and spas.
Suffice it to say, EPR Properties (NYSE:EPR), a real estate investment trust (REIT) that owns experiential properties, took an oversized hit. But it's also a company that could experience significant growth as the economy continues to reopen globally.
EPR is the leading diversified experiential REIT. The company's $6.7-billion real estate portfolio is made up of 20.0 million square feet at 363 locations in 44 U.S. states and Canada. As of March 31, the portfolio included $85.8 million worth of property under development and $20.2 million worth of undeveloped land. (Source: "Investor Presentation: Q1 2023," EPR Properties, last accessed May 16, 2023.)
As of March 31, the company's experiential properties were 98% leased to more than 200 tenants.
EPR Properties' real estate portfolio currently consists of:
172 theater properties, which are responsible for 41% of its annualized adjusted earnings before interest, taxes, depreciation, amortization, and restructuring or rent costs (EBITDAR)
65 early childhood education centers, which are responsible for seven percent of its annualized adjusted EBITDAR
56 "eatertainment" properties (restaurants, golf facilities, bowling centers, etc.), which are responsible for 24% of its annualized adjusted EBITDAR
23 water and amusement parks, which are responsible for 11% of its annualized adjusted EBITDAR
16 fitness and wellness properties, which are responsible for one percent of its annualized adjusted EBITDAR
11 ski resorts, which are responsible for seven percent of its annualized adjusted EBITDAR
Nine private schools, which are responsible for two percent of its annualized adjusted EBITDAR
Seven experiential properties (i.e., indoor water parks, recreational centers, and leisure facilities), which are responsible for three percent of its annualized adjusted EBITDAR
A zoo, aquarium, and museum, which are collectively responsible for one percent of its annualized adjusted EBITDAR
One gaming property, which is responsible for two percent of its annualized adjusted EBITDAR
EPR Properties' theater box office numbers in 2022 were well above its 2021 numbers, and 2023 is expected to be a banner year for its theater properties. The REIT's restaurant sales are currently above where they were before the COVID-19 pandemic.
Recent Property Investments
In the first quarter of 2023, EPR invested $66.5 million in real estate acquisitions, development projects, and redevelopment projects. That included an investment of $46.7 million in a newly constructed climbing gym in New York City. This was the REIT's second investment in a climbing gym. (Source: "EPR Properties Reports First Quarter 2023 Results," EPR Properties, April 26, 2023.)
As of March 31, the company had committed approximately $245.0 million in experiential development and redevelopment projects. It expects to fund those projects without needing to raise additional capital.
EPR Properties plans to reduce its interests in theaters, early childhood education properties, and private schools while growing its interests in other segments. The company notes that there are several underpenetrated experiential segments, representing an addressable market opportunity of more than $100.0 billion.
Powerful Momentum From 2022 Continues in 2023
For the first quarter ended March 31, EPR announced that its total revenues increased by 8.8% year-over-year to $171.3 million. Its net income climbed in the quarter by 42% year-over-year to $51.6 million, or $0.69 per share. (Source: Ibid.)
The company's first-quarter funds from operations as adjusted (FFOAA) climbed by 11.7% year-over-year to $96.0 million, or $1.26 per share. Its adjusted funds from operations (AFFO) went up by 12% year-over-year to $98.7 million, or $1.30 per share. That was up from $1.16 per share in the first quarter a year earlier, and well above the $1.23 that analysts were calling for.
During the first quarter of 2023, in addition to collecting its regular quarterly rent, EPR Properties collected $6.5 million of deferred rent from cash-basis tenants and $600,000 of deferred rent from accrual-basis tenants. This left $1.5 million of deferred rent on its balance sheet as of March 31. Through March 31, the REIT had collected about $127.0 million of rent and interest that had been deferred as a result of the pandemic.
The company ended the first quarter with a healthy liquidity position that included $96.4 million of cash on hand and no borrowing under its $1.0-billion unsecured revolving credit facility.
Commenting on the first-quarter results, Greg Silver, EPR Properties' chairman and CEO, said, "Our strong momentum from last year continued into the start of 2023. We are pleased with the strong recovery and the resilience of our experiential investments, as consumers continue to allocate post-pandemic discretionary [spending] on the drive-to, value-oriented leisure and entertainment options that our customers offer." (Source: Ibid.)
Silver added, "Our strong liquidity position allows us to deploy capital in a disciplined manner across a variety of experiential properties, including having a committed pipeline that we will fund in the coming quarters. With a durable income stream, an ongoing recovery, and additional growth from our investment pipeline, we are encouraged by our outlook for the year."
Why EPR Properties Hasn't Provided Guidance for 2023
It's not all fun and games with EPR. Last September, one of its tenants, Regal Entertainment Group, filed for bankruptcy protection. Regal Entertainment leases 57 theaters from EPR Properties. The revenue for Regal continues to be recognized on a cash basis.
On April 2 of this year, Regal Entertainment entered a restructuring support agreement with secured lenders that hold most of Regal's outstanding secured indebtedness. On April 11, Regal filed a plan of reorganization and an accompanying disclosure statement.
Based on this progress, Regal Entertainment has announced its expectation to emerge from its bankruptcy protection by mid-year. Given the complexity of this matter, there's no assurance that Regal will meet that target.
Moreover, Regal Entertainment owes EPR Properties a significant amount of rent that it deferred during the COVID-19 pandemic. There's no guarantee for how much of the deferred rent, if any, EPR will recover from Regal. That said, EPR has collected all scheduled rent and deferral payments through April from Regal.
Despite that, EPR Properties' earnings continue to be robust, with Regal Entertainment having little impact on the REIT's bottom line. Investors seem relatively unfazed by the situation, with just 4.9% of the company's shares being shorted.
That doesn't mean the situation isn't a concern. No one wants to lose tenants, but the issue with Regal isn't as big a concern as some people are making it out to be. But because of that uncertainty, EPR Properties hasn't provided earnings guidance for 2023. Management did, however, confirm their 2023 spending guidance range of $200.0 to $300.0 million.
Management Declared Monthly Dividends of $0.275/Share
In order to qualify as a REIT, a company is legally required to distribute at least 90% of its taxable income. During the first quarter, EPR Properties declared regular monthly cash dividends of $0.275 per share, for a current yield of eight percent.
When it comes to a REIT's payouts, it's important to look at its AFFO, which is a measure of its true cash flow. As mentioned earlier, the company's first-quarter AFFO was $1.30 per share, which is more than enough to comfortably pay its quarterly dividends of $0.825 per share.
EPR Properties' current distribution $0.275 per share needs to grow by 39% to get to where it was before the COVID-19 pandemic. In April 2020, the company raised its payout to $0.3825 per share. Two months later, perhaps not surprisingly, the REIT suspended its dividends until August 2021, when it paid $0.25 per share. (Source: "Dividends," EPR Properties, last accessed May 16, 2023.)
It wasn't just EPR stock's dividend that was at a record level before the pandemic; its share price was as well. Although EPR Properties stock's price has made some big gains lately, it needs to climb by about 65% to get to its pre-pandemic high.
Despite the uncertainty of the Regal Entertainment Group situation, Wall Street analysts think EPR stock has room to run over the coming quarters. They announced a 12-month share-price target in the range of $45.33 to $47.00. This points to potential gains in the range of 7.1% to 11.0%.
This is far better than analysts' call for the S&P 500 to fall by between 20% and 45% during the same period. (Source: "A 31-Year Market Vet Who Called the Current Bear Market Warns an Impending Credit Crunch and Recession Will Sink Stocks by 45% as Valuations Remain Higher Than Dot-Com Bubble Levels," Business Insider, May 13, 2023.)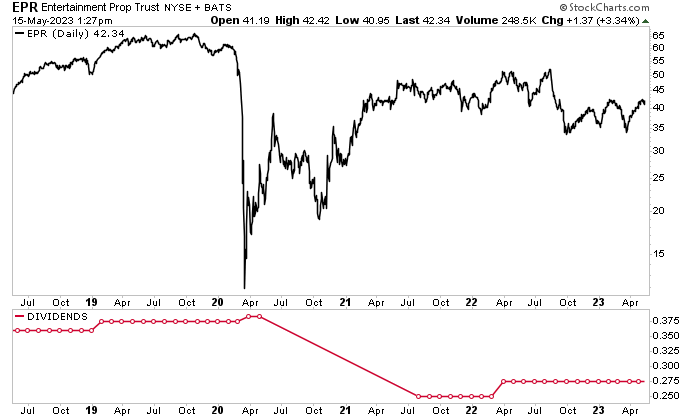 Chart courtesy of StockCharts.com
The Lowdown on EPR Properties Stock
EPR is a great specialty REIT with a growing, diverse portfolio of experiential properties. The company reported fabulous 2022 results, and that momentum has carried into 2023.
While EPR Properties faces some uncertainty in relation to Regal Entertainment Group, its earnings continue to expand, it has been growing its real estate portfolio, it has been benefiting from the ongoing economic recovery, and it has reiterated its 2023 spending guidance.
To that end, EPR's net income per diluted share and FFOAA per diluted share grew in the quarter ended March 31 by about 44% and 15%, respectively. That highlights the company's continued recovery from the financial impact of the COVID-19 pandemic.
This bodes well for EPR stock's price and high-yield dividends.