EPR Properties: 1,571% Return From a Monthly Dividend Stock?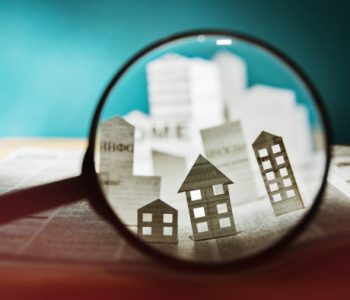 iStock.com/SvetaZi
This Income Stock Could Provide Huge Returns
When investors put their money in monthly dividend stocks, they are most likely looking for income. And indeed, by mailing out dividend checks more frequently, monthly dividend companies have made lives much easier for investors who are living off the returns from their income portfolios.
The neat thing is, shareholders of EPR Properties (NYSE:EPR) have collected more than just monthly dividends. In particular, early investors of EPR stock are enjoying total returns well into the quadruple-digits.
Like most monthly dividend stocks, EPR Properties is in the real estate business. As a giant landlord, the company collects a predictable stream of rental income from its tenants. Thanks to this stable business model, EPR stock can afford to dish out monthly dividends.
In today's market, many real estate investment trust (REITs) specialize in one particular type of real estate, such as retail malls or office buildings. And that's where EPR Properties stands out. The company is a specialty REIT, but it manages to invest in three different types of properties: Entertainment, Recreation, and Education.
Right now, Entertainment is EPR's biggest segment, contributing 48% to the company's net operating income. Recreation contributes 31% and Education accounts for another 20%, while the remaining one percent comes from its "Other" category. (Source: "Return on Insight," EPR Properties, last accessed November 19, 2018.)
EPR Properties: Paying Monthly Dividends That Grow Over Time
Of course, as income investors, the main appeal of this monthly dividend stock is its generous dividend policy. With a monthly dividend rate of $0.36 per share, EPR stock offers a sizable yield of 6.1%.
The payout has been growing, too. In 2010, the company paid total dividends of $2.60 per share; by 2017, the amount stood at $4.08 per share, representing a total increase of 57%. Thanks to another dividend increase earlier this year, EPR Properties is on track to pay $4.32 per share for full-year 2018.
EPR Stock Dividend History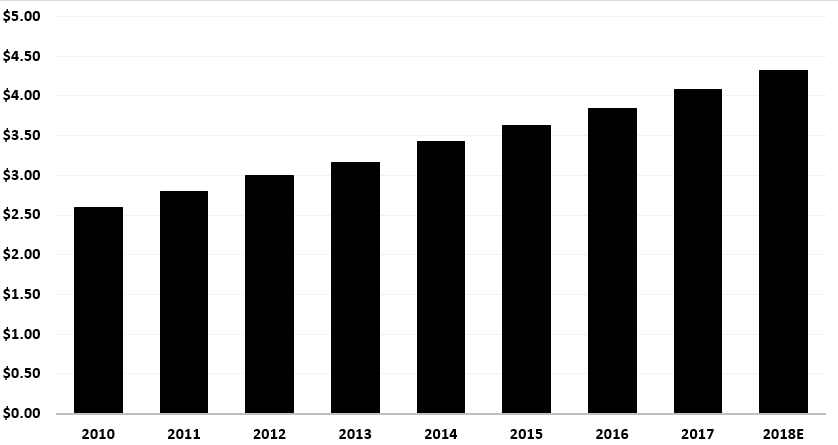 Source: "Dividends," EPR Properties, last accessed November 19, 2018.
The best part is that, despite all the dividend hikes over the years, the company still has more than enough resources to cover its payout.
In the third quarter of 2018, EPR Properties generated adjusted funds from operations (FFO) of $119.6 million, or $1.58 per diluted share. This represented a substantial increase from adjusted FFO of $93.3 million, or $1.26 per diluted share, it earned a year ago.
Furthermore, the amount provided sufficient coverage for the company's three monthly dividend payments, totaling $1.08 per share declared for the quarter. (Source: "EPR Properties Reports Third Quarter 2018 Results," EPR Properties, October 29, 2018.)
In the first nine months of this year, EPR Properties' adjusted funds from operations totaled $355.4 million, or $4.70 per diluted share. Again, the amount was more than enough to cover the company's total dividends of $3.24 per share declared during this period.
As a landlord, EPR boasts some pretty impressive operating metrics. The company's Entertainment and Recreation properties were 100% leased at the end of the third quarter, while its Education properties had an occupancy rate of 98%.
Management has also raised their guidance. The company is now expected to generate adjusted funds from operations of between $6.03 to $6.09 per diluted share for full-year 2018. This would mark a significant improvement from $5.02 per share earned in 2017.
With a growing business, more dividend hikes could be on the way.
Providing More Than Just Dividends?
And yet those rising dividend checks aren't the only things investors have collected over the years. Because of the company's solid operations and financial performance, market participants have rewarded EPR stock with higher stock prices as time went by.
In fact, from the company's initial public offering in 1997 to September 30, 2018, EPR stock has delivered total shareholder return of 1,571%. This easily beats the MSCI U.S. REIT Index, which returned 483% during this period, and the Russell 1000 Index, which returned 378%. (Source: EPR Properties, last accessed November 19, 2018, op cit.)
By substantially outperforming these indices, EPR Properties has shown why it is special.
The Bottom Line on EPR Stock
At the end of the day, a discussion of a real estate investment trust would not be complete without mentioning retail headwinds. Due to the trend of consumers moving from physical stores to online shopping platforms, the traditional retail industry has taken a serious hit. And as a result, REITs that own malls and shopping centers could be impacted as well.
The good news is, EPR's properties focus on providing an experience rather than selling a physical product. The company's portfolio consists of schools, golf courses, ski resorts, and megaplex theaters—businesses that will likely survive even when consumers are moving from brick-and-mortar stores to online retailers like Amazon.com, Inc. (NASDAQ:AMZN).
As it stands, EPR stock's monthly dividend policy and 6.1% yield deserve a serious look.