EPD Stock: Look at This Safe, Rising, 8.4% Yielder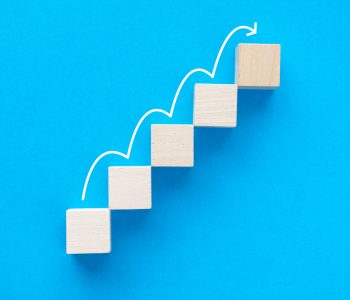 Enterprise Products Stock Set to Go Up as Economy Rebounds
With the global economy grinding to a halt on the heels of the coronavirus pandemic, it's no surprise to see that the energy sector has taken a big hit. One stock that could ride the economic rebound significantly higher is Enterprise Products Partners L.P. (NYSE:EPD). Best of all, EPD stock pays out an annual dividend of 8.4%.
The Houston, TX-based partnership provides midstream energy services to producers and consumers of natural gas, natural gas liquids (NGLs), crude oil, petrochemicals, and refined products.
What the company does not do is drill for oil. Enterprise Products is a classic pick-and-shovel company that provides the energy sector with the critical infrastructure it needs to get its products to market.
What sets Enterprise Products apart from all the other pipeline companies? Whereas most oil and gas infrastructure companies mostly focus on oil, Enterprise Products has set its eyes on natural gas. Its assets include the following:
Pipelines: 50,000 miles of natural gas, NGL, crude oil, refined products, and petrochemical pipelines
Storage: 260 million barrels of NGL, refined products, and crude oil storage capacity, plus 14 billion cubic feet of natural gas storage capacity
Natural gas processing: 22 natural gas processing plants
Fractionation: 23 NGL and propylene fractionators
Import/export terminals: Houston Ship Channel has seven deep-water ship docks; Beaumont has five deep-water ship docks; Seaway Texas City and Freeport locations have four deep-water ship docks; Morgan's Point has two deep-water ship docks
(Source: "Business Profile," Enterprise Products Partners L.P., last accessed January 12, 2021.)
Enterprise Products is basically a toll-bridge operator for the oil and gas industry. The company ships, stores, and processes large amounts of natural gas each day. Enterprise Products Partners L.P. doesn't care about the price of natural gas; the company just gets it to where it needs to go. And the company charges its customers an inflation-busting toll for the privilege.
Enterprise Products is gushing with cash, although not all of it goes to dividends. The company has spent billions of dollars on its operations. Since its initial public offering (IPO) in July 1998, Enterprise Products' asset base has grown from $715.0 million to more than $60.0 billion.
Just because it's a leading North American provider of midstream energy services doesn't mean it's immune to market volatility. As you can see, Enterprise Products stock took a nose dive back in February and March 2020, losing about 55% of its value.
While EPD stock has rebounded by roughly 90%, it still needs to climb an additional 25% to get to its pre-pandemic level.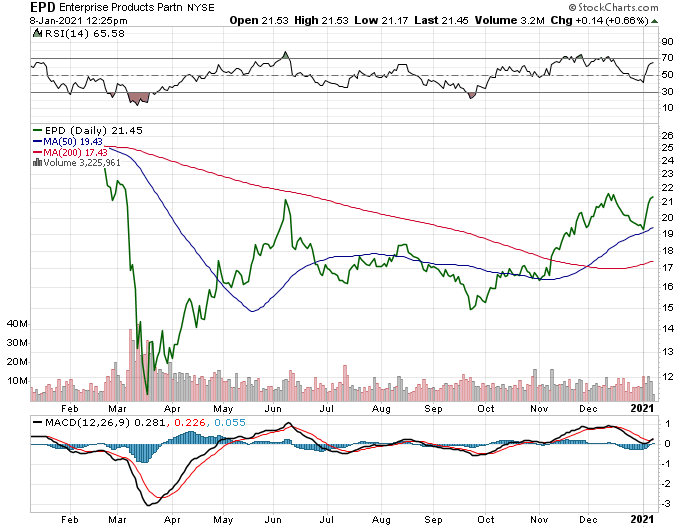 Chart courtesy of StockCharts.com
For buy-and-hold investors, Enterprise Products stock's juicy dividend has made its volatility a little more palatable.
EPD stock has paid out dividends for the past 22 years. In the first quarter of 2020, when the pandemic was flaring up and stocks were tanking, Enterprise Products increased its quarterly payout to $0.445, from $0.4425 in the previous quarter. It held that payout level throughout 2020.
This year looks just as lucrative. On January 7, the company's board of directors declared a quarterly cash distribution—paid to limited partners holding Enterprise common units with respect to the fourth quarter of 2020—of $0.45 per unit. (Source: "Distribution Payments," Enterprise Products Partners L.P., last accessed January 12, 2021.)
The quarterly distribution will be paid on February 11 to unitholders of record as of the close of business on January 29.
This distribution represents a 1.1-percent increase over the distribution declared with respect to the fourth quarter of 2019.
As mentioned earlier, EPD stock has increased its cash distribution rate for 22 consecutive years, and its dividend yield is 8.4%. As of this writing, the payout ratio stands at 86.3%, providing the company with a big-enough cushion that it can continue to provide investors with a high-yield dividend and steady stream of cash.
Investors looking for capital appreciation and a high dividend yield would be hard-pressed to find a stronger, more reliable company operating in the energy sector than Enterprise Products Partners L.P.