EPD Stock: Earn a 6% Yield from This Top Dividend Stock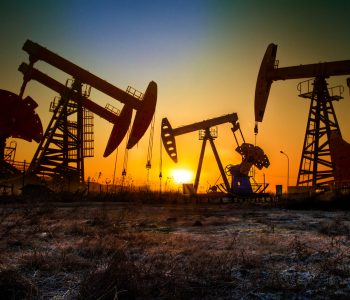 iStock.com/chengwaidefeng
This Energy Stock Gushes Dividends
America is in the midst of an energy revolution, and savvy investors could make a fortune.
As regular readers know, I like owning "pick-and-shovel" companies to profit from a commodity boom. These businesses sell supplies and services to an entire industry rather than betting the farm on the next oil well. In many cases, they represent the safer, more lucrative way to cash in.
One of my favorites? Enterprise Products Partners L.P. (NYSE:EPD). This partnership owns thousands of miles of pipelines across the country, shipping and storing natural gas and other commodities. And while most investors try to strike it rich on the next gusher, this pick-and-shovel play could payout lucrative dividends, regardless of who makes it big.
The partnership is a play on America's natural gas boom, for starters. New drilling techniques have unlocked vast amounts of energy. Analysts at the International Energy Agency project the United States could become the world's largest exporter of natural gas by 2020, according to a report published last week. (Source: "US 'will become one of the world's top gas exporters by 2020'," The Guardian, July 13, 2017.)
The boom has also unleashed huge supplies of natural gas liquids. This family of hydrocarbons—including commodities like ethane, propane, butane, and pentane—serve as the feedstock for utilities and petrochemical plants. While drilling in the country focuses mainly on oil and gas, most wells also produce associated natural gas liquids.
The biggest problem continues to be infrastructure. New supplies have overwhelmed the industry's existing facilities. In the fastest-growing areas like the West Texas Permian Basin, output could exceed takeaway capacity by the end of the year. (Source: "EIA economist: Permian production is 'remarkable'," Midland Reporter-Telegram, April 29, 2017.)
Enterprise has positioned itself right smack dab in the middle of this boom. The partnership ships, stores, and processes large supplies of natural gas each day. Like a highway toll booth, these assets earn a fee on each cubic foot flowing through the network.
Enterprise, though, won't stop there. Over the past five years, management has plowed billions back into the business. These investments have nearly doubled profits, resulting in tidy returns.
It's all part of management's long-term strategy to exploit America's growing supply of natural gas liquids. Most rivals have chosen to focus on bigger markets like oil and gas. This has left liquids transit almost entirely in the hands of Enterprise.
For owners, this should translate into a lucrative stream of income. Since 2006, Enterprise has nearly doubled its payout. Today, the partnership pays out an annual distribution of $1.68 per unit, which comes out to a yield of six percent.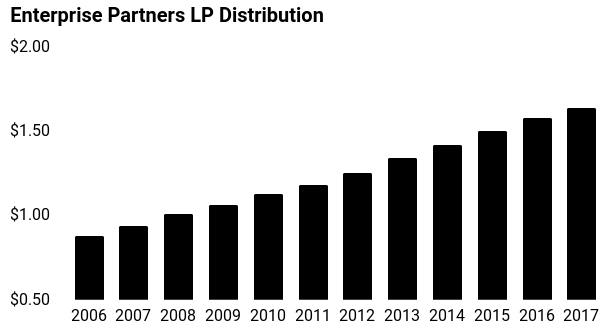 Source: "Enterprise Products Partners L.P. (EPD)," Yahoo! Finance, last accessed July 17, 2017.

That growth will likely continue. Analysts project earnings will grow 10% annually over the next five years, according to numbers compiled by Reuters. We should see the distribution grow in lockstep, give or take a few basis points.
The Bottom Line on EPD Stock
For owners, Enterprise represents the ultimate "pick-and-shovel" play on America's gas boom.
Thousands of drillers will try to strike it rich in the oil patch. A handful will find gushers, but most will go bust.
Rather than trying to pick which drillers will hit it big, you can just buy Enterprise Products Partners L.P. By providing an essential service to producers, the company will make money regardless of who strikes oil. It's the surer "sleep-at-night" bet.