Enviva Partners LP: This 7.1% Yield Still Has Room to Grow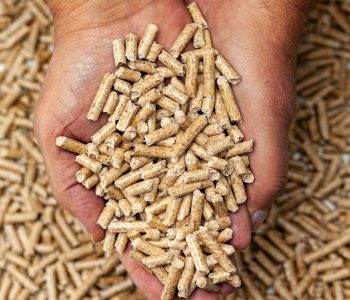 A Top High-Yield Stock to Consider
In today's market, it's safe to say that a yield over seven percent is considered pretty impressive. But at Enviva Partners LP (NYSE:EVA), a partnership that already yields more than seven percent, the payout should still have plenty of room to grow.
Let me explain.
Headquartered in Bethesda, Maryland, Enviva is in the wood pellet business. Structured as a master limited partnership (MLP), Enviva aggregates wood fiber and processes it into pellet form.
The partnership, which started in 2004, has grown to have seven production plants in Virginia, North Carolina, Mississippi, and Florida.
These plants now have a combined production capacity of approximately 3.5 million metric tons of wood pellets a year, making Enviva the largest utility-grade wood pellet producer in the world. (Source: "Investor Presentation November 2019," Enviva Partners LP, last accessed January 8, 2020.)
If you live in the U.S., wood pellets may not seem like a big deal. But in the U.K. and Europe, quite a few electric utilities have been using these pellets as fuel to replace coal in power generation. And as countries around the world adopt more stringent emissions regulations and renewable targets, the demand for wood pellets—a low-cost replacement for coal at electric utilities—could see a substantial increase.
Indeed, that's where Enviva found its opportunity. The partnership exports most of its wood pellets to power plants in the U.K. and Europe. Better yet, most of this exporting is done through long-term, take-or-pay agreements with creditworthy customers.
According to the company's 2019 investor presentation, Enviva's production capacity is fully contracted through 2025.
Business has been growing, too. In the third quarter of 2019, the partnership sold 811,000 metric tons of wood pellets for $155.2 million, up from 762,000 metric tons for $142.5 million in the year-ago period. (Source: "Enviva Partners, LP Reports Financial Results for Third Quarter 2019 and Announces Seventeenth Consecutive Distribution Increase," Enviva Partners LP, October 30, 2019.)
Enviva generated total net revenue of $157.4 million in the reporting quarter, a 9.2% increase year-over-year.
Distributable cash flow, a critical measure of an MLP's operating performance, came in at $26.9 million in the third quarter of 2019. This marked a substantial improvement from the $19.2 million in the third quarter of 2018. (Source: "Enviva Partners, LP Reports Financial Results for Third Quarter 2018 and Provides Guidance for 2019," Business Wire,  November 8, 2018.)
Of course, the reason why we care about distributable cash flow so much is that this figure tells us whether an MLP generated enough cash to cover its distributions to investors.
In the third quarter of 2019, Enviva Partners LP declared $22.4 million in total cash distributions to its limited partners. Therefore, the distributable cash flow covered the payout 1.2 times.
What's more impressive than Enviva's solid distribution coverage is how the company has managed to grow its payout over the years. You see, in the partnership's 2019 third-quarter earnings release, management also announced a cash distribution of $0.67 per common unit.
The amount represents a 5.5% increase year-over-year and a 1.5% increase sequentially. It's also Enviva's 17th consecutive quarterly distribution hike since its initial public offering in 2015. (Source: "Enviva Partners, LP Common units representing limited partner interests (EVA) Dividend History," Nasdaq, last accessed January 8, 2020.)
With a unit price of $37.99, EVA stock offers investors an annual distribution yield of 7.1%. But as I said earlier, this could still just be a start.
Earn a Yield Higher Than 7% From Enviva Partners LP?
The best part about Enviva stock is what it could do in terms of investor distributions in the quarters and years ahead.
Business has been going quite well at the wood pellet producer, and while full-year 2019 results are yet to be released, management forecasts that the partnership's adjusted earnings before interest, tax, depreciation, and amortization (EBITDA) and distributable cash flow in the fourth quarter was higher than in the third quarter.
Moreover, management expects to pay a cash distribution of at least $2.65 per common unit for full-year 2019.
Given that Enviva paid total cash distributions of $1.975 per common unit for the first three quarters of the year, its fourth-quarter 2019 distribution would be at least $0.675 per common unit—an amount that's above its third-quarter cash distribution of $0.67 per common unit.
Enviva Partners LP does not plan to stop the distribution-hike streak anytime soon. For full-year 2020, management projects that EVA stock's total distributions will fall between $2.87 and $2.97 per common unit. At the midpoint of the guidance range, the amount would be a 10.2% increase from what the MLP plans to pay for 2019.
With a safe yield and more distribution hikes on the way, Enviva stock stands out as one of the best income opportunities in today's market.