Enviva Partners LP: A High Dividend Stock Yielding 7.8%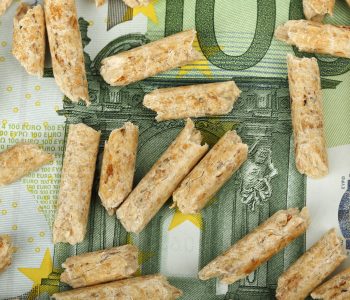 iStock.com/ConstantinosZ
One Unique Opportunity for Income Investors
Many investors tend to have second thoughts about putting their money in high-dividend stocks. That's because a high yield could simply be the byproduct of terrible stock price performance. Plummeting share prices could reflect a declining business, a declining market, or both.
Think about it: would you put your hard-earned money into a declining business? Of course not. As we have seen plenty of times in history, a high-dividend stock without a recurring business would have no choice but to cut its payout in the long run.
What you want to have in your portfolio are growing businesses operating in growing markets.
The problem is, because everyone wants to invest in these types of businesses, solid companies in growing markets have been highly sought after. As a result, their share prices are likely already bid up and the yields are no longer attractive.
However, there is one growing industry that's largely overlooked by income investors. And in that industry, there is a solid dividend-paying company that's currently yielding 7.8%.
I'm talking about the wood pellet industry. And the company in question is Enviva Partners LP (NYSE:EVA).
A Growing Business in a Growing Market
Wood pellets are currently the most common type of pellet fuel. They provide a low-cost way for electric utilities to replace coal in power generation. As more and more countries adopt stringent renewable targets, the demand for pellet fuel is expected to grow rapidly. According to Hawkins Wright Ltd, a U.K.-based consulting firm, the demand for industrial wood pellets is projected to increase at a compound annual growth rate (CAGR) of 17% through 2021. (Source: "Outlook for Wood Pellets," Hawkins Wright Ltd, last accessed August 28, 2017.)
Here's how Enviva comes into play: the partnership aggregates wood fiber and processes it into wood pellets. Right now, Enviva is the biggest producer of wood pellets in the world. It owns and operates six plants, which have a combined production capacity of almost three-million metric tons of wood pellets per year.
Enviva pays very generous dividends. With a quarterly distribution rate of $0.57 per share, this high-dividend stock is yielding 7.8% at today's price.
For income investors with a long-term horizon, a key thing to do before making an investment decision is to check a company's dividend durability. The good news is that Enviva's generous payout is backed by a stable business.
You see, most of the wood pellets produced by Enviva are sold to electric utilities companies. The business is done through long-term take-or-pay contracts. This means the customer either takes the wood pellets from Enviva or pays a penalty to Enviva for not buying the specified amount. By the end of the first quarter, the weighted average remaining term of Enviva's take-or-pay contracts was 9.8 years. This adds stability to the partnership's business. (Source: "Business Overview," Enviva Partners LP, last accessed July 21, 2017.)
In fact, this high-dividend stock manages to pay not only a steady dividend, but an increasing one. Enviva has raised its quarterly distribution rate every quarter since its initial public offering in 2015.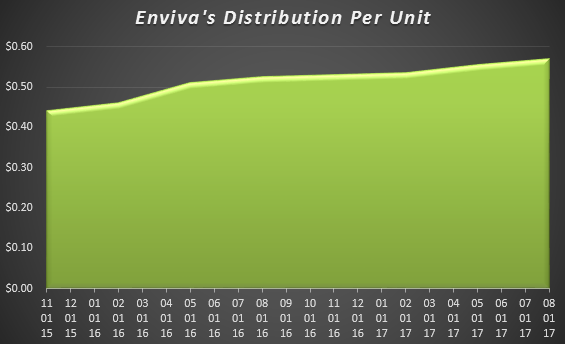 Source: "Dividend History for Enviva Partners (EVA)," Street Insider, last accessed August 28, 2017.
And since Enviva is the only enterprise supplier of scale in the wood pellet industry, it would likely pay a crucial role in filling the increasing demand over the next several years.
With a growing business, a growing market, and generous distributions, Enviva is a high-dividend stock that income investors should not overlook.
Also Read:
3 Clean Energy Stocks Yielding Up to 8.5%
Utility Stock List: Earn Steady, Reliable Income