Enviva Partners LP: Can You Count on This 7.6% Yield?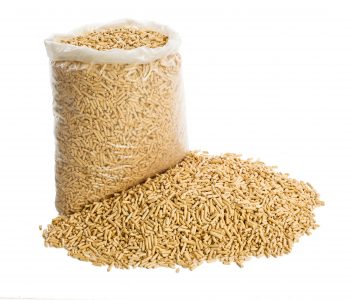 Looking for High-Yield Stocks? Read This
Chasing high-yield stocks in an uncertain market environment can seem like a risky endeavor. But investors of Enviva Partners LP (NYSE:EVA) shouldn't have any problem sleeping well at night, even though they own an ultra-high-yielding name.
Headquartered in Bethesda, Maryland, Enviva Partners is a master limited partnership (MLP) that aggregates wood fiber and processes it into wood pellets. The neat thing about wood pellets is that they provide a low-cost, drop-in solution for coal in the power generation sector. Enviva currently sells most of its wood pellets to European and Asian utilities, major trading houses, and power generators.
In fact, even though EVA may not seem like a big ticker, the partnership has a well-established market position. Right now, Enviva has 3.5 million metric tons per year of fully contracted production capacity, making it the world's largest supplier of utility-grade wood pellets to major power generators. (Source: "Business Overview," Enviva Partners LP, May 5, 2020.)
Like I said, we're talking about an ultra-high-yielding stock. In May, the MLP paid a quarterly cash distribution of $0.68 per common unit. At its current unit price, Enviva stock offers an annual distribution yield of 7.6%. (Source: "EVA Dividend History," Nasdaq, last accessed June 19, 2020.)
Risk-averse investors know very well that a high dividend yield can be a sign of trouble. And since we are in an unusual time, it's worth being extra careful when approaching high yielders like EVA stock.
For most companies, the No. 1 concern right now is still the coronavirus (COVID-19) pandemic. On that front, keep in mind that Enviva's business is built upon supplying fuel under long-term fixed-price and fixed-volume take-or-pay off-take contracts.
In its latest earnings conference call, the partnership's Chairman and Chief Executive Officer John Keppler said, "In times like this, the product we supply, which is used to fuel system-critical baseload, dispatchable power and heat generation facilities becomes even more important for our customers and their communities as they navigate through their own pandemic responses." (Source: "Enviva Partners, LP (EVA) CEO John Keppler on Q1 2020 Results – Earnings Call Transcript," Seeking Alpha, April 30, 2020.)
And because Enviva's customers are considered essential businesses, they are still operating despite the coronavirus outbreak. Therefore, Enviva can keep making money during this unprecedented time.
Looking at the company's latest earnings report, we see that that the MLP generated $204.5 million of net revenue in the first quarter of 2020, up 29.1% year-over-year. Enviva sold 1.0 million metric tons of wood pellets during the quarter, for a total of $197.9 million. That was a substantial improvement from the year-ago period, during which it sold 843,000 metric tons of wood pellets for $156.6 million. (Source: "Enviva Partners, LP Reports Financial Results for First Quarter 2020 and Reaffirms Full-Year Adjusted EBITDA, Distributable Cash flow, and Distribution Guidance," Enviva Partners LP, April 29, 2020.)
Excluding special items, Enviva's adjusted net income came in at $9.1 million for the first quarter of 2020. Again, this marked a big improvement year-over-year because, in the first quarter of 2019, it incurred an adjusted net loss of $8.1 million. The partnership's distributable cash flow was $15.2 million for the 2020 first quarter.
And while high-yield stocks are not known for their dividend safety, Enviva has been an exception. In fact, the distribution that the partnership paid in May represented its 19th consecutive quarterly distribution increase since its initial public offering.
If you are concerned about how this challenging socioeconomic environment might impact Enviva's future business, don't worry. The partnership is actually raising its guidance. On June 18, management said that they now expect Enviva to pay at least $3.00 per unit in cash distribution in 2020, which would be at least a 13% increase from the partnership's 2019 payout. (Source: "Enviva Partners, LP Announces Transformative Acquisitions and Increases 2020 Guidance," Enviva Partners LP, June 18, 2020.)
The new distribution guidance was based on the projection for distributable cash flow. Management expects the MLP's annual distributable cash flow to cover the payout at least 1.2 times, which would leave a considerable margin of safety.
Bottom Line on Enviva Partners LP
In today's low-interest-rate environment, Enviva's 7.6% yield certainly looks attractive.
If the partnership meets its projection and delivers bigger payouts in the quarters ahead, Enviva stock investors will earn an even bigger yield on cost.