Enviva Inc: High-Yielding Bioenergy Stock Has Increased Dividends for 26 Consecutive Quarters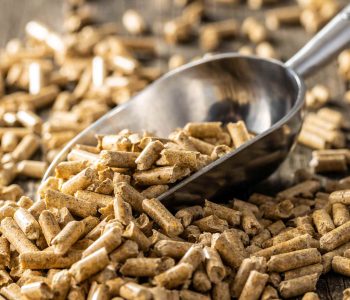 EVA Stock Should Be on Investors' Radar
With oil trading at its highest prices since 2008, many investors are laser-focused on traditional energy plays. Nevertheless, there's an overlooked high-dividend bioenergy stock that has essentially been trading higher since its 2015 initial public offering (IPO) and has seen its dividend rise for 26 consecutive quarters.
Enviva Inc (NYSE:EVA) is a great energy stock that gets overlooked because the company doesn't operate in the oil, natural gas, coal, wind, or solar industries. Instead, it's the world's largest producer of industrial wood pellets, an energy source that can be used to supplement or replace coal or natural gas. (Source: "Q4 & FY 2021 Update," Enviva Inc, March 8, 2022.)
Enviva owns and operates 10 wood pellet plants in Virginia, North Carolina, South Carolina, Georgia, Florida, and Mississippi. The plants currently have a combined production capacity of approximately 6.2 million metric tons per year (MTPY).
The company exports its wood pellets through its six deep-water marine terminals in Virginia, North Carolina, and Mississippi, as well as through third-party marine terminals in Georgia, Alabama, and Florida.
Enviva Inc sells the majority of its wood pellets via long-term, take-or-pay contracts with customers in the EU, U.K., and Japan. The company currently has more than a $21.0-billion take-or-pay contracted backlog, with a total weighted average term of 14.5 years. It also has a growing $40.0-billion+ customer sales pipeline that's fueled by the energy transition and decarbonization of hard-to-abate sectors.
Enviva recently announced a 15-year take-or-pay off-take agreement with a new European industrial customer that's looking to displace its coal usage with wood pellet usage. The company's delivered annual volumes are expected to increase to approximately 600,000 MTPY by 2030, with initial deliveries starting in 2023.
Enviva Inc also announced the signing of a new five-year take-or-pay off-take contract with an existing customer for the delivery of 90,000 metric tons (MT) of wood pellets in 2022 and 180,000 MTPY from 2023 through 2026.
Demand for Enviva Inc's products is so great that the company has been building new fully contracted plants that will double its contracted production capacity under existing sales and asset development pipelines.
Construction of the company's 750,000-MTPY plant in Lucedale, MS was completed in 2021, as was its deep-water marine terminal in Pascagoula, MS. Enviva is expanding the capacity of its Epes, AL plant from 750,000 MTPY to more than 1.1 MTPY. It's also constructing a plant in Bond, MS that will produce more than 1.0 million MTPY. This will significantly increase the company's already impressive capacity.
High-Yield Dividend Stock Hikes Payout 10.3%
Enviva Inc's long-term take-or-pay contracts provide it with a stable and growing cash flow. This allows the company to consistently report strong financial results, growing high-yield dividends, and high stock market gains.
Enviva recently reported solid fourth-quarter results that were in line with management's expectations. (Source: "Enviva Reports Fourth-Quarter and Full-Year 2021 Results, Reaffirms 2022 Guidance, and Announces New Customer Agreements," Enviva Inc, February 28, 2022.)
The company also reaffirmed its full-year 2022 financial guidance, which includes net income in the range of $42.0 to $67.0 million; adjusted earnings before interest, taxes, depreciation, and amortization (EBITDA) in the range of $275.0 to $300 million; and distributable cash flow (DCF) in the range of $210.0 to $235.0 million. This represents expected year-over-year growth in excess of 25% for both adjusted EBITDA and DCF.
In February, the company paid dividends of $0.86 per share, for a yield of 4.4%. The dividend represents a 10.3% year-over-year increase. This was the 26th consecutive quarter in which Enviva has raised its dividend. The company has basically raised its dividend every quarter since its IPO. (Source: "Stock Info," Enviva Inc, last accessed March 11, 2022.)
Enviva Stock Significantly Outpacing the S&P 500
Enviva Inc's dividend isn't the only thing that has been going up. Since its IPO in 2015, EVA stock has realized annual total returns of 32%.
Over the last three years, Enviva stock has outperformed the S&P 500 by 162% and the MSCI ESG Index by 160% on a total return basis. In 2021, EVA stock outperformed the S&P 500 and the MSCI ESG Index by 36% on a total return basis.
In 2022, the S&P 500, Nasdaq, and Dow Jones Industrial Average are all deep in the red. Enviva stock, on the other hand, is up by 5.2% year-to-date. As of this writing, EVA stock is also up by 41% over the last six months and 56% year-over-year.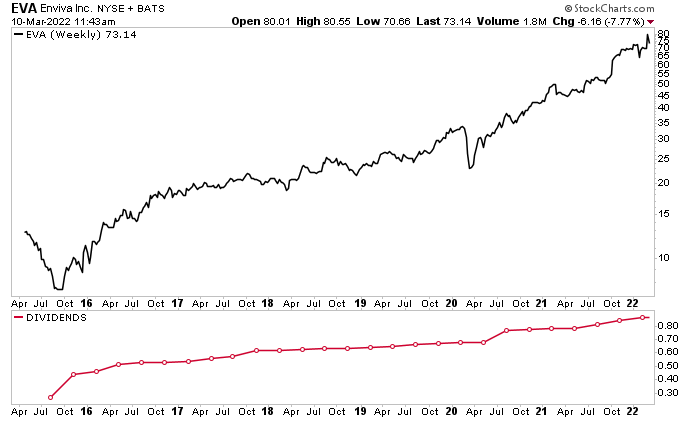 Chart courtesy of StockCharts.com
The Lowdown on Enviva Inc
Enviva Inc is a high-growth, pure-play environmental, social, and governance (ESG) company with a durable long-term contracted cash flow that supports stable, growing, high-yield dividends.
Last year, the company expanded its production capacity by 17% and its total contracted backlog by 44% to more than $21.0 billion. Enviva also expanded its investor base and improved its liquidity. Meanwhile, Enviva stock delivered an impressive total shareholder return of 65%.