7.5%-Yielding Enterprise Products Stock Raises Dividend for 24 Consecutive Years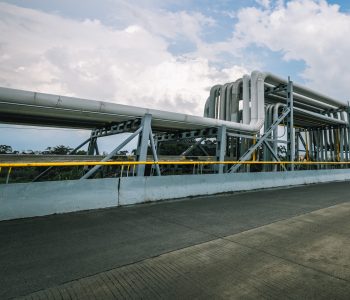 Why EPD Stock Is Worth Watching
The stock market is getting hammered right now, with the Federal Reserve continuing its aggressive interest rate hike policy. One sector of the stock market continues to do well, though: energy. Energy stocks are up by 6.3% over the last year and 3.2% over the last three months.
The outlook for the energy sector is solid, with the price of West Texas Intermediate oil projected to average $93.00 per barrel this year (down from $94.41 last year but still above the average price in previous years).
That should help energize investor optimism and juice energy stocks like Enterprise Products Partners LP (NYSE:EPD)—not that the company needs crude oil or natural gas prices to be high in order to report strong financials.
As a midstream oil and gas company, Enterprise Products is responsible for moving natural gas, natural gas liquids (NGL), crude oil, petrochemicals, and refined products. The partnership gets paid whether drillers are making money or not. That's because it earns a fee for each barrel that gets shipped through its 50,000+ miles of pipelines. (Source: "Investor Deck: February 2023," Enterprise Products Partners LP, last accessed March 10, 2023.)
Enterprise Products' combined operations also include:
260+ million barrels of NGL, refined product, and crude oil storage capacity
14 billion cubic feet of natural gas storage capacity
29 natural gas processing plants, 25 fractionators, and 11 condensate distillation facilities
20 deepwater docks that handle NGL, petrochemicals, crude oil, and refined products
The world's largest ethylene export terminal, which has a capacity of more than 2.2 billion pounds per year
The world's largest propylene export terminal, which has a capacity of more than 4.0 billion pounds per year
Even if you wanted to cut into Enterprise Products Partners LP's business, chances are you couldn't. The costs to lay a rival pipeline, processing plants, deepwater docks, and export terminals start in the billions of dollars.
From July 1998 (when it went public) through December 31, 2021, the Houston, TX-based company expanded its asset base from $715.0 million to $68.0 billion. That figure is expected to keep rising. The partnership's exceptional asset expansion is a result of organic growth opportunities and acquisitions.
In February 2022, Enterprise Products Partners LP announced that it had completed its $3.3-billion acquisition of Navitas Midstream Partners, LLC. The acquisition gives Enterprise Products a foothold in natural gas gathering, treatment, and processing in the core of the Midland Basin portion of the Permian Basin. (Source: "Enterprise Completes Acquisition of Navitas Midstream," Business Wire, February 17, 2022.)
Navitas Midstream's assets include approximately 1,750 miles of pipelines and more than a billion cubic feet per day of cryogenic natural gas processing capacity. Its system is anchored by long-term contracts and acreage dedications with a diverse group of more than 40 independent and publicly owned producers.
Record Financial Results in 2022
Enterprise Products Partners LP had a great 2022, reporting record financial results for every quarter.
For the full year, the company reported net income of $5.5 billion, or $2.50 per unit (on a fully diluted basis), compared to $4.6 billion, or $2.10 per unit, in 2021. The partnership's distributable cash flow (DCF) climbed by 17% in 2022 to $7.8 billion, compared to $6.6 billion in 2021. The DCF provided 1.9 times coverage of Enterprise Products stock's distributions declared in 2022. The company retained $3.6 billion of DCF in 2022 to reinvest in its business, repurchase its own shares, and reduce its debt. (Source: "Enterprise Reports Record 2022 Results," Enterprise Products Partners LP, February 1, 2023.)
Enterprise Products' adjusted cash flow provided by operating activities (CFFO) increased by 13% to $8.1 billion in 2022, compared to $7.1 billion in 2021. The partnership's ratio of distributions to common unitholders and share buybacks was 54% of its adjusted CFFO in 2022. Its adjusted free cash flow (FCF) was $3.0 billion in 2022.
Excluding $3.2 billion that Enterprise Products Partners LP used for its acquisition of Navitas Midstream Partners in February 2022, its payout ratio of adjusted FCF was 71%.
Commenting on the company's record fourth quarter and full-year results, A.J. Teague, Enterprise Products Partners LP's co-CEO, said, "Enterprise finished 2022 with a solid fourth quarter, reporting record total gross operating margin." (Source: Ibid.)
He continued, "Our quarterly results were driven by record total pipeline transportation volumes of 11.5 million [barrels per day], on a barrel equivalent basis, higher NGL and natural gas pipeline transportation volumes, higher natural gas processing margins and increased fee-based gas processing volumes."
Enterprise Products Partners LP Increased Annual Dividend 5%
Being a toll operator in the oil and gas industry means Enterprise Products has a reliable revenue stream. This is why EPD stock is known for its reliable, growing, high-yield dividends. In 2022, Enterprise Products stock's distributions increased by five percent year-over-year to $1.905 per common unit, marking the partnership's 24th consecutive year of distribution growth.
Enterprise Products Partners LP currently pays a quarterly distribution of $0.49 per unit, which translates to a dividend yield of 7.5%, which is way above the S&P 500's current yield of 1.6%.
The good times are expected to continue—at least according to the company's management. In July, Enterprise Products will celebrate the 25th anniversary of its initial public offering (IPO). Teague says the partnership is on track to achieve its 25th consecutive year of dividend growth.
In the chart below, it might look like Enterprise Products slashed its dividend in 2014, but it actually announced a two-for-one stock split in August of that year. Before that split, EPD stock's distribution was $0.72 per unit. Following the split, its distribution was $0.365 per unit ($0.73 on a pre-split basis). (Source: "Distribution & DRIP," Enterprise Products Partners LP, last accessed March 10, 2023.)
The company also provides value to its shareholders through its share repurchase program. During the fourth quarter of 2022, Enterprise Products purchased $120.0 million worth of its own common units, bringing the total amount of its share buybacks in 2022 to $250.0 million.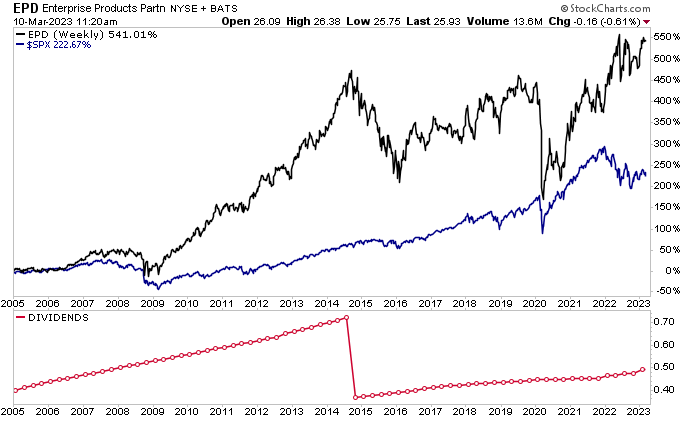 Chart courtesy of StockCharts.com
To some investors, what's more exciting than dividends and share buybacks is a rising share price. Enterprise Products stock has had that in spades. As of this writing, shares of Enterprise Products Partners LP are up by:
10% over the last month
9.5% year-to-date
9.3% year over year
Since the start of 2005, with dividends reinvested, EPD stock has posted total returns of 540.3%. Over the same time frame, the S&P 500 has returned just 222.7%.
The Lowdown on Enterprise Products Stock
Frankly, how can investors not love Enterprise Products Partners LP? The company continues to generate excellent financial results, organically expand its operations, and make strategic acquisitions.
The partnership's outlook is robust. In addition to strong industry tailwinds, the recently acquired Navitas Midstream Partners was immediately accretive to Enterprise Product's cash flow per unit and has exceeded expectations.
In 2022, the company invested $1.6 billion in organic growth projects. It has $3.6 billion worth of assets under construction that are scheduled to be completed and begin commercial operations this year.
Enterprise Products Partners LP entered 2023 with one of the best balance sheets in its history after repurchasing $250.0 million worth of its own common units in 2022. The company reduced the principal amount of its debt by $1.3 billion, and it has $4.1 billion in consolidated liquidity.
This bodes well for EPD stock's share price and its high-yield, inflation-crushing dividends.